Israeli Boys Kidnapped: 15-Year-Old Palestinian Boy Killed During Israeli Search Raid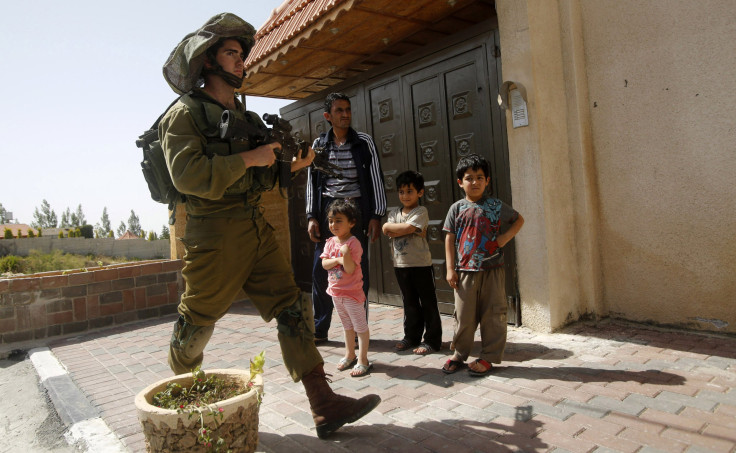 Israeli security forces killed 15-year-old Mohammad Dudin on Friday during their sweeping search operation to find three Israeli teenagers believed to be kidnapped in the West Bank on June 12.
Israeli forces say villagers in Dudin's home village of Dura hurled stones and Molotov cocktails at them as they entered the area to make arrests. They responded with live fire. Eyewitnesses say Dudin was among a group of boys hurling rocks at Israeli forces. The youth was pronounced dead at Alia hospital in nearby Hebron. Twenty-five Palestinians were arrested in the raid.
Three Palestinians were wounded in a similar clash on Thursday, and one Israeli soldier was wounded when a grenade was thrown from a crowd of Palestinians in a separate incident. Dudin was the second Palestinian casualty of the intense, weeklong Israeli search operation and anti-Hamas campaign; on Monday, a 20-year-old man was killed at the Jalazoun refugee camp outside Ramallah.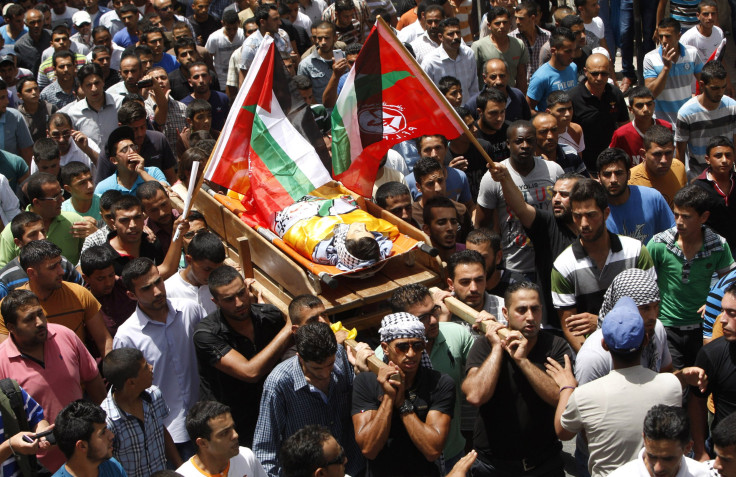 Israeli Prime Minister Benjamin Netanyahu last week claimed that Hamas was behind the kidnapping. Israel has arrested around 320 Palestinians since the boys disappeared last week, around 240 of whom Israel claims are directly tied to Hamas. The government also says it has evidence that Hamas is behind the abduction but has not yet revealed it. According to the newspaper Haaretz, one of the teens called an emergency line and said "we've been kidnapped."
Three other militant groups, including one associated with al Qaeda, have claimed responsibility, but officials have refuted their claims.
Palestinian President Mahmoud Abbas, who formed a unity government with Hamas in April, says those who perpetrated the kidnapping "want to destroy us," referring to the united Palestinian government and his peace talks with Israel. Many Palestinians criticize Abbas' security cooperation with Israel, particularly in light of the recent arrest raids, but Abbas defends it.
Last week, Netanyahu placed responsibility on Abbas for "any attacks against Israeli from Palestinian-controlled territory."
Palestinian Foreign Minister Riyad al-Malki criticized the scope of the Israeli response to the abductions of the three young men, calling it "beyond logic."
"[Netanyahu] cannot keep blaming one side without showing evidence, Malki said. "Three kids have disappeared, but in exchange for that the Israeli army has taken 300 Palestinians," he continued later.
Malki said that if Hamas is behind the abduction, it would "be a blow" to the Israeli-Palestinian peace process. He threatened that Abbas would "take drastic decisions," if that were the case.
Israeli military officials acknowledged the operation is intended both to find the missing teens and weaken Hamas, which Israel, the U.S. and E.U. designate as a terrorist organization. Elements within Hamas and its military wing, the Izz-ad-Din al-Qassam Brigades, have waged a guerrilla war of resistance against Israel since the late 1980s.
Israeli aircraft also bombed five militant sites in Gaza early Friday in response to a rocket attack on Israeli territory.
© Copyright IBTimes 2023. All rights reserved.
FOLLOW MORE IBT NEWS ON THE BELOW CHANNELS