Paris Air Show 2015: Airbus, Boeing Battle It Out At World's Oldest Aviation Event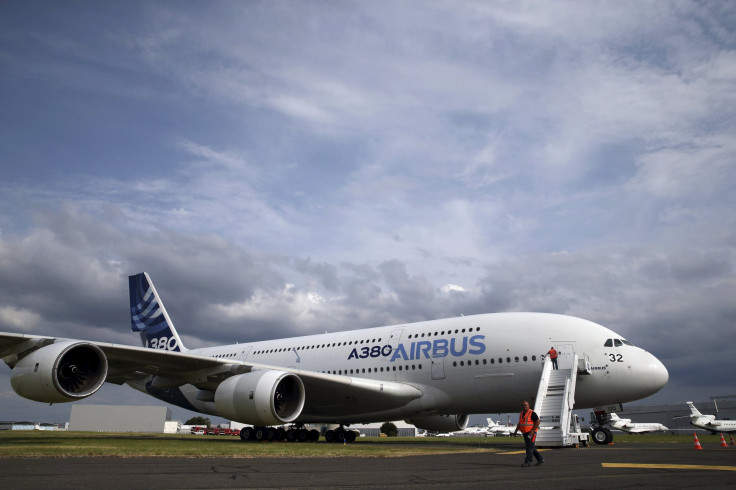 Indonesia's flag carrier Garuda Indonesia on Monday committed to purchasing up to 60 Boeing jets and also signed a letter of intent with Airbus for the purchase of 30 A350 aircraft, even as the rival planemakers geared up to sell hundreds of jets at the latest edition of the Paris Air Show. The world's oldest air show, being held at the Le Bourget airport, officially began Monday.
Garuda's purchase of the Boeing jets would supplement the airline's $4.9 billion order for 50 737 MAX 8 jetliners signed in October, and provide "additional capability and superior economics," Ray Conner, president and CEO of Boeing Commercial Airplanes, said, in a statement released Monday.
Meanwhile, Airbus, which received an order for the purchase of 30 A350 XWB aircraft from the Indonesian carrier -- in addition to an order of 60 Airbus A320neo aircraft from GE Capital Aviation Services (GECAS) -- increased its 20-year forecast for jet demand by nearly 4 percent on Monday.
"According to Airbus' Global Market Forecast, global passenger traffic will grow at an average 4.6 percent a year, driving a need for some 32,600 new aircraft above 100 seats worth US$4.9 trillion," the company said, in a statement issued at the air show. "By 2034, passenger and freighter fleets will more than double from today's 19,000 aircraft to 38,500."
The forecast comes just days after a similar announcement by Boeing, when the American planemaker raised its 20-year outlook by about 1,000 jet deliveries to 38,000 planes valued at $5.6 trillion.
The MAX and neo are the latest, upgraded versions of the Boeing 737 and Airbus A320 respectively, making them the focal points of the rivalry between two of the world's largest airplane manufacturers.
During the air show, Boeing and Airbus expect to secure at least 220 orders -- valued at nearly $23 billion -- for competing narrow-body jets, Bloomberg had earlier reported, citing people familiar with the matter.
© Copyright IBTimes 2023. All rights reserved.