Paris Attacks: European Migrant, Refugee Crisis Could Be Fueling Attacks In France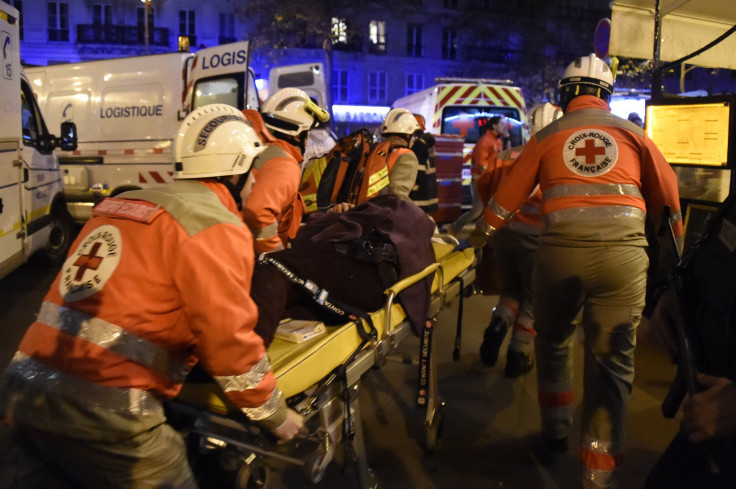 France's President François Hollande announced Friday night that he would close the country's borders after a massive, coordinated terrorist attack in Paris that has killed at least 149 people, according to local media. The closing of France's borders comes after months of influxes of people into the country from Iraq and Syria where the Islamic State group holds territory. The European Union has previously estimated that as many as 6,000 people from Europe have joined the militant group, many of whom have passports that allow them to travel back and forth from countries like France to the ISIS headquarters in Mosul, Iraq, and Raqqa, Syria.
Representative Ed Royce, the Chairman of the U.S. House foreign affairs committee said in an interview on CNN Friday night that there are 185 ISIS members in France that have returned back to the country after fighting in Iraq and Syria.
There has been no official announcement about who is responsible for the attack.
The attacks in Paris come less than a year after the attacks on Charlie Hebdo's staff, where 11 people were killed, which al Qaeda in the Arab Peninsula claimed responsibility. Since then, the French authorities have reportedly implemented a number of measures to prevent another attack, expecting that something similar would happen again, according to CNN. Those measures included things like increased security at airports and other major transit hubs, the establishment of investigation into possible ISIS cells in the country, a crackdown on hate speech, and stricter residency and citizenship processes. Following the Charlie Hebdo attacks, the government-run surveillance system dubbed the "Sentinelle" program reportedly hired hundreds more analysts and emphasized the aggressive monitoring of possible extremists.
However, the country could not stop the flow of refugees and migrants into the country. This summer the citizens of Syria and Iraq faced an unprecedented amount of violence when ISIS stepped up its offenses in Iraq's western Anbar province and Syria's Aleppo. The Russian military intervention in Syria only fueled that violence and spurred tens of thousands of people to travel by foot, boat and car to Europe to seek protection from local authorities. But counterterrorism experts say that flood of refugees brought with it potential ISIS members and sympathizers.
Other experts say the refugee crisis should not be thought of as a problem pegged to ISIS, rather one that is the product of larger geopolitical missteps.
"It's a concern that people at borders are always going to have to be vigilant about and at the same time grapple with," Sean Kay, a professor of international relations at Ohio Wesleyan University, told International Business Times recently. "But I'm not sure I would want to tag the refugee crises with that problem. … To the degree people are using a humanitarian crisis to make political points that would certainly be unfortunate."
France has not accepted as many Syrian refugees as other European countries. Only about 20,000 Syrians over the last several years have entered France, according to the United Nations. But individuals with certain passports, including EU passports, are allowed by law to travel through what is known as the Schengen regions, a 500-mile block of land, without coming across any border controls. Schengen countries include all of the EU countries, as well as Iceland, Norway and Switzerland.
It is not yet clear who is responsible for the terror attacks in Paris. It is not clear if they are affiliated with any terrorist group or if they have previously traveled to Iraq and Syria.
© Copyright IBTimes 2023. All rights reserved.