Paris Attacks: French Jets Have Destroyed 35 ISIS Targets In Syria, Military Spokesman Says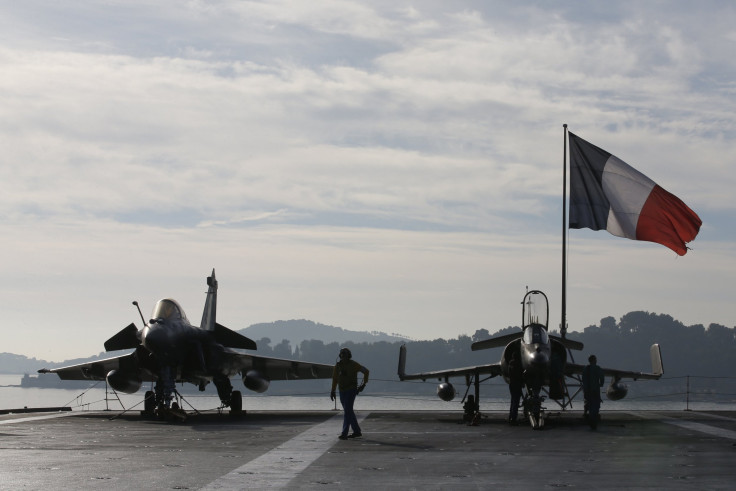 At least 35 targets of the Islamic State group have so far been destroyed in French airstrikes in Syria, the Associated Press (AP) reported Thursday, citing a French military spokesman. The airstrikes, which began Sunday in response to last week's deadly attack in Paris, have targeted ISIS command centers and training sites in Syria, including in Raqqa -- the headquarters of the militant group's self-proclaimed caliphate.
French planes, as part of the United States-led anti-ISIS coalition, dropped about 60 bombs on six sites across the country, military spokesman Col. Gilles Jaron told AP, adding that the attacks were aimed at "weakening and disorganizing" ISIS.
The announcement comes less than a day after the French Navy's Charles de Gaulle aircraft carrier departed from Toulon naval base in southern France, and headed for the eastern Mediterranean to support the coalition's operations in Iraq and Syria. The Russian government, which is conducting a separate campaign of airstrikes in Syria, has also asked its navy to sail with the Charles de Gaulle as a sign of political support.
"Under the Russian president's decree, the General Staff is working out joint anti-terrorism operations with the French Navy," Andrey Kartapolov, a senior Russian army official, said Wednesday, according to the state-run Tass news agency. "With the arrival of the Charles de Gaulle warship to the Syrian shore we will organize joint military operations."
French President François Hollande is scheduled to meet Russian President Vladimir Putin in Moscow next week.
Also on Thursday, Russian Foreign Minister Sergei Lavrov spoke out against the "pointlessness" of focusing on Syrian President Bashar Assad's departure as a prerequisite for peace in Syria, terming it a "secondary issue."
"Sensible politicians are setting aside secondary issues and focusing on the main priority -- fighting the Islamic State's attempts to win over positions across the globe," Lavrov reportedly said.
The issue of Assad's political future has remained a key sticking point in the process of political transition in Syria. U.S. and its allies have been insistent that Assad must leave office for the peace process to progress, while Russia and Iran say Syrian voters should have the right to decide his fate.
© Copyright IBTimes 2023. All rights reserved.