Paris Attacks: France Launches Fresh Airstrikes On ISIS Targets In Syrian City Of Raqqa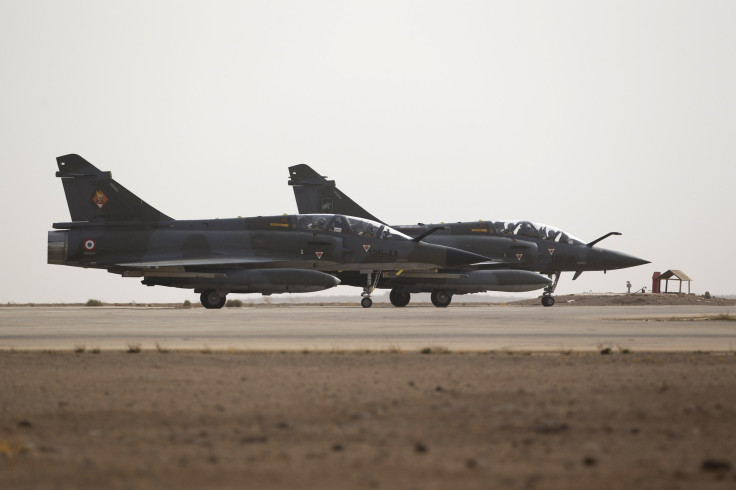 French warplanes launched a fresh round of airstrikes on targets of the Islamic State group, also known as ISIS, in the Syrian city of Raqqa overnight Monday, destroying a command center and a training base used by the militant group. A total of 16 bombs were dropped on ISIS targets from 10 Rafale and Mirage 2000 fighters, according to media reports.
"The French army, for the second time in a span of 24 hours, launched an air raid against Daesh [ISIS] in Raqqa," the French defense ministry said, in a statement released Tuesday.
The fresh airstrikes, which came close on the heels of Sunday's bombing raids on ISIS targets in Raqqa -- the heart of the Sunni militant group's self-proclaimed caliphate -- were reportedly conducted in coordination with U.S. forces.
"Both targets were hit and destroyed simultaneously," the ministry added, in the statement. "The raid was aimed at sites identified during reconnaissance missions previously carried out by France."
Earlier on Monday, the U.S. military said its warplanes had destroyed 116 oil-hauling trucks in eastern Syria used by ISIS in its smuggling operations.
ISIS, which seized vast swathes of territory in northern Syria and Iraq last year, has claimed responsibility for last week's attacks in Paris, where 129 people were killed in a series of coordinated suicide bombings and shootings. Abdelhamid Abaaoud, the 27-year-old Belgian man suspected of being the mastermind behind Friday night's attacks, is believed to be hiding in Syria, and, according to some reports, he was a possible target of the U.S.-led coalition's airstrikes in the country.
Following the deadly attacks, French President Francois Hollande declared that his country was now "at war" with ISIS, and vowed to intensify operations in Syria.
"[The] acts of war ... were decided and planned in Syria, prepared and organized in Belgium [and] perpetrated on our soil with French complicity," Hollande said, while addressing a joint gathering of the French parliament Monday.
Hollande also promised to increase funds for national security and strengthen counterterrorism laws in response to the multiple attacks.
"We're not engaged in a war of civilizations, because these assassins do not represent any. We are in a war against jihadi terrorism which is threatening the whole world," he said.
© Copyright IBTimes 2023. All rights reserved.