Paris Shooting: Salman Rushdie, Others Tweet #JeSuisCharlie After Charlie Hebdo Attack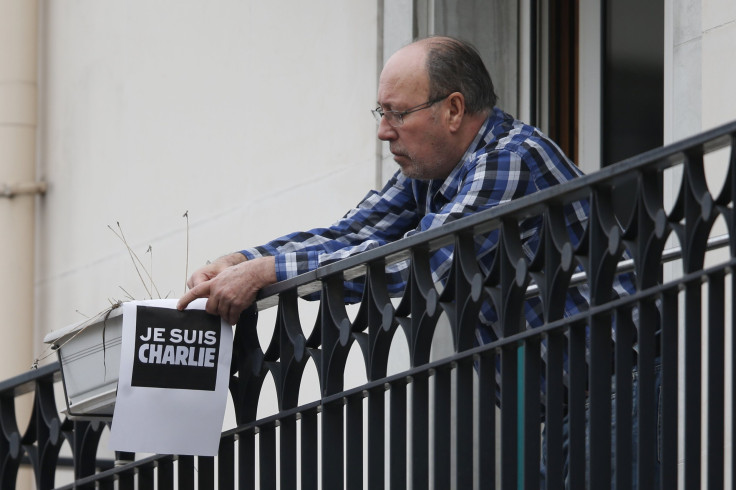 All across Twitter Wednesday, people took to calling themselves "Charlie" in a show of solidarity with the French satirical magazine Charlie Hebdo attacked by terrorists that morning, using #JeSuisCharlie. The French phrase, which translates to "I am Charlie," began to trend worldwide as news of the fatal shootings broke out.
The hashtags #JeSuisCharlie, #CharlieHebdo and #ParisShooting quickly picked up momentum as coverage of the terrorist incident broke Wednesday morning. Charlie Hebdo blacked out their website, and in its place was the "Je Suis Charlie" logo that's being used for the hashtag. Many using the tags said the shooting was an attack on press freedom. Renowned author Salman Rushdie joined in support of the magazine with the hashtag.
"Religion, a medieval form of unreason, when combined with modern weaponry becomes a real threat to our freedoms," Salman Rushdie wrote in a public condemnation of the attack. "This religious totalitarianism has caused a deadly mutation in the heart of Islam and we see the tragic consequences in Paris today." Rushdie urged people to "defend the art of satire, which has always been a force for liberty and against tyranny, dishonesty and stupidity." He added that "'Respect for religion' has become a code phrase meaning 'fear of religion.'"
Twelve people were killed and five more injured, with 10 journalists and two police officers among the dead. At least three gunmen stormed the Paris office of Charlie Hebdo, according to reports, and 34 people survived, according to a post on Twitter. The terrorists were believed to have attacked Charlie Hebdo because of its unflattering cartoons of Prophet Muhammad. Any depiction of the prophet is prohibited by Islam.
Social media users also spread word on Twitter about a public gathering at Place de la République in Paris on Wednesday at 6 p.m. local time in support of the victims. The mayor of Paris has also called for a memorial march the next day. "With all the councilors of Paris, I call on all republicans and defenders of liberty to participate in a silent memorial march in solidarity with the victims departing from Place de la République tomorrow at 6 p.m.," said Paris Mayor Anne Hidalgo, according to local reports.
© Copyright IBTimes 2023. All rights reserved.
FOLLOW MORE IBT NEWS ON THE BELOW CHANNELS