Paris Terror Attacks: Will Russia And US Work Together In Syria Against ISIS?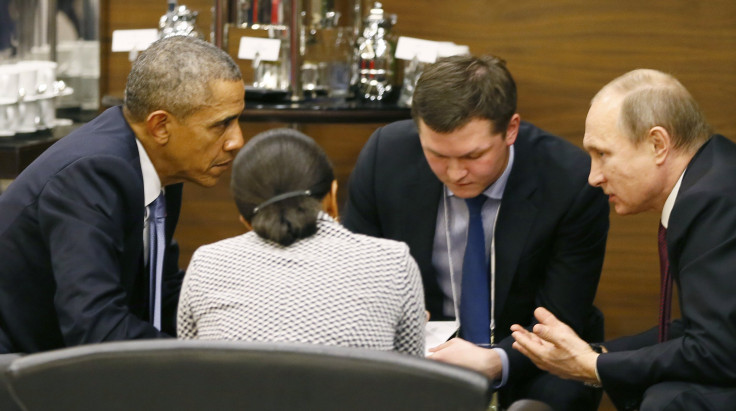 As U.S. President Barack Obama huddled with his Russian counterpart Vladimir Putin for more than half an hour on Sunday on the sidelines of a multinational security conference in Turkey, the two leaders offered a snapshot of their awkward, acrimonious, yet potentially crucial relationship. Surely, they had common interests on their minds. Less than 48 hours earlier, a series of coordinated terrorist attacks had assaulted Paris, killing more than 130 people.
Here was the latest sign that these two men -- despite vast differences on substantial issues, not to mention animus that has been described as personal -- were united in one key objective: Both were intent on eradicating the Islamic State group, the jihadist element that controls vast swaths of Iraq and Syria, and whose affiliates have taken credit for the carnage in Paris.
The attacks in Paris underscored the growing capabilities of ISIS, as the group is known, putting new pressure on Moscow and Washington to find a solution to the ongoing civil war in Syria, which has proved a magnet for ISIS recruits. In the course of their informal summit in the Turkish seaside resort of Antalya, Obama and Putin expressed joint interest in convening United Nations-sponsored peace talks toward finding a settlement to the Syrian conflict and forging a ceasefire, an unnamed White House official told journalists.
This was hardly the first time both leaders had expressed interest in finding an end to the hostilities in Syria. Their differences over the details in any potential settlement have proved decisive: The Obama administration has maintained as a central aim ending the rule of Syrian President Bashar Assad, while Putin has vowed to support Assad to the bitter end. This fundamental divergence in aims has limited strategic cooperation between the United States and Russia in Syria, despite both countries' involvement there.
The question hanging over their working lunch on Sunday was whether the horrific spectacle in Paris had softened those differences, giving Obama and Putin greater impetus to focus on their common enemy, ISIS. National security experts were dubious.
"I don't see this resulting in a change in underlying policy and the level of cooperation," said James F. Collins, former U.S. ambassador to Russia and senior associate at the Carnegie Endowment for International Peace, a research institution in Washington. "There is a certain amount of hostility and distrust about what is happening in Syria."
For Putin, the Paris attacks generated another opportunity to reinforce his central justification for continuing to support Assad in Syria: His rule is the alternative to a Syria dominated by ISIS. Following the killing in Paris, Putin on Saturday released a statement expressing his condolences to French President François Hollande while also underscoring the need for a united fight against terrorism. "This tragedy is additional proof of the barbaric nature of terrorism that is posing a challenge to human civilization," the statement said. "It is obvious that to counter this evil effectively the entire international community needs to truly join efforts."
Russia began unleashing airstrikes in Syria in late September. While the Kremlin has said these strikes would focus on ISIS, Western leaders have asserted that Russia has instead targeted moderate opposition groups that pose the most threat to Assad -- some of them backed by the Obama administration. Those airstrikes have "killed the atmosphere even more for U.S. and Russia cooperation," said Paul Schwartz, a senior associate with the Center for Strategic and International Studies Russia and Eurasia Program in Washington.
Talks convened in Vienna Saturday under the guidance of the U.N.'s special envoy on Syria Staffan de Mistura, who offered tentative signs of a timeline for a peace plan. Though the United States and Russia have not been sharing intelligence or coordinating military operations, experts described new potential for cooperation between Moscow and Washington. The U.S., Russia and leaders from more than a dozen nations agreed to set Jan. 1 as the date for negotiations between Assad and the opposition, establish a transitional government within six months and to hold United Nations-supervised elections within 18 months. Syrian opposition forces were not present at the talks in Vienna.
"As for strategic goals concerning the fight against the Islamic State, they are very close in general, but there still are differences on tactics," said Putin aide Yuri Ushakov, according to Russian state news agency Tass.
ISIS Foreign Recruits | InsideGov
Since the downing of Russian Metrojet Flight 9268 last month over Egypt, which took the lives of all 224 people on board, White House officials said they believed Putin was ready to get in line with the international community and remove Assad from power.
"President Obama and President Putin agreed on the need for a Syrian-led and Syrian-owned political transition, which would be proceeded by U.N.-mediated negotiations between the Syrian opposition and regime as well a ceasefire," a White House official said.
A sticking point remains, however, with Putin calling for Assad, a longtime ally of the Russian government, to run in the future elections while U.S. officials said he should not.
"It looks as if he [Assad] is coming out the winner here," said Anna Borshchevskaya, a fellow at the Washington Institute for Near East Policy. "Ultimately if you look at the draft peace plan, even if he does depart eventually it will be in a way that will be advantageous to him."
Moscow and Washington could potentially strike a face-saving deal through which Assad would be eased into retirement while the Syrian elite maintains standing, some Russian security experts have argued. That would be a small victory for Putin's interests in Syria, and a step toward Obama's goal of ushering in a new government in Syria.
"He wasn't going to go immediately anyway," said Mark Galeotti, a professor in global affairs at New York University with a specialty in Russian security affairs. "Assad is not winning, but the Russians have given him breathing space."
Putin could make further concessions on Syria if European Union and U.S. officials agree to lift crippling sanctions against Moscow that came into place following Russia's annexation of Crimea from Ukraine in March 2014. The ongoing conflict between Kiev and pro-Russian rebels that began in April 2014 has taken the lives of more than 8,000 people.
"Russia has created a bargaining chip -- we'll be nice to you in the Middle East if you'll be nice to us in Ukraine," Galeotti said.
Whatever concessions Obama and Putin may ultimately make, neither appears likely to gain what they seek when it comes to Assad. He will likely retain just enough influence in Syria to provoke Washington, while ceding some of his authority that has helped Russia maintain a strong presence in the Middle East, experts predicted.
"The reality is that the talks in Vienna suggest that everybody is beginning to say nobody can win this," Collins said.
© Copyright IBTimes 2023. All rights reserved.