Paul Pierce Baby Name: What Did The Boston Celtics Star Name His Newborn Son?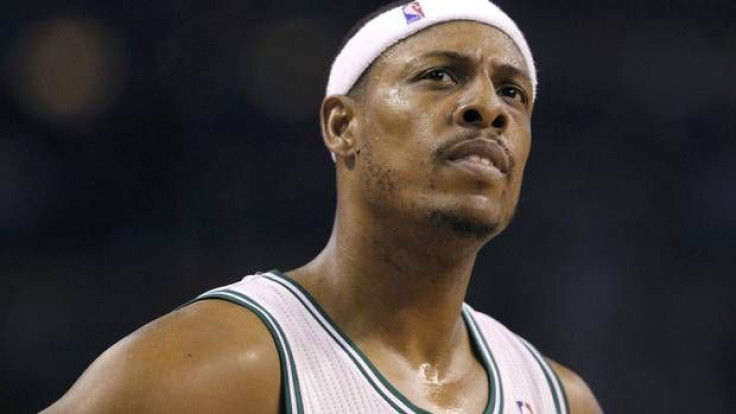 Boston Celtics star forward Paul Pierce welcomed a new member of basketball royalty to his family on Tuesday.
The 35-year-old Pierce missed the Celtics' Monday night matchup with the Minnesota Timberwolves to attend the birth of his new son, Prince. For the elder Pierce and his wife, Prince is the third child and the first son.
"He's doing good, he's doing good," Pierce told Comcast SportsNet on Thursday. "This is our third one, so still going for five or six more."
Considering his father's Hall of Fame resume, which includes 10 All-Star appearances and a NBA championship, newborn Prince will have to work hard to live up to his name. Still, Papa Pierce doesn't expect to push his son too hard.
"We're not going to put that kind of pressure on him," he told CSN. "I just want him to grow up, smart kid, be into the books, whatever happens in sports happens.
While "The Truth" will always be known as the centerpiece of the latest Boston Celtics dynasty, Pierce considers fatherhood to be one of his greatest accomplishments.
"There's nothing like it," Pierce told CSN. "I've had two baby girls, and now a baby boy. It's one of the best feelings in the world, just one of the best things you could ever go through. Just seeing life, producing life, and knowing that you have people that depend on you. It's like no other feeling in the world, just can't even explain it."
Pierce has learned a lot during his 15 NBA seasons, but he considers fatherhood to be a truly transformative experience.
"Oh, it's definitely changed me," Pierce told CSN. "It's helped me understand that you have other people depending on you, so your everyday life you're much more mature about the decisions you make because you know the decisions you make affect your family, and you're conscious of it more so than before."
As for Prince following his father onto the basketball court, the Celtics star actually has another sport in mind for his son.
"I actually want to put a baseball in his hand. In his left hand," he said.
© Copyright IBTimes 2023. All rights reserved.
FOLLOW MORE IBT NEWS ON THE BELOW CHANNELS