Pet Treat Recall 2013: Bailey's Choice Treats Recalls Chicken Jerky For Dogs For Salmonella Contamination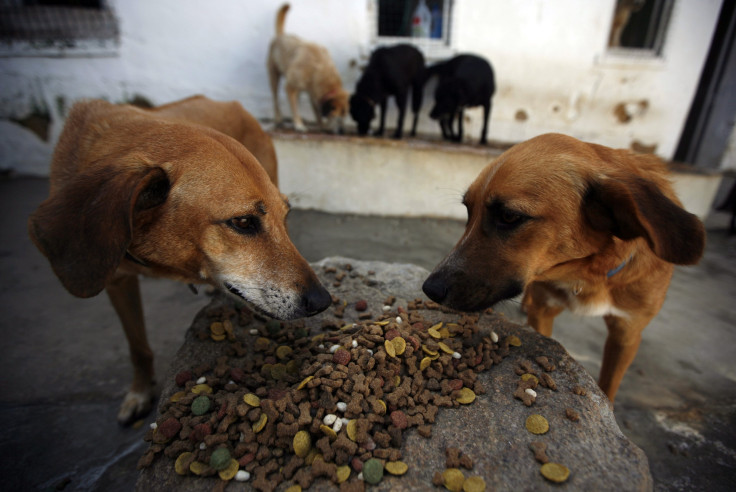 It's been a rough month for dogs and their owners. Another pet food company, Bailey's Choice Treats, has issued a voluntary recall for their products this week.
According to a statement released by the Georgia-based company Friday, specific packages of their "100 percent all natural chicken jerky treats" are being recalled for a possible salmonella contamination. Despite two lots of the products testing positive for salmonella, an infection which can cause multiple medical ailments in humans and pets, Bailey's says the contamination is more dangerous to their two-legged customers than their four-legged ones.
"We have had no reports of anyone or any pet becoming sick. These treats will not harm your dog; dogs' digestive systems are designed for eating raw food," said the company in a statement, adding, "It is more dangerous to humans. As with all raw foods, after handling jerky products, we recommend washing your hands thoroughly."
Bailey's chicken treats with the lot number 132881, lot dates June 5, 2013 and October 8, 2013 and expiration date of February 2014, are the only products affected by the recall, NBC 11 in Atlanta reports."We are working hard to find the problem and will correct it immediately to ensure safe products for both humans and our four legged friends," said Bailey's Choice Treats owner Roger Thomas in an email to distributors Friday.
Customers are being asked to immediately discontinue use of the defective products. The pet treat company is working with the Georgia Department of Agriculture on the matter.
The Bailey's Choice Treats recall comes just one week after the Food and Drug Administration issued a warning regarding the mysterious death of 600 dogs and cats after consuming one brand of various jerky treats. The FDA said the cause of deaths and illnesses, which have been occurring since 2007, are unknown. The jerky treats were reportedly manufactured in China, where pet food and treats are "not required by U.S. law to state the country of origin for each ingredient in their products."
© Copyright IBTimes 2023. All rights reserved.