Peter Greste, Al Jazeera Journalist, Won't 'Give Up' Until Colleagues Are Released By Egypt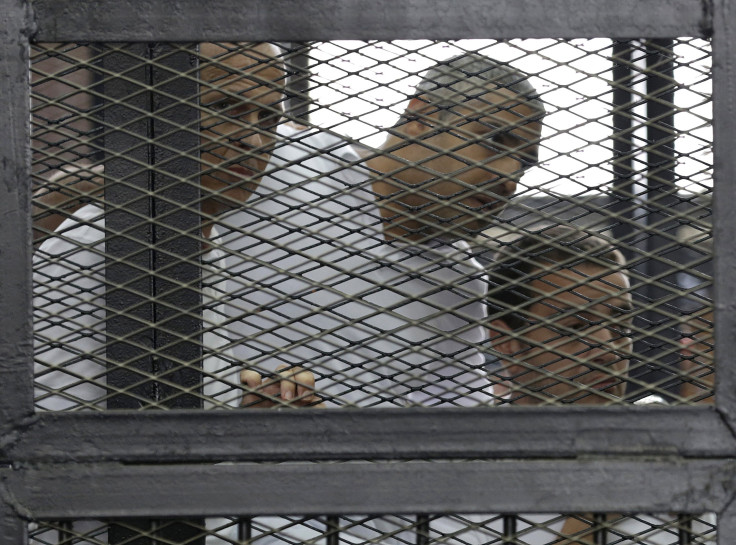 Al-Jazeera reporter Peter Greste, who was released Sunday after being imprisoned in Egypt for 400 days, has vowed he will not "give up" until his colleagues are released, his family said Monday. Greste, an Australian national, was arrested in 2013 and tried on charges of producing fake news and aiding President Mohammed Morsi's Muslim Brotherhood party, which has since been declared a terrorist group by the Egyptian government.
Australian Foreign Minister Julie Bishop, who had been working for Greste's release, said Monday that Australian authorities worked quickly to make arrangements for his departure after a notice was issued announcing his "unconditional" release after a presidential "approval." Greste is currently in Cyprus and is reportedly looking forward to be reunited with his family, who said that Greste had spoken to them about his concerns for his colleagues -- Egyptian Mohammed Baher and Egyptian-Canadian Mohammed Fahmy -- after his release.
"He's not going to forget his two other colleagues, there's no doubt that his excitement is tempered and restrained and will be until those guys are free. He won't give up until Baher and Mohamed Fahmy are out of there," Greste's brother, Andrew, reportedly said at a news conference in Brisbane, Australia.
Al-Jazeera also demanded the release of Baher and Fahmy, saying in a statement: "The Egyptian authorities have it in their power to finish this properly today, and that is exactly what they must do."
Acting Al-Jazeera Director General Mostefa Souag said that the network "will not rest until Baher and Mohamed also regain their freedom," according to The Associated Press.
Australian Prime Minister Tony Abbott expressed his acknowledgement of Egyptian President Abdel-Fattah el-Sisi's role in Greste's release, saying that his role "cannot be underestimated."
"As a former journalist myself, it would be remiss of me at such a gathering of journalists not to express my personal delight and our nation's relief at the overnight release of Peter Greste and to reiterate our support as a government and as a people for a free media and a free press," Abbott reportedly said.
Greste's family said they were grateful for all the efforts made by the Australian government, Al-Jazeera and other supporters to secure the journalist's freedom.
"I think it's not just people here in Australia, it's been all over the world that we've had support and assistance so we've got thousands of people to thank," Lois Greste, Peter's mother, reportedly said.
© Copyright IBTimes 2023. All rights reserved.
FOLLOW MORE IBT NEWS ON THE BELOW CHANNELS