Petition Asks Jan Brewer to Apologize to Obama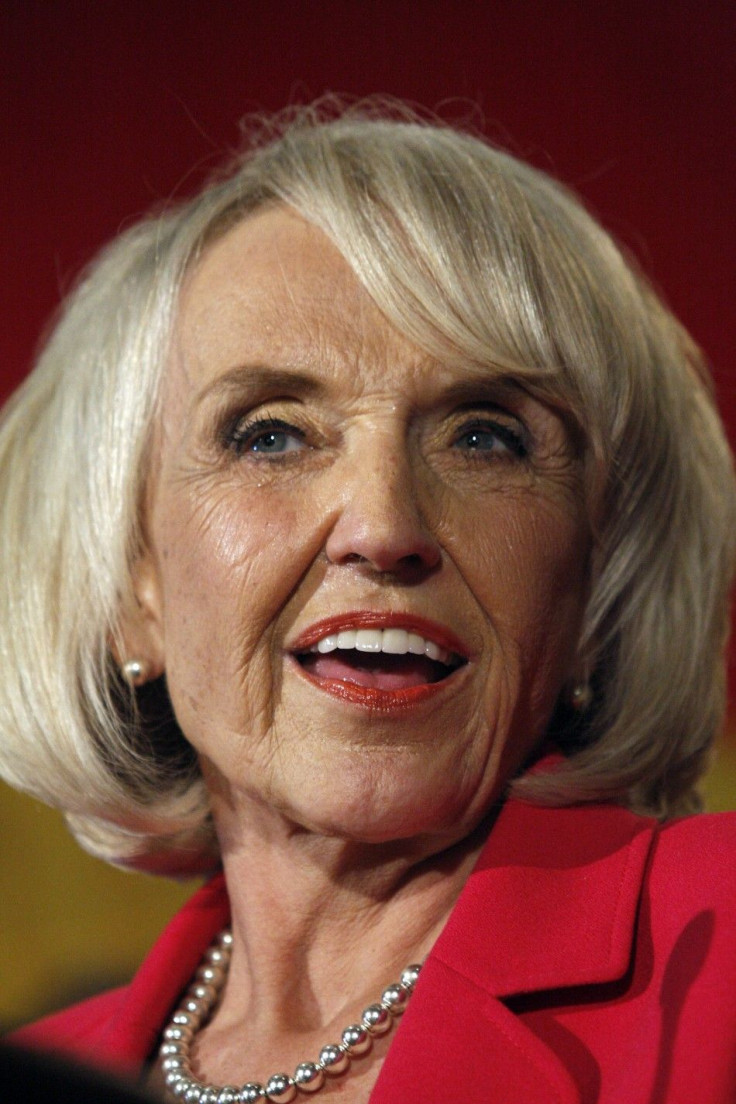 A new petition asking Gov. Jan Brewer to apologize to President Barack Obama has been posted online by Arizona's state Democratic organization.
The petition, called Brewer Doesn't Speak For Me! comes in response to a verbal altercation the two politicians had Wednesday at an airport outside Phoneix.
Have you had enough of Jan Brewer's embarrassing publicity stunts to promote her book? the site asks. Sign the petition and tell Brewer to apologize to President Obama for her disrespectful display.
After Obama stepped off Air Force One onto the tarmac, he was met by Brewer, a Republican, who was greeted at the foot of the plane's stairs not with good tidings but by his disappointment in the way her new book describes a meeting they had in the White House.
After the exchange--during which the two politicians at one point were speaking at the same time and seemingly over one another--Brewer told the Associated Press, He was a little disturbed about my book.
She went on to say on News/Talk 92.3 KTAR's Mac & Gaydos Show that he was not pleased with the passage in her book.
He was a little thin-skinned. Brewer said in an appearanceon Arizona's News/Talk 92.3 KTAR's Mac & Gaydos Show. I was a bit taken aback by his stance and his attitude. ... I tried to listen and tried to be respectful to him.
A White House official dowplayed the incident but confirmed to the AP that Brewer had given Obama the invitation and that he would gladly meet with her once again.
The new petition asks that Jan Brewer apologize to Obama for the way the altercation went down, though Brewer herself has said she was the one who was met with hostility.
Governor Brewer, your actions this week toward President Obama were disgraceful and below the dignity of your office, the petition states. Your behavior has been an embarrassment to our state and tarnished what should have been a great day for Arizona. Please apologize to the president for your disrespectful stunt.
The petition comes after three days in which Jan Brewer has spoken with various outlets in order to clear the air about the tarmac incident.
She said on the Mac & Gaydos Show that she tried to not be angry with Obama, though he seemed to walk away while they were still talking:
I was trying to make a point that I thought that my book was right and correct, she said.
Brewer's recently released bookScorpions for Breakfast tells the story of her youth, then also goes into a lengthy defense of Arizona's infamous immigration law, which Obama openly opposes.
The tome includes a passage about a 2010 meeting she and Obama had at the White House, in which Brewer claims the president lectured her. The AP reports that in a November TV interview Brewer said the president did blow me off at his commencement address at Arizona State University.
She went on in that TV interview to describe the White House meeting discussion on immigration: I felt a little bit like I was being lectured to, and I was a little kid in a classroom, if you will, and he was this wise professor and I was this little kid, and this little kid knows what the problem is and I felt minimized to say the least.
While still on the tarmac, however, Brewer did give Obama a handwritten invitation to come back to Arizona to have lunch and visit the border with her, the AP reported.
And the New York Times reported that Brewer tried to downplay the passage:
I said to him that I have all the respect in the world for the office of the president, she said, according to the Times. The book is what the book is. I asked him if he read the book. He said he read the excerpt. So.
The Times reported that Gov. Brewer went into further detail about what about the book bothered Obama: That he didn't feel that I had treated him cordially. I said I was sorry he felt that way but I didn't get my sentence finished. Anyway, we're glad he's here. I'll regroup.
Gov. Brewer also called in to Mike Broomhead's radio show on Arizona's local News/Talk 550 KYFIWednesday, according to Real Clear Politics:
He brought up my book. And he was a little tense, she reportedly said. He said that he had read the excerpt and he didn't think that I was very cordial. And I said, 'Well, we agreed on that day to disagree.' And he was somewhat thin-skinned and a little tense, to say the least. And I don't remember -- I was trying to be calm. You know, that picture [referencing an AP photograph of Brewer pointing her finger at Obama] is very interesting but I don't remember actually doing that. And he moved on down the line.
© Copyright IBTimes 2023. All rights reserved.
FOLLOW MORE IBT NEWS ON THE BELOW CHANNELS