Petraeus "jokes" about bombing Libya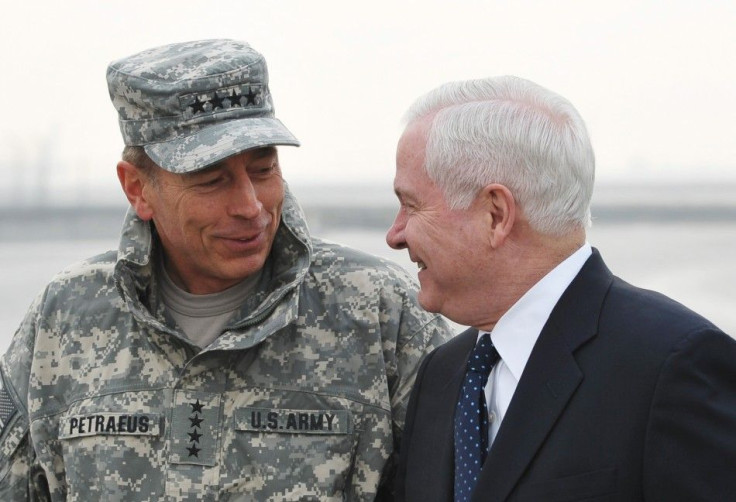 General David Petraeus, commander of NATO troops in Afghanistan, was caught on microphone "joking" with Defense Secretary Robert Gates about taking military action against Moammar Gaddafi and bombing Libya.
While greeting the pentagon chief at the airport in Kabul, Afghanistan, Petraeus is heard saying to Gates: "Welcome back, sir. How are things? Flying a little bigger plane than normal -- you gonna launch some attacks on Libya or something?
Gates responded with a giggling Yeah, exactly."
The timing of his levity was in extremely poor taste, given that one of Gates' responsibilities in Kabul is to apologize to Afghan President Hamid Karzai for the deaths of civilians caused by a US Apache helicopter.
Meanwhile, while Gaddafi is reportedly bombing rebel strongholds in eastern Libya, US President Barack Obama said that NATO is considering a wide range of potential options, including potential military options against Gaddafi.
Separately, the UK and France are working on a draft to propose a no fly zone over Libya.
However, William Hague, the British Foreign Secretary, has cautioned that s no fly zone is possible, but still requires clear legal basis, demonstrable need, strong international support, and broad support in the region and a readiness to participate in it
He added that he is calling for "Gaddafi to go, for people in Libya to be able to have the representative and broadly based government they want."
But, of course, if that scenario changes, if it goes in other directions, well, then we have to look at other options as well, but I think we are not in that position yet.
Hague has also been roundly criticized for the way he and his office have handled various issues related to the crisis in Libya.
These are historic times and momentous events are taking place," he said.
All of us who have taken on the job of shouldering responsibilities at this time must see those responsibilities through an extended period of time in the face of any criticism or setbacks.... that's how I feel about it.
© Copyright IBTimes 2023. All rights reserved.