Petrobras Scandal: Brazil House Speaker And Ex-Senator Face Corruption Charges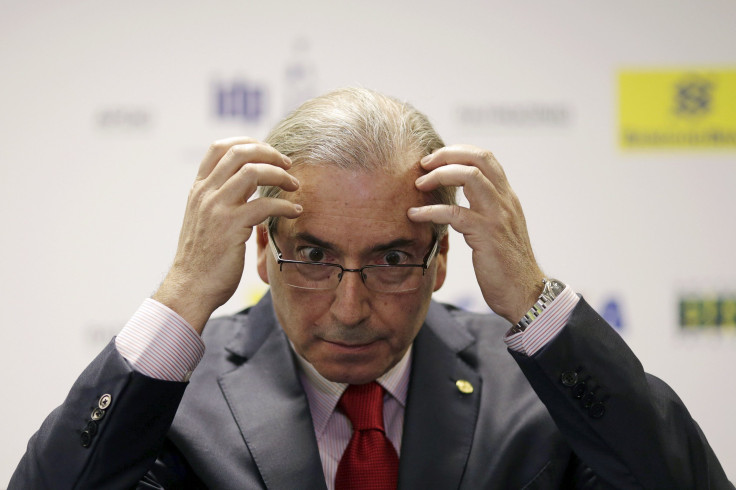 Brazil's speaker of the lower house and a current senator who was a former president were both charged with corruption Thursday, as part of a sweeping anti-corruption drive that has netted several major officials.
The Brazilian Attorney General's Office said that the Chamber of Deputies speaker Eduardo Cunha and Senator Fernando Collor were both involved in a massive corruption scheme at the state oil firm Petrobras, which allegedly saw billions being paid in bribes through inflated contracts and kickbacks to politicians.
Prosecutors said that Cunha allegedly took $5 million worth of bribes between 2006 and 2012 in incidents connected to the construction of two Petrobras drilling ships, for which he has been charged with corruption and money laundering, the Associated Press reported.
The prosecutor's office said it would not publicly disclose details about charges against Collor because they are based on accusations from an active informant, and that leaking more information could jeopardize the case. Collor was formerly president of Brazil from 1990, but resigned in 1992 after being impeached by the country's senate over allegations of campaign finance abuse.
The ongoing scandal has netted 100 indictments, including another former president Luiz Inacio Lula de Silva. Brazilian President Dilma Rousseff is not being investigated, though she was chairwoman of the Petrobras board during the years when the corruption allegedly took place.
However, her approval ratings have plummeted in the wake of the scandal to just 8 percent, and her ruling Workers' Party (PT) administration has been rocked by massive protests with over a million people demanding her resignation.
Since defeating her opponent Aecio Neves of the Brazilian Social Democracy Party to win the presidency last October, Rousseff's administration has been rocked by the Petrobras graft scandal as well as a weakened economy. Several credit ratings agencies have downgraded Brazil's debt, and its currency has fallen 34 percent against the dollar this year to reach its lowest point since 2003.
© Copyright IBTimes 2023. All rights reserved.