Brazil President Corruption Scandal: Amid Rousseff Investigations, Increasing Uncertainty That Leader Can Finish Her Term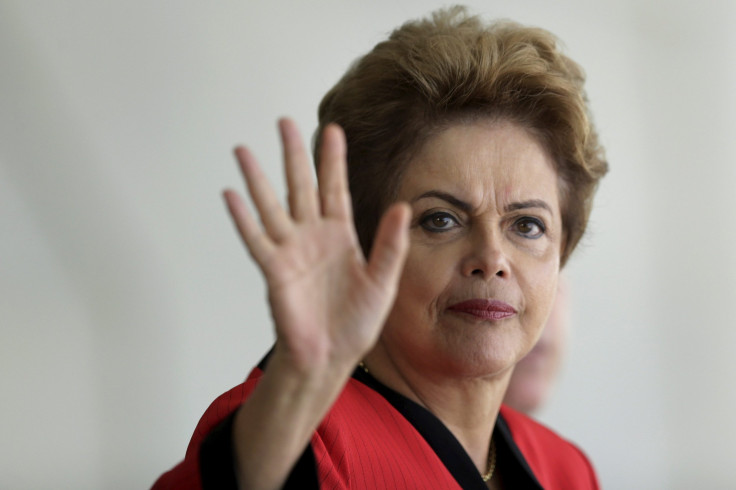 If popular opinion alone could take down Brazil's beleaguered President Dilma Rousseff, she would have been swept from office months ago. Her approval ratings have long been suffering, recently sinking to the lowest figures in Brazil's history of presidential approval surveys, and support for her impeachment has been rising. Despite souring public opinion, impeachment remained at best a remote possibility, analysts have said. That tide, however, has steadily turned over the past few months.
Damage to Rousseff's presidency is flying in from all sides. Corruption allegations have continued to mount on top of the investigation of state-run energy company Petrobras, which already has struck severe blows to Rousseff's Workers' Party. Dwindling political support has made it difficult for her to push through needed financial reforms as the economy continues to stagger with high inflation and unemployment. While she has not been directly implicated in any criminal acts, the confluence of scandal, public disaffection and economic malaise has encouraged a growing chorus of speculation that she may not finish the remaining three years of her second term. Still, it's anybody's guess as to when or how Rousseff could end up leaving office.
"A month ago I would say it was unlikely that Dilma would be impeached. It's uncertain now," said Paulo Sotero, director of the Brazil Institute at the Woodrow Wilson Center, a think tank based in Washington, D.C. "She has not been accused of anything that would justify an impeachment, but the political equation has definitely turned against her."
Public support for Rousseff has shrunk to just 8 percent, according to reputable polling firm Datafolha. Those numbers have brought her popularity to even lower levels than former President Fernando Collor, who himself was impeached in 1992. Meanwhile, two-thirds of respondents said they supported impeachment for Rousseff. A highly anticipated opposition march planned for Sunday will likely crack her armor even further if the turnout is large and vocal enough.
The president was still fielding accusations that she knew about or had some involvement in the Petrobras scheme, a massive operation in which company executives allegedly inflated contracts with construction companies and paid kickbacks to politicians, many of them from the left-wing Workers' Party. That investigation has already netted more than 100 indictments, with powerful construction magnates and former party officers alike facing charges. Rousseff, who was chair of Petrobras' board at the time the scheme was in operation, has repeatedly insisted she knew of no wrongdoing, and federal prosecutors have not targeted her in any of the investigations.
But other corruption allegations aimed directly at Rousseff have since taken hold, opening up a range of potential new ways for a seemingly inevitable fall. Brazil's Superior Electoral Court has been mulling over accusations that her presidential campaign accepted illicit donations from a businessman involved in the Petrobras dealings. If the court rules against Rousseff, it could call on both her and her vice president, Michel Temer, to step down, leaving the presidency in the hands of Eduardo Cunha, speaker of the lower house of Congress, for 90 days until new elections can be called.
That could wind up bringing former challenger Aecio Neves, who lost the 2014 election to Rousseff by just a slim margin, back toward a presidential run. Neves, a business-friendly senator from a center-right opposition party, stoked enthusiasm from international investors during his campaign, and Rousseff's decline has put in him in a strong position to make another bid for leading the country. Cunha himself is under investigation in connection with Petrobras, with allegations that he accepted a $5 million bribe.
A federal audit agency is also expected to rule late this month on separate allegations that Rousseff's government manipulated accounts in 2014, taking funds from public banks to fill in budget gaps in order to meet fiscal targets. If that ruling finds Rousseff guilty, it will be up to Congress to move forward with impeachment proceedings, which require a simple majority of Congress to vote her out of office. If that transpires, it would leave Temer in the presidency.
Cunha, the lower house speaker and member of the Democratic Movement Party, which is allied with the Workers' Party, would be responsible for giving the green light to a potential impeachment. He made waves last month after declaring that he was making a personal break from Rousseff's party over the corruption investigation against him, and would urge his party to do the same. That political rift from among Rousseff's own allies became even more pronounced last week when two parties split from the ruling coalition, shortly before the lower house of Congress approved spending increases in defiance of the president's austerity agenda.
Amid the controversies, Brazil's staggering economy has been continuing to stir discontent from the country's poor and middle class, Rousseff's primary support base. The annual inflation rate soared to 9.56 percent in July, its highest level since 2003. Unemployment rose to a five-year high of 6.9 percent in June. Brazil's fiscal adjustment, a set of austerity measures aimed at getting its public finances back on track, has also underperformed, driving the government to lower its fiscal savings goals for 2015 and 2016.
"There are many different variables of what could happen, and they are not all good for Brazil. But looking at things right now, it's possible the continuation of Dilma's presidency is the worst-case scenario," said Marcos Troyjo, an associate professor of international affairs at Columbia University in New York City and an expert on Brazilian political and economic issues. Her falling support from within Congress and the public will make it ever harder for her to put the economy back on track at a time when Brazil desperately needs reform, Troyjo added.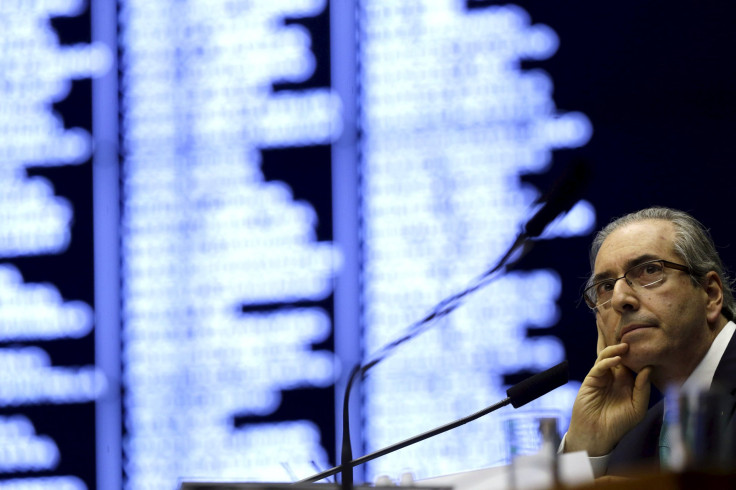 Four months ago, Troyjo put the chances of impeachment at 20 percent. Now they were around 50 percent, he said. "By next Friday, I would probably say the odds toward impeachment are getting greater," he said. "Her political capital is evaporating by the day."
Nobody dares to make predictions on what will happen next, said Sotero, who noted that he regularly speaks with several people directly involved in Brazilian politics. "It's difficult to tell exactly what's coming, but it's serious," he pointed out. "So stay alert, and keep following things, because this boat will rock."
© Copyright IBTimes 2023. All rights reserved.