Peyton Manning Future: Are The Illuminati Guiding Him? Twitter Users Say Yes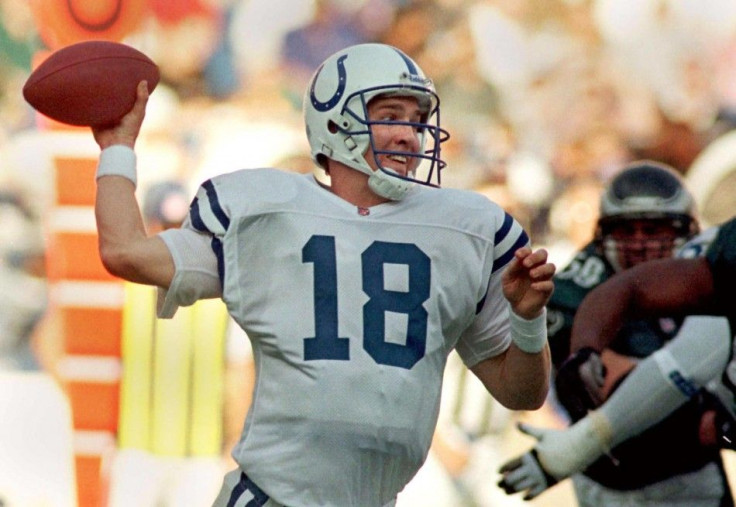 Are the Illuminati guiding Peyton Manning's future? No matter where the recently released quarterback lands, Twitter users believe the secret society is behind the NFL star's decision.
Manning was cut Wednesday by the Indianapolis Colts earlier this week, and even that move is being credited to the secret society, which could not be reached for comment because they are, well, secret.
The REAL reason why the colts released Peyton manning is because he wouldnt give in to the illuminati..., surmised @bflan_16.
Peyton Manning, sidelined last year due to injury, was with the Colts for all of his 14 seasons in the NFL.
Jim Irsay in the illuminati for letting Peyton Manning go, tweeted @Rico_Bugantez, referring to the owner of the Colts.
Peyton Manning reportedly had 12 NFL teams contact him after his release from the Colts.
The Miami Dolphins are among the teams that have their eye on the franchise quarterback.
If Peyton Manning goes to Miami it'll be clear that the #Illuminati is running things at South Beach, tweeted @GregVince.
Yo. If Peyton Manning goes to the Dolphins, we know the illuminati is hiding in Miami. First the Heat, now this, said @_Berma, referring to the NBA's Miami Heat, who lost in last year's NBA Finals to the Dallas Mavericks.
Despite having Tim Tebow, the Denver Broncos are in on the Peyton Manning rumor mill.
If Peyton Manning choose to go to Denver.. That means the illuminati paid him to do it.. They some Tebow Haters, said @SpokenReasons, whose tweet was among the most popular on the Peyton Manning Illuminati topic.
Peyton Manning indicated that he wants to sign with his new team within a week.
© Copyright IBTimes 2023. All rights reserved.