Peyton Manning Rumors: Jets, Redskins, Dolphins Could Pursue the Star Quarterback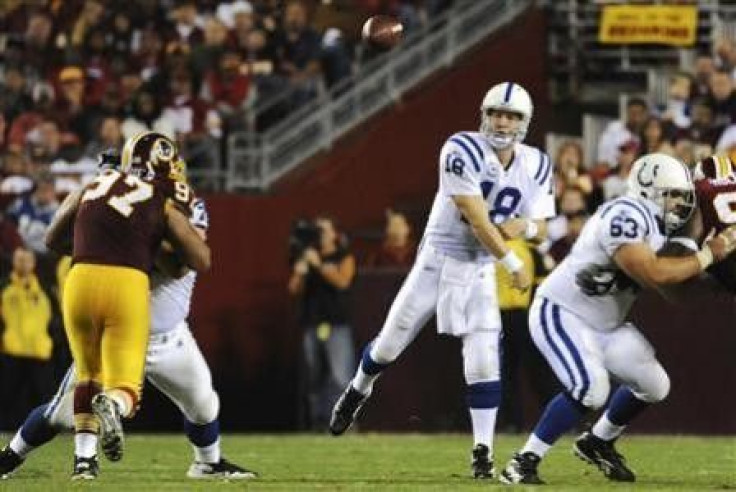 It is becoming more and more likely that the Indianapolis Colts will release long-time quarterback Peyton Manning before his massive roster bonus is due in March.
ESPN's Adam Schefter and Fox Sports' Jay Glazer both reported on Thursday that it seems likely that the Colts will cut the former NFL MVP.
Most people around the league now expect (Manning to be cut), Schefter said on SportsCenter. It's a near certainty.
Glazer affirmed that notion when he tweeted, I'd be shocked if (Manning) will be teams QB next year. Very.
Manning recently indicated that he would like to stay in Indianapolis, but most reports indicate the Colts are unwilling to pay a $28 million roster bonus to a player that missed the entire 2011-12 season due to neck injuries.
The former Super Bowl MVP will be free to sign with any team, if he is released, and it's speculated that more than a few teams could be interested in bringing him in. Schefter previously reported that the Arizona Cardinals, Miami Dolphins, New York Jets, and Washington Redskins are the teams expected to be the most interested.
The Arizona Cardinals and New York Jets have both made big commitments to quarterbacks -- Kevin Kolb for the Cards and Mark Sanchez for the Jets -- but haven't gotten the desired results. Jets owner Woody Johnson didn't rule out pursuing Manning in a recent public appearance and WFAN radio host Mike Francesca said on Thursday that he's heard Johnson would like to acquire Manning.
New York Giants quarterback Eli Manning seems more than open to sharing the New York sports spotlight with his older brother.
It would be fun, Eli Manning told ESPN New York's 1050. We could probably commute to work maybe. We could come home, eat dinner together, have the kids playing ...
It would be interesting. I am not saying it is going to happen or I want it to happen, but to have your brother that close to you and playing in New York would be very unique.
Adding Manning would likely end the Sanchez era in New York, which seems unlikely, but the Jets are known for relishing splashy moves.
The Washington Redskins and Miami Dolphins could be the most likely landing spots, though. Both teams are desperate for a quality quarterback and could likely offer more money than some of the other options. Neither team is on the verge of making the playoffs anytime soon, which could be a deterrent for the ultra-competitive Manning, but these teams will surely shower the quarterback with a lot of interest -- assuming he gets a clean bill of health.
© Copyright IBTimes 2023. All rights reserved.