PGA Tour Democracy Now Subject to McIlroy's Rule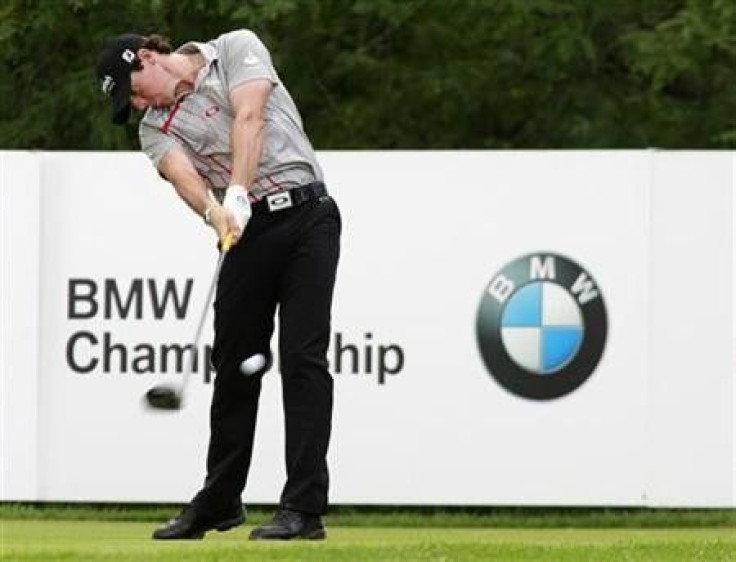 (Reuters) - A 2012 PGA Tour season that began like a democracy with a diverse range of winners and several stunning 'come-from-behind' victories is poised to end as an autocracy with world number one Rory McIlroy reigning supreme.
The mop-haired Northern Irishman will go into next week's Tour Championship in Atlanta, the final event of the regular season, in pursuit of his fifth title of the year on the U.S. circuit, and his fourth in five starts.
Long regarded as heir apparent to Tiger Woods as the game's greatest player, McIlroy has certainly fulfilled those lofty expectations over the last few months while showing no signs of slowing down.
He clinched his second major title by a staggering eight shots at last month's PGA Championship before winning back-to-back events in the PGA Tour's FedExCup playoffs - the Deutsche Bank Championship and then the BMW Championship on Sunday.
What made last week's triumph at Crooked Stick especially impressive was that he sealed victory by two shots in a star-studded field despite not playing his best golf in the second and third rounds.
"The display of golf I put on out there from tee to green was not very good," McIlroy said of a scrambling 69 which left him one stroke off the lead going into the final round.
"I hung in there and made some putts on the back nine and was able to get myself back in the tournament."
He later tweeted: "Somehow I turned a 76 into a 69 today! Did some good work on the range this evening... Excited for tomorrow to try and win my 2nd in a row!"
McIlroy duly delivered, closing with a five-under-par 67 to beat Lee Westwood and Phil Mickelson by two strokes and Woods by three.
The Northern Irishman's burgeoning ability to win tournaments without producing his 'A' game all week is a rare talent, and he is perhaps the first player to do so since Woods.
A 14-times major champion, Woods certainly sees something of his former dominant self in McIlroy.
"Yeah, he's going out there and is up near the lead and posts a good number," Woods said of the 23-year-old with whom he has already developed mutual respect and a friendly rivalry.
"He's doing the things he needs to do, and he's feeling very confident about his game. Right now he's just really playing well, and he's making a ton of putts. That's a great combo."
BALD STATISTICS
Bald statistics illustrate how well McIlroy has played on the 2012 PGA Tour, especially in the latter half of the season. He has recorded nine top-10s in 15 starts and leads the money list, with $7,842,192, and the scoring averages, with 69.62.
The Northern Irishman also tops the FedExCup standings heading into East Lake Golf Club in Atlanta for the Tour Championship finale where the overall playoff winner will pocket a mind-boggling a $10 million bonus.
McIlroy's astonishing late surge has transformed a 2012 PGA Tour season that initially illustrated with crystal clarity the remarkable strength in depth in the modern game.
Twenty-seven of the 36 winners this season, not including the weaker field tournaments held the same week as either the World Golf Championships (WGC) events or the British Open, began the year ranked in the world's top 50.
Established names such as Steve Stricker, Mickelson, McIlroy, Justin Rose, Luke Donald and Woods each triumphed once in the first three months of the season while the lesser known Brandt Snedeker and Kyle Stanley set the tone for an amazing run of come-from-behind wins.
In late January, Snedeker came from seven strokes behind to win the Farmers Insurance Open in a playoff with Stanley. One week later, Stanley surged from eight shots back to triumph by one at the Phoenix Open.
The 'democratic' trend on the PGA Tour also applied in the biggest events as Bubba Watson (Masters), Webb Simpson (U.S. Open) and Ernie Els (British Open) extended to 16 the streak of different major winners.
"Golf is getting deep," Woods said of this trend while preparing for the PGA Championship. "There are so many guys with a chance to win. The margin is getting smaller.
"There may be 16 different winners but you look at the cuts, the cuts are getting lower. If you just make the cut nowadays, you're within nine shots of the lead sometimes. That's easily do-able on a weekend."
Just five days after Woods made those remarks, McIlroy shattered that 'margin' theory as he cruised to a record eight-shot victory at the PGA Championship, his second major title in seven starts.
For the time being, PGA Tour democracy has given way to McIlroy's rule.
(Reporting by Mark Lamport-Stokes in Los Angeles; Editing by Frank Pingue)
© Copyright Thomson Reuters 2023. All rights reserved.