Philippines To Join China-Led AIIB, To Become Last Founding Member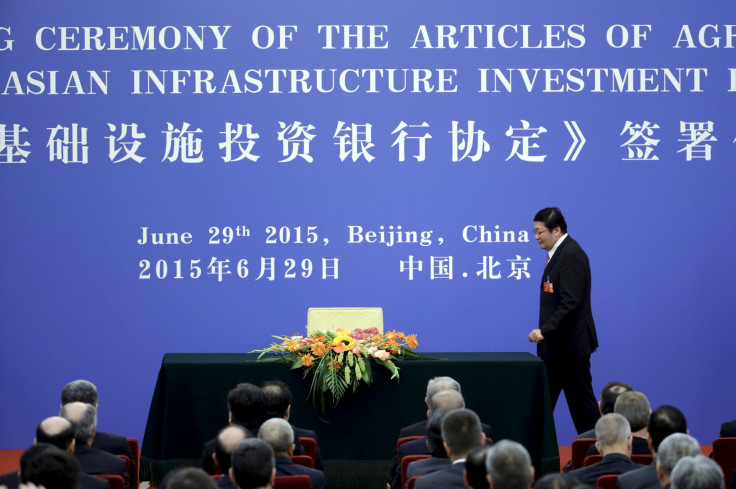 The Philippines will officially join the Asian Infrastructure Investment Bank (AIIB) before the end of the year, the country's government said in a statement Wednesday, Bloomberg reported. The South Asian nation will start with an expected capital of $196 million payable over five years, or about $39 million annually.
Despite being a signatory of a memorandum of understanding in October 2014 that was signed by 20 other Asian countries, the Philippines is the only nation among the 57 prospective founding members of AIIB -- which was proposed and is led by China -- that has yet to sign the bank's articles of agreement.
"The Republic of the Philippines will be signing the articles of agreement of the Asia Infrastructure Investment Bank before year-end, joining the newly created multilateral institution aimed at boosting infrastructure development and connectivity," the Department of Finance said in a statement, local news website The Philippine Star reported.
The country's Finance Secretary Cesar Purisima, or in his absence, Erlina Basilio, the Philippines' ambassador to China, was authorized by President Benigno Aquino to sign the AIIB articles of agreement, the report added.
"AIIB is a promising institution addressing investment needs, and will help close financing gaps in many countries," Purisima said in a statement, GMA News, a local media outlet, reported. "Our shared pursuit of growth and development has only become more challenging as the global environment becomes increasingly complex. We thus welcome platforms where countries can work towards shared development goals in the spirit of partnership."
The Philippines' finance department, using data from the Asian Development Bank (ADB), estimates that the country needs about $11.5 billion a year to invest in infrastructure, GMA News reported.
AIIB will have a paid-in capital of $20 billion and has a total authorized capital of $100 billion. Members have until December 2016 to get the agreement ratified at home, and they must also pay the initial installment of their respective paid-in capital by then.
The United States and Japan, which have historically led the World Bank and the ADB respectively, have opted to stay out of the AIIB, while non-Asian countries like Australia, France, Germany, Italy, Russia and the United Kingdom have become founding members.
© Copyright IBTimes 2023. All rights reserved.
FOLLOW MORE IBT NEWS ON THE BELOW CHANNELS