China-Led Development Bank AIIB Formally Established, To Commence Operations In January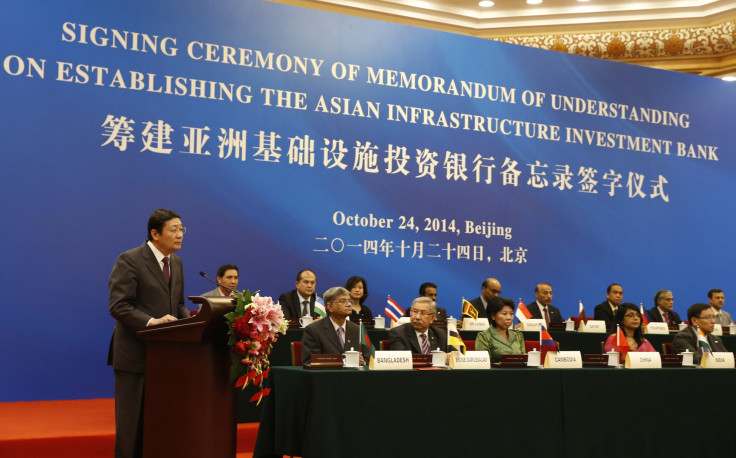 The Asian Infrastructure Investment Bank (AIIB) — the China-led development bank headquartered in Beijing — was formally established Friday and is expected to commence operations early next year, China's Xinhua News Agency reported. The establishment of the bank, which has fast translated into one of China's biggest foreign policy successes, came after 17 funding members of the AIIB ratified an agreement.
"The AIIB is legally established as the Articles of Agreement take effect today," Chinese Finance Minister Lou Jiwei reportedly said, adding that the bank will become operational once its board of directors and executive council meet for the first time in mid-January.
China and 20 other Asian nations, including India and Singapore, agreed to establish the AIIB last October. Since then, a host of European nations, including several American allies, including the U.K., France, Germany and Italy have joined the bank, despite opposition from Washington.
China, India and Russia are the three largest shareholders of AIIB, holding a 30.34 percent, 8.52 percent and 6.66 percent stake, respectively. Their voting shares are calculated at 26.06 percent, 7.5 percent and 5.92 percent, respectively.
Although the AIIB is being seen as a challenge to the World Bank and the Asian Development Bank (ADB), China insists that the aim of the new multilateral lender is to promote regional economic cooperation rather than compete with existing financial institutions.
"The popularity of AIIB stems from its win-win nature as the bank serves to enhance connectivity among Asian countries by supporting infrastructure development," Jin Liqun, AIIB's president-designate, told Xinhua. "A prosperous Asia will offer huge markets for global enterprises, which are hungry for business opportunities, and will boost international economic growth."
The AIIB is expected to lend between $10 billion and $15 billion a year in its initial years, Jin added.
© Copyright IBTimes 2023. All rights reserved.