Planned Parenthood Workers Face Daily Reality Of Threats, Violence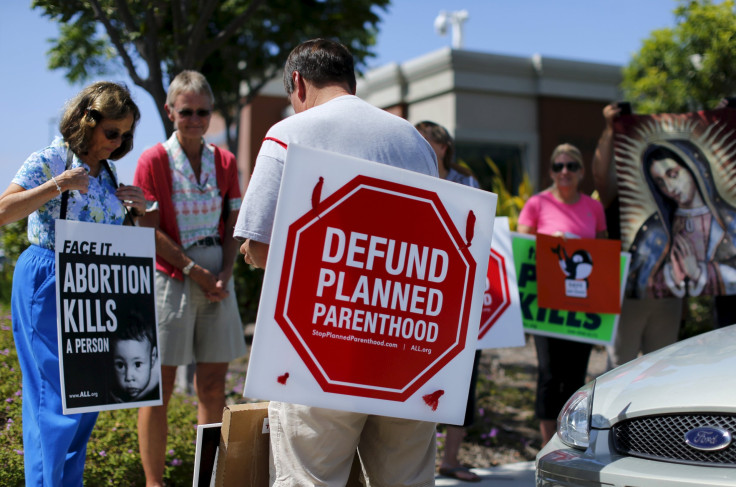 Imagine walking into work past a line of protestors calling you "the devil," or hearing a string of death threats on your voicemail each morning. Those experiences are a daily reality for employees and volunteers at Planned Parenthood and independent abortion clinics.
For decades, clinics have been the target of threats and violent attacks from anti-abortion protesters. Last Friday's shooting at a Planned Parenthood clinic in Colorado Springs, Colorado, left three dead and nine injured. Employees and volunteers say the constant threat of an attack weighs on their work but also underscores their commitment to safely provide reproductive health services to men and women. Abortions have been legal in the U.S. since 1973.
"When people come to work here, they're aware of the violence in the past, they're aware of what it means to work at a reproductive health center," Dr. Tim Spurrell, medical director for Planned Parenthood of Southern New England, said. "Their dedication to that mission drives them, and it drives them through everything: campaigns, hateful rhetoric, violence -- all of it."
Reproductive health organizations have recorded a spike in threats against their clinics since an anti-abortion group called the Center for Medical Progress released widely debunked videos that the group said are proof that Planned Parenthood illegally sells tissue from aborted fetuses to companies and scientists.
Lauren Rankin, 30, witnessed this escalation at an independent New Jersey clinic that performs abortions where she volunteers to escort patients through throngs of protestors. "Since the videos have been released, the aggression and hostility have just multiplied week by week," she said.
Still, employees and volunteers at Planned Parenthood returned to work immediately after the attack. Dr. Spurrell's network provided regularly scheduled services at four clinics on Saturday, and he said it was "business as usual" at four others he visited Monday. Spurrell said the attack saddened staff he visited this week, but it also strengthened their resolve to provide reproductive services.
Wendy San Juan, 49, worked as a scrub at a Planned Parenthood in Chicago in the 90s and said the sense of purpose she shared with other employees fueled them through threats. "You sort of get used to the threat of violence. It sort of steels your commitment," she added.
A High-Risk Career
No two clinic employees or providers handle the constant threat of violence in the same way, according to David Cohen, a law scholar at Philadelphia's Drexel University who has studied violence against abortion clinics. Some purchase bulletproof vests and register their homes in other people's names, he said, while others simply regard it as an occupational hazard.
None of the victims of Friday's attack were employees or volunteers -- one was a law enforcement officer and two others had accompanied patients to the clinic. But staff and supporters who show up for regular shifts at abortion clinics experience a barrage of threats and scares throughout the workday.
Bryn Greenwood tweeted about the risks she encountered while working as a secretary and community sexuality educator at a Planned Parenthood clinic in Wichita, Kansas, for three years in the late 90s -- the same town where Dr. George Tiller, a doctor who performed late-term abortions, was shot dead in 2009 by an anti-abortion activist. "I was like, they're doing good work and I want to be part of it," she said.
Greenwood, who is now a 44-year-old novelist living in Lawrence, Kansas, said while these attacks angered and annoyed her, she always felt safe at the clinic. It was only once she began to conduct sex education workshops in the community that she became the direct target of protestors' attention, and she began to worry.
"That was a lot more intensely personal, but in the grand scheme of things, worth it," she said.
Taylor Medley, a 20-year-old junior at Virginia's College of William and Mary, plans to become a nurse practitioner trained to perform first-term abortions. Once a month, she volunteers as a clinic escort at a Planned Parenthood clinic in Richmond.
Medley has always been aware of the danger of attacks and shootings in the career she has chosen, but she said last week's events drove that potential threat home. Regardless, Medley plans to return to her post at the clinic's doors at her usual time next month. "It's just like any act of terrorism -- people have to go on with their daily lives," she said. "At the end of the day, I'm not going to stop being a clinic escort."
Taking Precautions
Each year, about 2 million Americans are victims of workplace violence. Employees who work alone, handle cash or deal frequently with the public -- gas station attendants, bank tellers or police officers -- are at higher risk. Last year 403 people died as homicide victims at work in the U.S.
A motive has not yet been determined for the suspect in Friday's attack, but Planned Parenthood posted a tweet Sunday indicating that comments the alleged attacker made during his arrest suggest he holds anti-abortion views.
"This is because some people are out to end abortion and will take matters into their own hands," Cohen said. "It's something completely different than other workplace violence and it's something that no other medical professional has to deal with."
Carol Fredrickson, president of a consulting firm called Violence Free who has led thousands of workplace violence trainings for companies such as Pillsbury, Target and Lockheed Martin, always sees an uptick in business after a mass shooting but urges companies and healthcare facilities to schedule regular training for employees.
"There's a huge level of denial -- this can't happen here, it happens somewhere else," she said.
James McClain, regional managing director at the security firm Pinkerton, notes that volunteers who deal with the public on behalf of companies and organizations shouldn't be left out of safety training and emergency preparedness drills. Rankin, 30, of New York, completed a safety briefing when she signed up as an escort and works closely with the clinic's security guard. But as a volunteer she does not have access to staff safety resources despite being one of the first people that a visitor will encounter.
On the day after the Colorado Springs attack Rankin said an even greater number of volunteers than is typical turned up at the New Jersey clinic where she escorts patients. When she returns for her next shift, she expects to have her guard up but go about her duties in much the same way that she did before.
"You have to be aware that violence is always a possibility, but you would never show up to do it if that's all you thought about," she said.
© Copyright IBTimes 2023. All rights reserved.
FOLLOW MORE IBT NEWS ON THE BELOW CHANNELS