Activists Protest Universities Over Investments In Puerto Rico Bondholders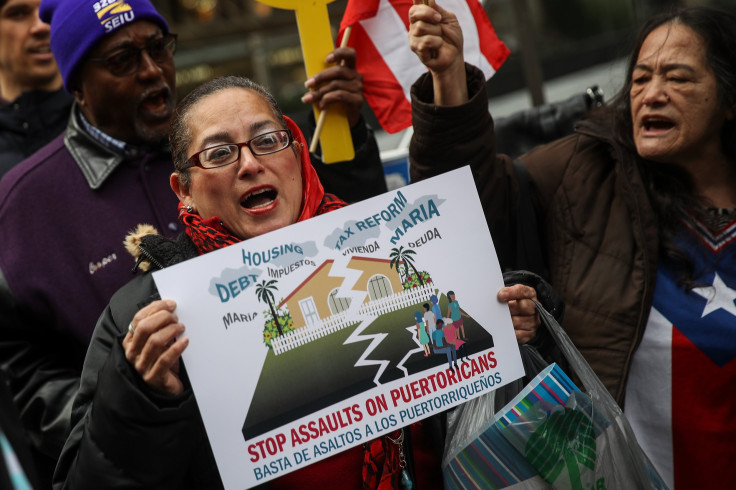 A coalition of social and economic justice groups has launched a one-week campaign to end what they view as problematic university investments. The New York-based Center for Popular Democracy (CPD) and partner organizations including three Make the Road branches will hold six protests along the East Coast, calling on Columbia, Harvard and Yale to pull their investments out of hedge funds that hold Puerto Rican debt and have advocated austerity measures in the U.S. territory, leading to mass school closings and higher tuition costs.
"We wanted to frame this as a back-to-school week of action," Julio López Varona, coordinator of Puerto Rico campaigns at CPD, told International Business Times. "We've been doing actions for the last three or four months, and last month was foreclosures... In many ways what we want to do is maintain Puerto Rico and the crisis in the eyes of the media and hold people accountable."
Hurricane Maria hit the island in September, inflicting catastrophic damage and possibly killing more than 1,000 people. Despite the crisis, financial firms that hold Puerto Rican debt have rejected calls to erase the island's obligations.
Among these debt holders is the $30 billion hedge fund The Baupost Group, which owns nearly $1 billion of Puerto Rican debt through a Delaware-based shell company. David Dayen revealed its ownership in October for The Intercept. Billionaire CEO Seth Klarman refused to erase Puerto Rico's debt, claiming that this "would almost certainly eliminate any ability the Commonwealth would have to borrow money in the future at reasonable rates, which will be critical to the island's rebuilding efforts."
In October, CPD, the Hedge Clippers coalition and dozens of partner organizations sent letters to 18 universities, informing them of Baupost's connection to Puerto Rican debt and asking for meetings with the university presidents to discuss their investments in the hedge fund. For the "National Week of Action" protests, CPD chose universities in areas that have large Puerto Rican populations, including Wednesday's action at Harvard in Boston.
CPD is planning more actions at institutions such as Princeton and the University of Chicago. "We want to continue upping the pressure and make this a student-led movement. We've done a lot of work to reach out to students at Harvard, Yale and the University of Phoenix to plant the seed," Varona said.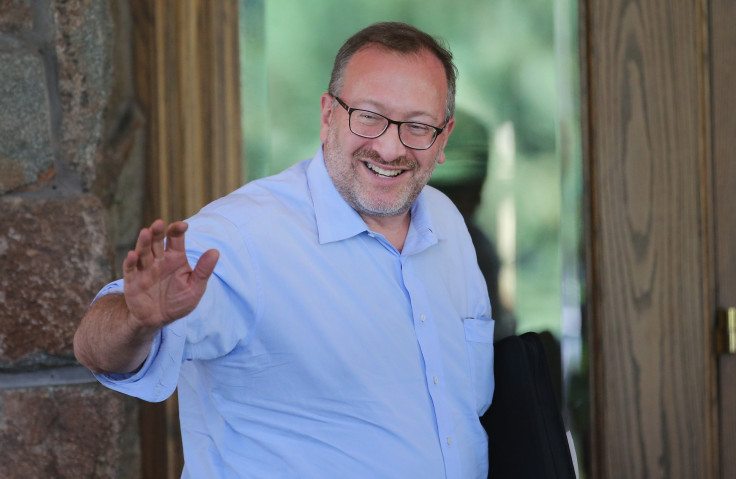 Universities identified by CPD have private "limited partnership" investments that Baupost manages. According to the most recent Securities and Exchange filings, Harvard has more than $2 billion invested in "HB Institutional LP." Princeton has more than $1.1 billion, and Yale has roughly $825 million, invested in their respective Baupost funds. Other higher education institutions that appear to have investments with Baupost include Amherst College, Cornell University and the University of Washington.
Decagon Holdings, the shell company created by Baupost, held the largest share of Puerto Rico's sales-tax-backed COFINA bonds — $912 million in 10 separate Decagon subsidiaries — as of July 2017. Klarman said his firm used "special purpose vehicles" to acquire Puerto Rican debt so competitors wouldn't discover that Baupost bought the bonds, which "could have an adverse effect on our ability to trade."
The Puerto Rican government closed a large number of schools over the past several years because of its $123 billion debt and pension crisis. Then Hurricane Maria hit, forcing even more school closures. As of now, at least one school in every city still lacks power. The financial oversight board created in 2016 proposed huge cuts to Puerto Rico's largest public university the following year, prompting a one-week student strike.
Activist groups will protest at the main campus of the University of Phoenix in Orlando on Friday. The for-profit university chain is partially owned by Apollo Global Management, another holder of Puerto Rican debt. In 2014, Apollo Global Management reportedly wanted to "take on a more activist role" in restructuring Puerto Rico's debt in 2014.
Apollo Global Management's "campaign contributions show a pattern of support for candidates that oppose bankruptcy in Puerto Rico and that are pushing austerity measures as the only solution to the Puerto Rican crisis. Apollo Global Management has made clear its intention of obstructing any chance of resolving the debt crisis and in doing so, is an accomplice to the suffering that is happening on the island." reads the Facebook event.
CPD is also targeting Columbia University for its partnership with Santander Bank, which Hedge Clippers has accused of helping create the Puerto Rico debt crisis. A revolving door existed between the Financial Control Board and the state bank, which issues government bonds. Santander executives allegedly led the island to borrow huge sums on increasingly risky terms, and it charged big management fees and interest payments, funneling taxpayer dollars into the private, Spanish bank.
When an institution invests with outside managers, it has to pay fees considerably higher than it would cost to operate its own in-house investment team. Typically, hedge and private equity firms charge a 2 percent management fee on the amount of the investment and a 20 percent performance fee on any returns above a set target. Some institutions are able to bargain down these fees somewhat, but they are still liable for huge amounts. Public pension fund investments in costly Wall Street funds have come under scrutiny in the last few years, as, in some cases, these vehicles have underperformed basic stock market indices.
University divestment campaigns have a strong track record. In the 1980s, students pressured their universities to divest from companies doing business with apartheid South Africa. Then higher ed institutions responded to student demands by divesting from tobacco companies. Over 100 colleges and universities around the globe have divested from fossil fuel companies in recent years.
CPD is running multiple campaigns around Puerto Rican foreclosures and pension funds invested in hedge fund bondholders. In 2017, in partnership with Hedge Clippers, it was a big part of the successful effort to get the New York City Employee Retirement System pension fund to divest from hedge funds.
The current university divestment campaign is another part of CPD's larger strategy to aid Puerto Rico, with the federal government as the ultimate target. "I think the most important thing is that four months after the storm, there has been no congressional action and little federal action" on Puerto Rico, said Varona. "It's a question of pushing them to do so, and if they don't we're going to make them look really bad."
© Copyright IBTimes 2023. All rights reserved.
FOLLOW MORE IBT NEWS ON THE BELOW CHANNELS