Financial Industry Lobbying To Shape Puerto Rico Bankruptcy Bill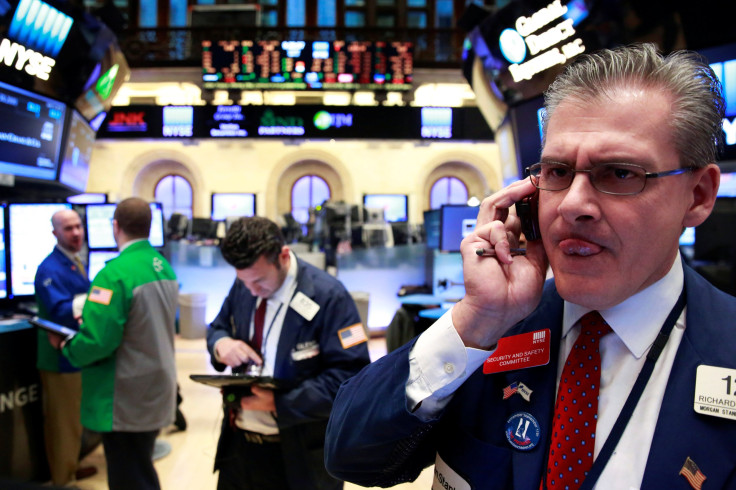 The effects of Puerto Rico's $70 billion debt crisis are being felt far from the island's shores, generating big financial industry spending in Washington, D.C., as lawmakers consider a debt-restructuring plan.
Over the last few years, hedge funds and mutual funds have bought up large tranches of Puerto Rico's bonds at cut-rate prices, hoping the island will pay back its debts in full, thereby giving those financial interests a big payout. That gamble, however, has relied in part on the bet that the island will make draconian cuts to social services and worker pensions and use the savings to pay back 100 cents on the dollar to its Wall Street creditors — a bet, in other words, that Congress will prevent the island from simply erasing some of its debt through the kind of bankruptcy protections that are afforded U.S. cities.
To that end, federal lobbying records show that major banks, bond insurers and hedge funds spent millions last year to try to shape bankruptcy proposals for the island. Two so-called dark money groups linked to the billionaire Koch brothers and Republican strategist Karl Rove are also working to influence the debate over Puerto Rico's debt.
The Council for Citizens Against Government Waste (CAGW) spent a combined $130,000 in 2015 to lobby the federal government on issues including Puerto Rico's bankruptcy proposal. CAGW receives funding from Koch-backed dark money organizations — nonprofits that conceal their donor network.
Several people identified as donors to the Koch network could lose money should the island territory's government obtain bankruptcy rights. If Puerto Rico is allowed to retroactively change the rules of their bond obligations, its bondholders — like any creditors after a bankruptcy — could get back only part of the money they were owed.
That includes billionaire hedge fund manager Ken Griffin, whose investment firm Citadel has owned as much as 5.6 percent of the parent company of Puerto Rican bank Banco Popular — one of many institutions that could be thrust into financial turmoil with debt restructuring — according to filings with the Securities and Exchange Commission. Joining Griffin is the co-CEO of hedge fund Renaissance Technologies, Robert Mercer, whose firm had just over $2 million invested in Banco Popular's parent company last year when CAGW lobbied on debt, but sold its stake in the company in September, according to Thomson Reuters data. Also among Koch network donors that have held a stake in the bonds themselves is Dick Weiss, of investment firm Wells Capital Management, which is ranked as the seventh-biggest mutual fund owner of Puerto Rican bonds.
The other dark-money-backed group lobbying on the issue is the Center for Individual Freedom (CFIF), which spent $39,000 lobbying the federal government in 2015. That organization has received $5 million from Crossroads GPS — the political nonprofit founded by Rove, who served as deputy White House chief of staff to former President George W. Bush — according to data compiled by the Center for Responsive Politics. So far, CFIF has spent at least $200,000 on ads opposing a Puerto Rico debt restructuring, which it called a bailout, according to the Sunlight Foundation. One other dark money donor to the group is the American Action Network, which frequently funds anti-Democrat ad campaigns.
Mercer, one of the Koch network donors, is known to have contributed at least $1 million to Crossroads GPS during the 2012 presidential election cycle. Other donors to the group include Griffin and Daniel Loeb, the founder of Third Point LLC, which has held Puerto Rican bonds.
Many other big financial institutions have lobbied lawmakers on the Puerto Rican debt issue. That includes:
- Investment banking and financial services corporation Citigroup, which spent $120,000 on lobbying efforts that included employing three former House officials.
- The Investment Company Institute, a trade association for the mutual fund industry, which has invested in Puerto Rican debt and which focused part of its $5.1 million congressional lobbying effort on the issue last year. Among the Investment Company Institute's board members is the chairman of OppenheimerFunds, which has been a particularly aggressive investor in the island's bonds.
- The Mass Mutual Life Insurance Company, whose assets include subsidiary OppenheimerFunds, which has been one of the largest holders of Puerto Rican debt, focused part of an over $3 million lobby effort last year on the issue.
- Insurance group Assured Guaranty spent $385,000 lobbying on the issue, according to lobbying reports that mention the bankruptcy. The company has provided insurance to roughly $13 billion worth of the bonds — and would have to pay out those insurance policies if Puerto Rico erased its debt through bankruptcy.
- BlueMountain Capital, which has held more than $400 million in bonds from the Puerto Rico Electric Power Authority, registered to lobby the issue but did not file any actual spending. It is one of at least 36 hedge funds that have purchased Puerto Rican bonds, according to Puerto Rico's Center for Investigative Journalism.
- Investment firm Vanguard — which has held roughly $200 million worth of Puerto Rican bonds — said it was lobbying on "issues surrounding the fiscal situation with Puerto Rico and its impact on municipal bonds" in federal reports documenting $3.4 million worth of lobbying in 2014 and 2013.
The bill currently up for consideration in the House would give Puerto Rico some powers that are generally available only during bankruptcy, including provisions that may be unpalatable to investors. One provision would allow the island's government to impose terms of broad debt settlements on even those creditors that have been holdouts, which is a staple of bankruptcy filings. Opponents of the bill say that it is, basically, bankruptcy by another name and "draws on nearly every provision of Chapter 9 of the U.S. Bankruptcy Code," according to Matthew Kandrach, the vice president of the 60 Plus Association, a political nonprofit associated with the Koch brothers that did not report lobbying on the issue.
In congressional testimony on Wednesday, U.S. Treasury official Antonio Weiss — who came to the job from a major Wall Street firm — said a Puerto Rican debt restructuring proposal currently being considered by House lawmakers represents significant "progress," but that the Obama administration remains concerned that it does not give the island enough flexibility to fix the situation.
Weiss said one clause in the Republican-backed proposal "imposes an unworkable, mandatory process that will only delay the ability to reach a comprehensive resolution" because it would force the Puerto Rico's indebted public agencies "to complete a complicated process before any single entity could begin to restructure."
UPDATE: This post has been updated to reflect that Third Point held Puerto Rican debt, but says it has sold its stake.
FOR FREE to continue reading
✔️ Unlock the full content of International Business Times UK for free
offer available for a limited time only
✔️ Easily manage your Newsletters subscriptions and save your favourite articles
✔️ No payment method required
Already have an account?
Log in
© Copyright IBTimes 2023. All rights reserved.