Bernie Sanders' Economic Plans Questioned By Critics With Ties To Wall Street, Hillary Clinton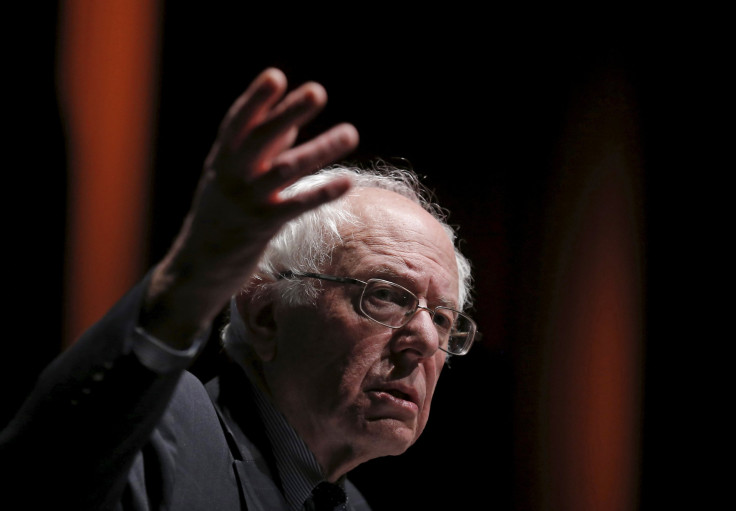 Four former chairs of the White House's Council of Economic Advisers on Wednesday questioned the economic plan proposed by Bernie Sanders, as did a prominent Democratic senator. Two of those economists and the lawmaker have something else in common: They have financial ties to Wall Street. The other two letter writers also have ties to Sanders' Democratic primary opponent, Hillary Clinton.
Laura Tyson and Austan Goolsbee were two of the signatories on a letter to Sanders criticizing his campaign for touting Professor Gerald Friedman's analysis of his economic proposals. "We are concerned to see the Sanders campaign citing extreme claims by Gerald Friedman about the effect of Senator Sanders's economic plan — claims that cannot be supported by the economic evidence," the letter said.
While respected economists and liberal columnists have condemned Friedman's paper as far too optimistic, the Financial Times defended it on Thursday, writing that "a prolonged period of rapid growth in the U.S. is plausible, with the right policy mix."
Goolsbee and Tyson — the latter of whom was a Bill Clinton appointee — both work for a financial industry that has faced withering attacks from Sanders. Tyson has held a lucrative seat on the board of directors at Morgan Stanley since 1997, shortly after she completed her time leading the Council of Economic Advisers. In 2013, Morgan Stanley paid Hillary Clinton $225,000 for a speech. The Wall Street megabank has been one of Clinton's top sources of donations throughout her political career. The same bank employed Clinton's top deputy at the U.S. State Department, both before and after his trip through Washington's proverbial "revolving door."
Emails released by the State Department from Clinton's tenure there include multiple references to Tyson. In 2011, Secretary Clinton wrote Tyson to confirm her contact information. While much of Clinton's message is redacted, Tyson responded that she was "honored by your invitation to join the new board you are setting up." Tyson added that she was "delighted by the prospect of working with you." Later that year, Foreign Policy magazine reported that Tyson would serve on a "Foreign Affairs Policy Board" advising Clinton on "the top priorities facing the State Department."
Tyson has also served as a senior advisor at the Rock Creek Group, a private investment firm that directed California's public pension money to a hedge fund run by Clinton's son-in-law, according to the New York Times.
Goolsbee, who led the Council of Economic Advisers under President Barack Obama, is currently a partner at 32 Advisors — a corporate consulting firm run by Clinton supporter Robert Wolf, a former top executive at UBS, which was a Clinton foundation donor and which was aided by Clinton's intervention in an international tax dispute. According to CNBC, Goolsbee's work at the firm has included hosting weekly phone calls with executives at hedge funds, banks and big corporations to discuss economic issues and policymaking in Washington. The financial news channel described Goolsbee as "hedge funds' secret weapon."
Last month, Goolsbee blasted Sanders' proposal to break up big banks, which Sanders says will help prevent future financial crises. Goolsbee said his plan "doesn't really help reduce risk to the financial system." In 2007, just prior to the housing market collapse that cratered the global economy, Goolsbee defended the subprime mortgage industry. "When contemplating ways to prevent excessive mortgages for the 13 percent of subprime borrowers whose loans go sour, regulators must be careful that they do not wreck the ability of the other 87 percent to obtain mortgages," Goolsbee wrote in an op-ed.
On Wednesday, Sanders' Wall Street proposals were criticized by another Democrat with ties to Wall Street — Sen. Cory Booker of New Jersey. "I've looked at objective folks who have analyzed what Hillary Clinton's plan is — better than Bernie Sanders'," Booker told CNN. "His rhetoric may be fiery and the like, but as far as somebody who's actually put the plans and strategies to reform Wall Street — I think if you look at objective observers — I'd stick with what Hillary Clinton wants to do, intends to do and has a plan to implement."
In 2012, as mayor of Newark, Booker described Obama's attacks on Republican Mitt Romney's career in the financial sector as "ridiculous" and "nauseating." During his 2014 senate campaign, Booker received more money from executives working in the securities and investment industry than any other member of congress, according to data compiled by the Center for Responsive Politics.
© Copyright IBTimes 2023. All rights reserved.