Did Obama's Stimulus Hurt The Planet? How Trump Could Revive Homegrown Solar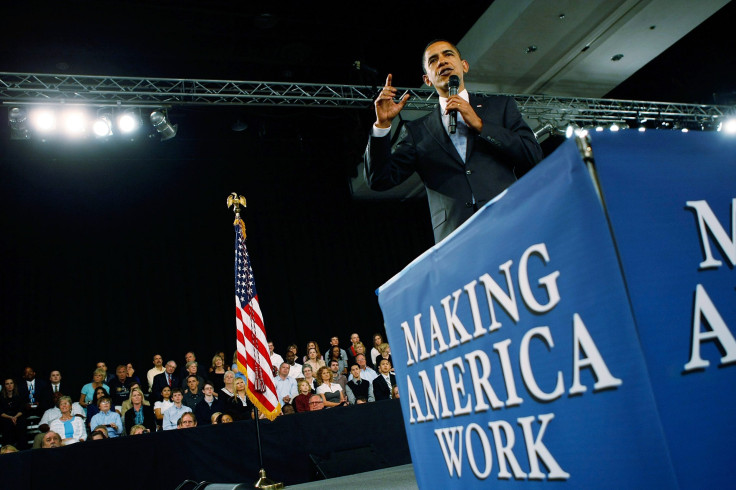 Amid a cascade of political problems this fall, there could be a happy moment for Donald Trump. A trade case that will soon land on the president's desk could give him an opportunity to boost American manufacturing and slam an Obama administration policy at the same time — while potentially winning praise from environmentalists for helping cut greenhouse gas emissions.
The U.S. International Trade Commission recommended Tuesday that the president impose tariffs on imported solar panels in order to counter the financial harm caused by a mix of seemingly unrelated economic trends — and the unintended consequences of President Barack Obama's economic stimulus package — which have pushed the U.S. solar manufacturing industry to the brink of extinction.
The cost of the solar energy has plummeted, finally making the renewable power source price-competitive with fossil fuels. Solar panels are no longer a specialty item — there are scores of installers throughout the nation who make the process almost as easy as adding an appliance to a home. And with more people looking to match their buying habits with their environmental politics, the demand for solar continues to rise.
That should be welcome news after a series of devastating hurricanes and wildfires, and at a moment when scientists say the world needs to embrace renewable energy in order to prevent catastrophic climate change. But just last April, Suniva, one of America's two largest manufacturers of solar panels, declared bankruptcy.
Instead of increasing domestic manufacturing, America's rush to solar fueled an import boom — one effectively subsidized by the U.S. government. While Beijing had already begun propping up its solar industry, President Obama's 2009 stimulus delivered hundreds of millions of taxpayer dollars to foreign companies.
"Unfortunately, the Obama administration stimulus funding for solar installations primarily benefited Chinese producers who were also receiving massive grants, loans, and other government subsidies, and then dumping their product in the U.S. market," Tim Brightbill, a partner with the law firm Wiley Rein who is representing SolarWorld Americas, told International Business Times. "The stimulus had almost no benefit for U.S. producers of solar cells and modules."
The result is a failing American solar manufacturing sector — and diminished environmental benefits. Recent science suggests that, for as long as nine years, the carbon cost of producing and importing an Asian-made solar panel is greater than the reduction in greenhouse gas emissions that the same panel will provide on the roof of a home.
The U.S. industry's crisis led Suniva and SolarWorld Americas, the two largest U.S. solar manufacturing companies, to file a case in April with the ITC, asking it to declare that their industry has been seriously damaged by foreign imports.
On Sept. 22, the ITC ruled unanimously that foreign imports have injured American manufacturers. On Tuesday, the commission released its "remedy recommendations" for President Trump, who has the power to accept or reject the recommendation by January. The four ITC commissioners laid out separate, yet similar, plans including tariffs of up to $0.35/watt on panels that would kick in after a yearly import quota had been reached and decrease over four years.
Possibly hinting at how the administration is leaning, the White House said in a Sept. 22 statement, "The U.S. solar manufacturing sector contributes to our energy security and economic prosperity." Axios reported that Trump is likely to issue tariffs on solar imports.
"There is a strong economic justification and a strong environmental justification for having solar manufacturing in the market where the product will be used," said Brightbill. "The U.S. is the second-largest solar market in the world, and solar demand is strong and growing...yet imports have taken all of that growth. It doesn't make sense either economically or environmentally."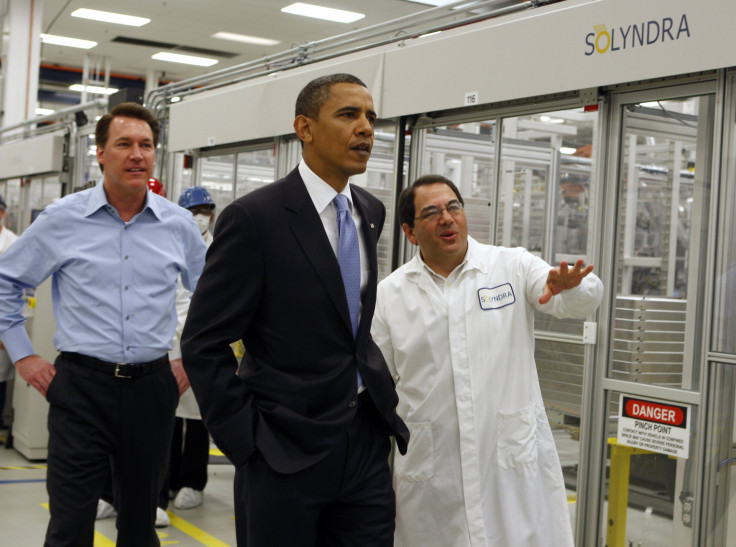 An Incentive Plan — And A Loophole
Obama's economic stimulus package was aimed, among other goals, at creating domestic jobs by helping incentivize and grow U.S. companies. Part of the $787 billion American Recovery and Reinvestment Act of 2009 — section 48C — was the Advanced Energy Manufacturing Tax Credit, a $2.3 billion program that provided a 30 percent tax credit to 183 companies investing in green energy manufacturing or energy conservation technologies.
To earn the tax credits, projects had to be based in the U.S., and a " Buy America " clause was included to boost domestic manufacturing. But the clause had a loophole: It would be waived if "the relevant manufactured goods are not produced in the United States in sufficient and reasonably available quantities." Because of the relatively small solar manufacturing capacity in the U.S., domestic solar installation companies receiving stimulus money would be allowed to purchase panels from overseas, undercutting U.S. manufacturers.
But that's not all — while roughly 70 percent of the grant recipients were American companies, there were at least 17 foreign-based companies receiving 48C tax credits that had already arranged for solar or wind manufacturing operations in low-wage nations, according to a 2010 report from a project of the BlueGreen Alliance Foundation, an environmental nonprofit. Six U.S. companies that were awarded tax credits, including First Solar and Sun Power, already had manufacturing operations in low-wage, East Asian countries such as China, Malaysia and the Philippines.
Receiving the biggest chunks of 48C stimulus funding were American manufacturers of polycrystalline-silicon, the key ingredient in most of the world's solar cells. In January 2010, Hemlock Semiconductor Corp. was awarded $142 million in 48C tax credits to expand its polysilicon manufacturing operations in Hemlock, Tennessee, where it is based. The North American branch of the Germany-based Wacker Chemie got over $128 million in 48C tax credits to help build a polysilicon manufacturing facility in Charleston, Tennessee. The Norwegian REC Silicon, which has two U.S. operations, received $155 million in credits — the highest amount awarded to a 48C recipient — and AE Polysilicon got $45 million.
Domestic polysilicon manufacturers posed another problem for the country's solar panel producers: Both before and after receiving stimulus funds, they entered into long-term "take-or-pay" contracts with foreign, often Chinese, solar manufacturing companies. REC Silicon, for example, entered into several contracts guaranteeing sales of polysilicon and solar wafers — electrical components of solar cells that are made from polysilicon — at fixed prices to companies headquartered in East Asia. Hemlock entered into numerous take-or-pay contracts with foreign solar producers in China, Japan and Germany.
Using cheap, subsidized polysilicon and polysilicon products from the U.S., along with huge subsidies and tax credits from their own government, Chinese manufacturers were able to produce solar panels at extremely low cost, allowing them to "dump" huge numbers of cheap panels into the U.S. market.
At the same time, China was expanding its polysilicon manufacturing, further reducing global prices. Oversupply of polysilicon pushed prices way down in 2011, with global pricing falling over 60 percent. In 2012, the price continued to decline.
After the U.S. imposed tariffs on Chinese solar imports in 2012, China responded in mid-2013 with its own steep tariffs of up to 57 percent on polysilicon imports from the U.S. This move hurt the U.S. polysilicon industry. REC Silicon's Washington facility, for example, exported 80 percent of its polysilicon to China before the tariffs. Until September 2015, companies were able to exploit a loophole that waived the tariffs if Chinese companies were importing the material for use in products that would then be exported. Still, U.S. companies have taken a hit.
The stimulus money wasn't nearly enough for American solar manufacturers to weather this perfect storm. From 2011 to 2014, at least 16 domestic facilities manufacturing solar modules, cells and other components closed. In 2014, the U.S. produced a mere 2 percent of the world's solar panels, while Asia, particularly China, made 87 percent. From 2010 to 2016, as the overall U.S. solar industry more than doubled, solar manufacturing jobs went from 27 percent of total domestic solar industry jobs down to 15 percent. In 2016, the industry continued to increase its workers, and manufacturing employees remained at roughly 15 percent of the workforce.
The Georgia-based Suniva provides a prime example of how American manufacturers can't compete with foreign competitors. In late 2015, Suniva had reached a verbal agreement with a potential customer that would purchase panels for $0.665/watt. By early 2017, however, that customer had abandoned its deal with Suniva, instead signing with a southeast Asian supplier that was selling at only $0.38/watt. In April 2017, Suniva filed for bankruptcy.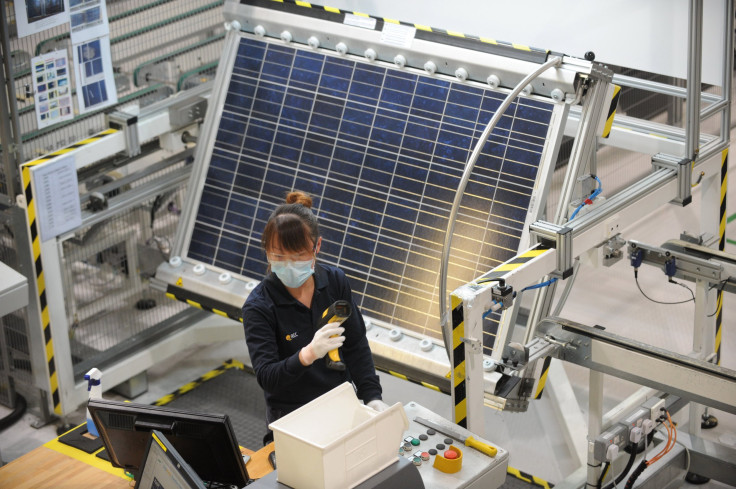 Environmental Cost
The fact that U.S. solar companies import most of their panels from cheaper, overseas markets creates a surprising dilemma. The environmental impact of importing panels — from shipping polysilicon to East Asia to transporting completed solar panels to U.S. installation companies — is considerable. An expert estimates that for U.S. solar customers, it could take almost a decade just to pay back the carbon generated in the production and transportation of panels made in East Asia.
The process begins with the mining of quartz, the most common form of silica. Next, initial refining turns the quartz into metallurgical-grade silicon, a process that employs huge, energy-intensive furnaces to keep the quartz hot. To turn this type of silicon into extremely pure polysilicon needed for solar power, factories use hydrochloric acid and hydrogen, which create a toxic byproduct called silicon tetrachloride. The next step, creating the silicon wafers that make up solar cells, also requires hazardous chemicals.
Next, the solar cells are combined into solar modules, or panels. Because of the tariffs imposed by the U.S. on China, and then Taiwan, for dumping huge amounts of cheap panels into the U.S. solar market, these countries have moved much of their manufacturing to countries like Malaysia and Thailand, which aren't subject to tariffs, further increasing the amount of transport involved in the process.
When the solar panels are complete, diesel-fueled ships with heavy containers of panels travel from Asia to the U.S. to deliver them to American solar installers.
The countries where the many steps in this production process take place affect the overall environmental footprint of a solar panel's creation. The greenhouse gas payback time — how long it takes for a panel to make up for the greenhouse gas emissions resulting from manufacturing and transporting it — increases sharply with imports from Asia. China, for example, relies heavily on coal for its electricity; therefore, producing solar components there has a much higher carbon intensity than in Europe or the U.S. A May 2014 report by the Argonne National Laboratory and Northwestern University found that solar panel manufacturing in China has roughly double the carbon footprint than in Europe. China also has fewer environmental and efficiency standards for its factories than in Western countries. (The study did not include the energy cost of transporting the solar panels to their final destination.)
The greenhouse gas payback time for a panel produced in a country with a carbon-intensive energy grid and installed in a country with a more energy-efficient grid can be considerable, says Dustin Mulvaney, a professor of environmental studies at San Jose State University who has researched the environmental cost of solar production.
A panel made in East Asia could use an energy grid that is four times more greenhouse gas-intensive than a grid in the U.S. If that panel's energy payback time is two years, the efficiency discrepancy between the U.S. and, for example, China would make the greenhouse gas payback time eight years. Mulvaney added that factories that use installed solar capacity to help power their operations will reduce the carbon payback time of their panels.
At IBT's request, Mulvaney made a calculation to estimate how much transportation might increase the greenhouse gas payback time of a panel made from polysilicon mined in Washington state, sent to China, manufactured in Malaysia and installed in Los Angeles. In this scenario, transport would account for a roughly 10 percent increase in carbon payback time, given that shipping is far less energy-intensive than trucking.
Considering both estimates, it could take nearly nine years for a panel installed on a U.S. roof to make up for the greenhouse gas emissions involved in its production and transportation. Most panels last around 25 years, so if used for its full lifespan, assuming it escaped any weather-related or other damages, the panel would pay off the carbon used in its production close to three times over.
Keeping manufacturing in the U.S. would decrease greenhouse gas production considerably. Suniva and SolarWorld said that imposing adequate tariffs on all solar imports would save the domestic solar manufacturing industry. If sufficient tariffs are imposed, and the U.S. solar industry overall does not suffer a major blow, this would be a win for the environment. But the companies say ITC's trade remedy doesn't go far enough.
The Solar Energy Industries Association (SEIA), the main trade group representing the entire U.S. solar industry, declined to answer IBT questions about the environmental impact of solar imports.
A Tariff On All Imports
Suniva and SolarWorld engaged in a bitter dispute over the best remedy for the financial injury. SEIA, which strongly opposed the tariffs, saying they would cost thousands of American jobs. In May, SEIA president and CEO Abigail Ross Hopper vowed to " lead the fight on this petition every step of the way."
Competition with much cheaper foreign products has led most manufacturers to close up shop. At least 26 U.S. plants that manufacture crystalline silicon photovoltaic products have shuttered since 2012, according to a recent ITC prehearing report. The closures represent a loss of $1 billion in investment and thousands of jobs in 22 states, according to Matt Card, executive vice president of commercial operations at Suniva.
Suniva is majority-owned by Chinese solar company Shunfeng International, and SolarWorld is owned by German parent company SolarWorld AG. In fact, Shunfeng stopped supporting Suniva's trade case in May, saying it was "not in the best interests of the global solar industry."
Most arguments against Suniva's trade case alleged that tariffs on solar panel imports would greatly increase solar installers' costs, putting thousands of people out of work and decreasing the solar capacity installed in America. According to Greentech Media — a company owned by Wood Mackenzie, a firm that provides "commercial intelligence for the energy, metals and mining industries" — the higher tariff and floor prices originally proposed could halt two-thirds of U.S. solar installations through 2022. Up to 84,000 solar workers will lose their jobs by 2020 under a new proposal, according to SEIA. Hopper has said the tariffs, if imposed, "could be devastating. The price of solar in America will double and as any business owner knows, when you raise the price, you lose demand."
But there have already been tariffs imposed on Chinese, and then Taiwanese, solar imports, and neither impeded the industry's growth long-term. "Both of those times, opponents made the same claims," Ben Santarris, head of corporate communications for SolarWorld Americas, told IBT. "None of that happened; in fact the reverse happened. Solar demand continued to increase, installation continued to increase, jobs continued to increase."
In 2012, the U.S. slapped tariffs on imports from China, which was dumping heavily government-subsidized panels into the more expensive U.S. market. A new round of tariffs on Taiwanese imports came in 2015 because China had exploited a loophole in the original tariff order that allowed it to manufacture its products offshore to evade the restrictions. The industry did not take a hit; the number of solar jobs in the U.S. has steadily increased since 2010, including increases of 20 percent or higher since 2012, according to the Solar Foundation.
The new proposed tariffs would be different, however, says Hopper, because they would apply to imports from any foreign nation. In a statement to IBT, Hopper wrote, "This case is completely unrelated to the hyper-focused trade cases of years past, which just hit Taiwan and China. This one would have a global impact...You simply cannot overstate the potential harm this petition could cause and there's zero to gain, except for the investors of these two foreign-owned, bankrupt companies. The American economy will suffer immensely if this goes through."
Mulvaney, the environmental studies professor, doesn't think the proposed tariffs would ultimately hurt the industry. "I think it could slow it for a little, but I think it'll reassure the industry...and open manufacturers. There's a huge market in U.S. on the consumer side — they want in. I think it'll get settled because the stakes are pretty high." He added that foreign "factories, including Chinese ones, could migrate to the U.S. and increase domestic manufacturing that way."
Early murmurs suggest that Mulvaney, as well as petition advocates, may be correct. Several foreign solar manufacturers including BYD of China and Adani Solar of India are considering opening factories in the U.S. due to the prospect of tariffs, according to Greentech Media. If the tariffs go into effect, "I think the clear direction that will emerge from this is that manufacturing in the U.S. will be incentivized, or supported by direct or indirect means," said Adani Solar's chief marketing officer Gagan Pal.
SolarWorld expected its proposed remedy to create at least 35,000 solar jobs, including nearly 10,000 in manufacturing.
Unlikely Bedfellows
SEIA has been one of the loudest voices against the tariffs. Earlier this year, it joined with some prominent right-wing organizations, atypical allies for solar advocates, to oppose the trade petition. The combined effort, called the "free-market" Energy Trade Action Coalition, includes the conservative Heritage Foundation (funded in part by fossil fuel titans such as Charles and David Koch and ExxonMobil), the Republican-aligned corporate bill mill the American Legislative Exchange Council (ALEC), and the free-market think tank R Street Institute, an ALEC member.
"Organizing and coordinating" the coalition's efforts is George Felcyn of the Houston-based law firm Bracewell, which specializes in energy issues and advises major oil and gas companies such as BP and Kinder Morgan, as well as some renewable energy companies.
Asked about SEIA's decision to unite forces with right-wing groups that are generally hostile to green energy, Hopper said, "In this case, we are fighting the same fight and that's for a free market. As ALEC has publicly said — 'our country's trade laws were set up to facilitate and promote an even playing field, not provide shelter to those unable to compete.'" However, with China massively subsidizing its companies, those on the other side don't consider the current market free.
Regarding "the narrow universe of American cell and panel manufacturers, which employ only 1,000 Americans," SEIA president Hopper said, "We will address proposals to help them at the appropriate time, but they have to also be able to help themselves." Exact estimates of the number of jobs in each subsector are difficult, but manufacturing advocates have estimates well above 1,000.
"American solar manufacturing is thriving," said Hopper, citing a SEIA publication featuring manufacturers — mainly those that do not produce cells or modules but rather inverters, steel products and mounting systems — that have made "good business decisions." But overall solar manufacturing hasn't matched the growth in other parts of the industry over the last several years. The Solar Foundation's analysis shows that as overall solar jobs steadily increased in the U.S., manufacturing jobs didn't nearly keep up.
SEIA lobbying resulted in a bipartisan group of 69 members of Congress signing letters to the ITC, asking its chair to reject the Suniva petition because "increasing costs will stop solar growth dead in its tracks."
Among the groups supporting Suniva and SolarWorld in the trade case is the Alliance for American Manufacturing, a trade association formed in 2007 by manufacturers and the United Steelworkers, North America's largest industrial labor union. In a September 15 letter to the ITC, AAM president Scott Paul wrote, "The growing U.S. solar installation market would be well served by vibrant domestic competition rather than an over-reliance on imports from China. Allowing Chinese imports to destroy the remaining market share for domestic solar cells and panel manufacturing would ultimately disrupt the possibility of a truly competitive market and make it more subject to the vicious cycles of overcapacity and over-consumption that plague China's government-driven economy."
On October 10, Arizona-based manufacturer First Solar came out in support of Suniva and SolarWorld after staying silent for some time. CEO Mark Widmar wrote to the ITC, agreeing that import tariffs should be imposed and criticizing SEIA for failing to "engage constructively" on the issue. First Solar has manufacturing operations in Malaysia and Vietnam as well as in Ohio, but it uses thin-film technology to produce its cells, a process that doesn't use polysilicon. Therefore, its cells and panels would be exempt from the trade remedies under consideration.
Tesla, which is currently building what will be the largest solar manufacturing facility in the U.S., came out against the Suniva/SolarWorld petition.
U.S. Sen. Ron Wyden of Oregon, home to a SolarWorld plant, and several U.S. representatives in districts that have seen solar manufacturing job losses have also stated their support.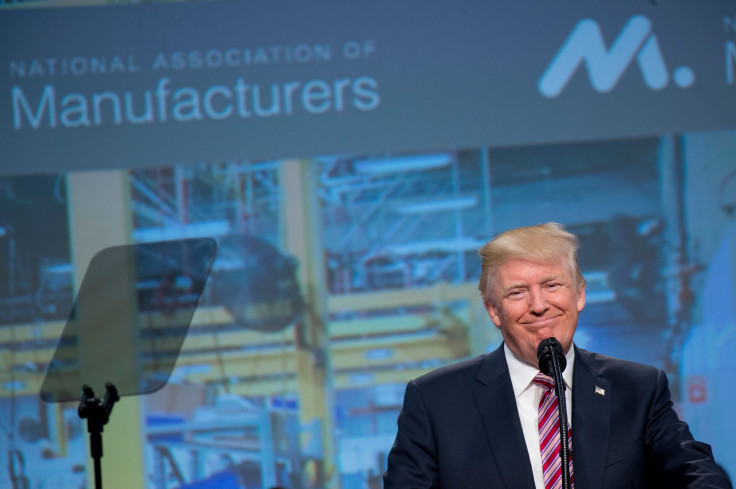 Imports Have 'Decimated' The Manufacturing Industry
In a statement to IBT, Suniva wrote that the trade case "is about almost 30 U.S. cell and module manufacturers driven out of business in the last five years, leaving only two U.S. companies to stand between China and its proxies from owning the sun." The tariffs are essential for keeping the U.S. solar manufacturing industry alive, say proponents. Brightbill is worried that without tariffs, "There's a real threat that America would lose solar manufacturing, which we think would be a very bad thing."
A Suniva statement shortly after the ITC injury decision said that the company "is gratified that the ITC has found that a surge of imports into the U.S. has decimated the American [crystalline silicon photovoltaic] cell and module manufacturing industry."
Solar manufacturers Suniva and SolarWorld asked the ITC to recommend a $0.25/watt tariff on imported solar cells and $0.32/watt on modules in 2018, tariffs that would decrease over four years. Before the remedy phase, the companies had requested higher tariffs and a floor price on modules. In addition, SolarWorld asked the ITC to impose a temporary import quota of 0.22 GW for cells and 5.7 GW for modules in 2018. Instead, Suniva asked for a minimum price of $0.74 cents per module.
SolarWorld made other recommendations including loans and grants to stimulate domestic solar manufacturing and research and development, and asked for steps to address the potential circumvention of relief through Free Trade Agreement partners excluded from the Commission's injury finding, particularly Canada and Singapore. Suniva asked for an executive order directing U.S. governmental agencies to require the use of American-made solar cells and disbursements of funds for U.S. companies seeking to develop new manufacturing capacity, including polysilicon producers.
SEIA was discouraged by the ruling and hoped to influence the ITC's recommendations to the president. "As the remedy phase moves forward, I am determined to reach a conclusion that will protect the solar industry, our workers and the American public from what amounts to a shakedown by these two companies," said SEIA's Hopper in a September 22 statement. "An improper remedy will devastate the burgeoning American solar economy and ultimately harm America's manufacturers..."
The "incredible progress" of the American solar industry "will be stopped in its tracks with new worldwide tariffs," claimed SEIA in an October 3 press release.
SEIA accuses Suniva and SolarWorld of proposing illegal remedies and instead called on the ITC to recommend a license fee on foreign manufacturers of up to $0.01/watt to export solar cells and modules to the U.S., revenue that would be delivered directly to American manufacturers. SEIA also proposed "technical assistance" of up to $10 million per year and managed by the Department of Commerce, and "traditional adjustment assistance" from the Department of Labor for "adversely affected workers" and grants for training programs at community colleges.
Tuesdays recommendation are far less generous than Suniva and SolarWorld wanted. In a statement, Suniva called the recommendations "weak" and "disappointing," stating that "we'll see very shortly the extinction of what remains of this manufacturing sector, and the jobs of American workers, as yet another high-tech manufacturing industry will have been destroyed because of an overt plan by China."
SEIA also expressed disappointment, with Hopper saying in a statement that the "proposed tariffs would be intensely harmful to our industry. While we will have to spend more time evaluating the details of each recommendation, we are encouraged by three commissioners' reference to alternative funding mechanisms, including our import license fee proposal."
"We need a program that pulls together a diverse coalition of industry leaders to end the solar wars," Desari Strader, a solar industry veteran and president of IDEAS for USA, a new think tank focused on manufacturing policy, told IBT. "What the ITC commissioners have offered does not get us there. We need a global settlement that includes a quota for domestic production, and wee need to open China's market to US producers."
Many expect Trump to support tariffs. The president ran for office on a platform of bolstering the American manufacturing industry, and specifically against what he characterized as illegal trade practices by China. In his fourth month as president, Trump ordered a Commerce Department review of potentially illegal Chinese steel dumping into the U.S. market. Despite a delay, the White House is expected to implement tariffs on steel.
In April, Trump issued a "Buy American" executive order, although critics have called it " empty." Still, Trump's public posture on trade, which includes attacks on the World Trade Organization and the NAFTA trade deal, has SEIA and others worried. Referring to general trade measures against China, Trump told his chief of staff in August, "I want you to know, this is my view. I want tariffs. And I want someone to bring me some tariffs."
FOR FREE to continue reading
✔️ Unlock the full content of International Business Times UK for free
offer available for a limited time only
✔️ Easily manage your Newsletters subscriptions and save your favourite articles
✔️ No payment method required
Already have an account?
Log in
© Copyright IBTimes 2023. All rights reserved.