Hillary Clinton Appoints Ken Salazar To Lead White House Transition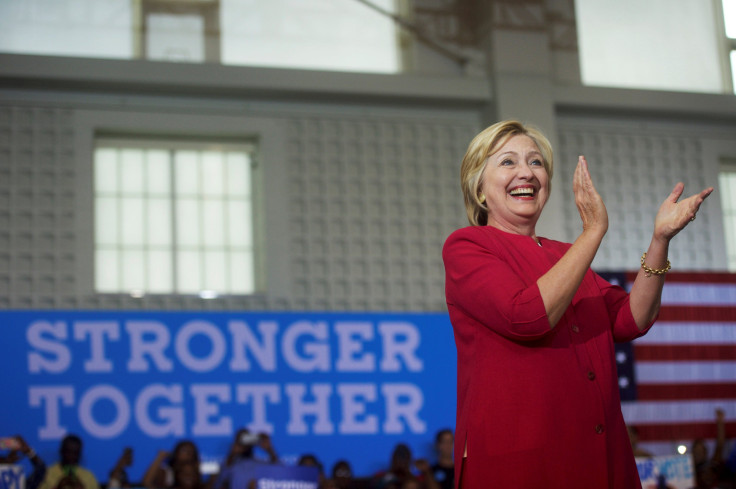 Hillary Clinton announced that her White House transition team will be led by Ken Salazar — a former lawmaker who left government to become a partner at a major law and lobbying firm. The announcement Tuesday comes as Clinton has campaigned against the so-called "revolving door" that allows politicians to shuttle between public and private sector work.
Salazar served as Colorado's Attorney General, U.S. Senator and Interior Secretary before traveling through that revolving door and taking a job in 2013 as a partner at WilmerHale — a law and lobbying colossus that has been called one of the most influential forces in Washington. Salazar's biography says that he "provides legal, strategic and policy advice to national and international clients, particularly on matters at the intersection of law, business and public policy." He is one of 39 former public officials now working at WilmerHale, according to the nonpartisan Center for Responsive Politics. The firm has recently been the subject of a ProPublica investigation that showed one of its partners gave a personal loan to Gene Sperling, then President Obama's economic adviser, as the firm represented major financial institutions.
Salazar is not a registered lobbyist but he appears to fit the description of the kind of powerbroker that Clinton has criticized.
Promoting new ethics legislation in 2015, she published an op-ed with Wisconsin Sen. Tammy Baldwin declaring that " increasingly, Americans' trust in government is eroding," and saying "a big reason for that is the so-called revolving door between government and the private sector." The op-ed added: "loopholes allow former government officials to lobby in practice, even if they aren't officially called lobbyists. They offer regulatory access to private interests as 'outside advisors' or 'strategic counselors.' That means they can avoid legal requirements that lobbyists have to meet. This bill would clamp down on that."
Salazar's firm has lobbied for corporations who are likely to have significant business with the next presidential administration. For example, the most recent lobbying filings show the firm in 2016 has represented Cigna as it pursues a controversial merger with Anthem. Records show the firm also has represented Delta Airlines, investment firm Lazard Group, insurance giant Liberty Mutual, telecommunications behemoth Verizon and Newmont Mining.
Salazar will lead a transition team that includes former Michigan Gov. Jennifer Granholm, Center for American Progress President Neera Tanden and former White House National Security Adviser Tom Donilon. The latter is a former mortgage industry lobbyist who is now a partner specializing in "public policy and political strategy" at a major corporate law firm in Washington.
In a statement published by Politico, Clinton's campaign chairman John Podesta said, "These individuals, who bring a deep level of experience in the work of presidential transitions, will help us build a team that is ready to govern after the general election."
Over the course of the 2016 campaign, Clinton has faced questions about her ongoing ties to the influence industry: Despite her anti-lobbyist rhetoric, she has raised more than $7 million from registered lobbyists.
Clinton has also faced questions from environmentalists about her record on pipeline construction, hydraulic fracking and the Trans-Pacific Partnership. Salazar's appointment will not allay those concerns: Since leaving government, he has made headlines promoting the Keystone XL pipeline, promoting the TPP and defending fracking.
In November, Salazar authored a joint oped with former Interior Secretary Bruce Babbitt saying "The TPP is a strong trade deal that will level the playing field for workers to help middle-class families get ahead. It is also the greenest trade deal ever." Politico reports that Salazar is now opposing a ballot measure designed to restrict fracking in his home state of Colorado. He has previously asserted that "there's not a single case where hydraulic fracking has created an environmental problem for anyone."
© Copyright IBTimes 2023. All rights reserved.
FOLLOW MORE IBT NEWS ON THE BELOW CHANNELS