List of Politicians Giving Away Their Steve Wynn Donations Remains Short
When sexual assault allegations against Hollywood mogul Harvey Weinstein began to surface, the Republican Party was quick to condemn Democrats who didn't immediately return or donate political contributions they had received from Weinstein.
The Republican National Committee (RNC) attacked its Democratic counterpart. "If the [Democratic National Committee] truly stands up for women like they say they do, then returning Weinstein's dirty money should be a no-brainer," tweeted RNC Chairwoman Ronna McDaniel on Oct. 6.
Now, after casino magnate and GOP mega-donor Steve Wynn was exposed on Friday by the Wall Street Journal for alleged serial sexual misconduct, the tables have turned. The RNC said that while Wynn resigned as finance chair of the organization, it won't return his money — roughly $83,000 in both the 2016 and 2018 cycles — at least, not yet. "But Steve has denied these allegations, unlike Harvey Weinstein and Al Franken," McDaniel told Fox News on Tuesday. "There is an investigation that's going to take place. He should be allowed due process, and if he is found of any wrongdoing we will absolutely return 100 percent of that money…"
International Business Times reached out to sitting lawmakers and candidates that have received contributions from Wynn, Wynn Resorts and the Wynn Resorts political action committee since the 2016 election cycle, according to data compiled by the Center for Responsive Politics:
Sen. Jeff Flake, R-Ariz., received the maximum of $5,400 from Wynn for his 2018 primary and general elections. The senator already returned the $2,700 for the general once he announced he would not be seeking re-election. A spokesperson for the senator told IBT by email that Flake will donate the remaining $2,700 to charity.
Sen. Rob Portman, R-Ohio, got $5,400 from Wynn in the 2016 election cycle. "He donated the money to a number of charities across Ohio that he's worked closely with in his efforts to combat human trafficking," according to deputy communications director Emily Benavides.
Senate candidate Danny Tarkanian, R-Nev., received $5,400 from Wynn and $7,000 from the Wynn Resorts PAC during his 2016 run for Congress. Tarkanian told IBT that he has no money in his congressional campaign account, and the account is in debt. "Therefore, the Congressional campaign cannot pay back the contribution. My U.S. Senate campaign cannot pay back a contribution made to another campaign. It would be a [Federal Election Commission] violation."
​Rep. Greg Gianforte, R-Mont., will donate the $2,700 the campaign received to charity, according to communications director Travis Hall. On May 12, 2017, Steve Wynn gave $6,350 to the Gianforte Victory Fund, a joint fundraising committee. $2,700 went to the Gianforte campaign, and the rest went to the Republican Party of Montana.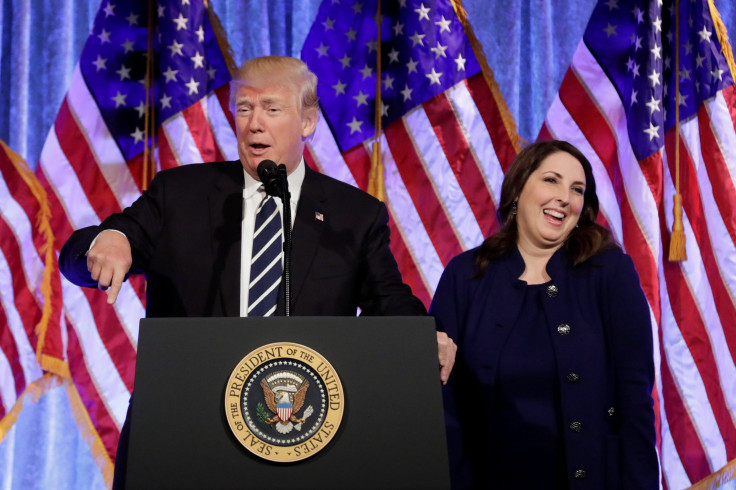 The rest of the lawmakers, candidates and party groups contacted by IBT did not respond to questions about their plans for their Wynn donations. Some provided comments to other news organizations.
The Republican Governors Association announced that it would return $100,000 received from Wynn Resorts this year. However, the RGA received also $250,000 from Wynn Resorts in the 2016 election cycle and has significant cash on hand, so could return this as well, should the organization wish to do so.
​The Nevada GOP received $20,000 from Wynn in the 2016 cycle, while the Louisiana GOP received $10,000.
The CARLY for America super PAC, which had to retroactively change its name to an acronym to avoid the appearance of coordinating with Carly Fiorina's presidential campaign, received $25,000 from Wynn during the 2016 presidential election. According to the latest available filings with the Federal Elections Commission, the PAC still has over $243,000 cash on hand, which could be used in future elections.
​Sen. Dean Heller, R-Nev., received $5,400 from Wynn during this election cycle and another $1,500 from Wynn Resorts PAC in 2016. Heller's campaign aides said he will donate $5,400 to charity.
Sens. Marco Rubio, R-Fla., and Ted Cruz, R-Texas, both received $8,100 from Wynn in 2016 during their presidential bids.
​Sens. Lisa Murkowski, R-Alaska, and Tim Scott, R-S.C., each received $5,400 from Wynn in the 2016 election cycle. On Feb. 2, Scott's press secretary told IBT that the senator will donate this money to charity.
Sen. Ron Johnson, R-Wis., received $5,400 from Wynn in the 2016 election cycle, which he plans to give to a domestic abuse victims service in Oshkosh, Wisconsin.
​Sen. Pat Toomey, R-Pa., received $5,200 from Wynn in the 2016 election cycle.
House Speaker Paul Ryan will donate $1,000 he received from the Wynn Resorts PAC in 2016 to a Wisconsin homelessness charity.
​Rep. Karen Handel, R-Ga., received $2,700 from Wynn during last year's special election and has donated it to a charity for domestic violence and sexual assault survivors.
​Rep. Gus Bilirakis, R-Fla., and Rep. Kevin McCarthy, R-Calif., plan to donate the $1,000 they each received from the Wynn Resorts PAC.
According to the Center for Responsive Politics, Wynn has donated nearly $1.9 million to mostly Republican federal candidates and party groups since 1990, with his ex-wife, Elaine, giving $1.4 million and the Wynn Resorts PAC adding over $70,000. Wynn Resorts has donated close to $4.3 million to the RGA, Republican State Leadership Committee and Trump's inauguration committee.
In October, a number of Democrats gave away contributions they had received from Weinstein. The Democratic National Committee donated the $30,000 it got from Weinstein in 2016 to three groups, at least two that are aligned with Democrats, to some criticism.
On Tuesday, The New York Times reported that Republican mega-donor Todd Ricketts, the co-owner of the Chicago Cubs whose billionaire father is an even bigger GOP donor, will replace Wynn as RNC finance chairman.
Feb. 2, 12:02 PM: Sen. Tim Scott's press secretary informed IBT that the senator will donate Steve Wynn's campaign contribution to charity. This story has been updated to reflect that.
© Copyright IBTimes 2023. All rights reserved.