Trump Organization Uses Forced Arbitration Agreements To Keep Workers From The Courts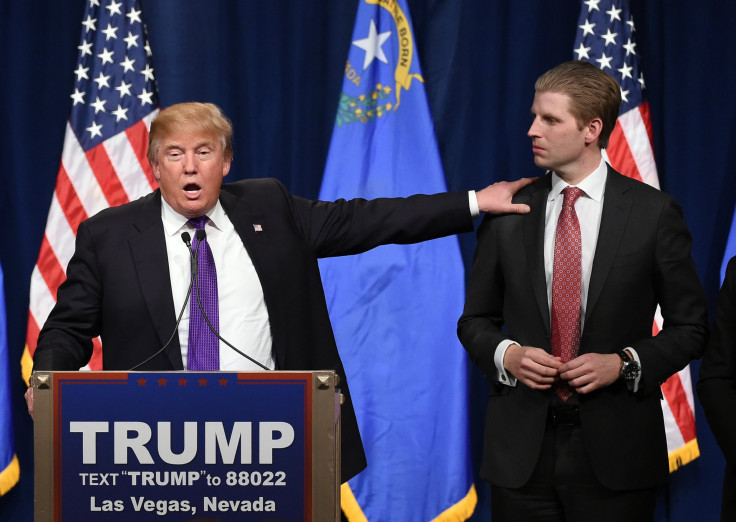 When Vice President Mike Pence cast the tie-breaking vote in the Senate on the Consumer Financial Protection Bureau's rule against forced arbitration this week, he finished off a regulation loathed by banks and financial institutions. The rule, which ensured consumers could enter class action lawsuits to resolve disputes instead of being forced into private arbitration, applied only to providers of financial services. But the vote may be an opening salvo in a battle over forced arbitration, a practice used by American companies to deny their workers and customers access to the courts. Among those companies is the Trump Organization, currently led by Eric Trump and Donald Trump Jr., and formerly led by President Donald Trump, who is expected to sign the bill.
Arbitration is the process by which two parties bring their conflict to a neutral arbitrator that decides how to resolve the issue. The process, which is secret and often mandated in employee contracts, prevents the conflict from going to the courts, where the discovery process would force the disclosure of company business. It's not surprising then that employers, as well as banks and credit card issuers, prefer to use arbitration to settle disputes with workers and consumers. While one study found that just 2.1 percent of companies used arbitration in the early 1990s, recent research has found that number has grown to more than half of all non-union employers, a development that has angered workers rights groups.
"Forced arbitration of workplace claims is anathema to our public justice system because it occurs in secret, private tribunals in the absence of accompanying legal safeguards," the National Employment Lawyers Association has said, decrying the process's lack of a "written record of the arbitration proceedings, the right to appeal the arbitrator's decision if the law is not applied correctly, or other guarantees that ensure a fair process that exist in a court of law."
Advocates of arbitration argue the process is more cost-effective than litigation and prevents lawyers from getting a large cut of any class action remedy. That line of argument has been made by the Trump Organization, which forces all employees, including gardeners, housekeepers and manicurists, to give up their right to litigation through arbitration agreements, according to a CBS News report.
"Because it is faster, more cost effective and tends to level the playing field, it is commonplace for large companies like The Trump Organization to use arbitration as the preferred method for resolving disputes," a Trump Organization spokesperson told CBS in August.
The Trump Organization agreement bars employees from going to the courts for resolution of issues related to "unpaid compensation, missed meal or rest breaks, wrongful termination, unfair competition, discrimination, harassment, retaliation," according to CBS.
In recent years, the courts have split on the question of whether employers can force employees into arbitration agreements, so the issue has been taken up by the Supreme Court. Earlier this month, the Court heard oral arguments in Epic Systems V. Lewis, a case which will determine if the common arbitration requirement that employees waive their right to join class action lawsuits is legal under the National Labor Relations Act. One observer of the oral arguments believed the Court seemed likely to side with employers.
© Copyright IBTimes 2022. All rights reserved.
FOLLOW MORE IBT NEWS ON THE BELOW CHANNELS