Why Are Drug Prices So High? The Fight Over A Price-Gouging Bill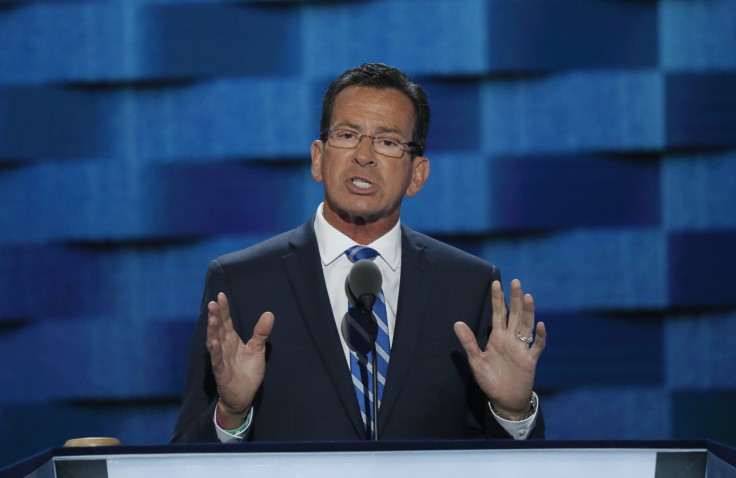 As the Democratic Governors Association raised $2.28 million from drug companies and health insurers in the first half of 2017, the group's chairman, Connecticut Gov. Dan Malloy, echoed a health care lobbyist's criticism of a landmark bill to combat drug price-gouging, according to documents obtained by International Business Times. The documents detail how Malloy's insurance department, led by a former Cigna lobbyist, tried to water down the bipartisan initiative as it moved through the state's legislature.
This spring, while Washington lawmakers wrestled over national health care policy, Connecticut lawmakers worked to join several other states that have passed legislation to curb an alleged drug price fraud scheme at the heart of multiple class-action lawsuits across the country. The suits accuse insurance firms and their pharmacy benefit managers, or PBMs, of attaching arbitrary and fraudulent premiums to consumers' prescription drug prices, then pocketing the cost difference — all while using "gag orders" to keep pharmacies from informing customers about lower-priced options.
Read: Democratic Power Players Help Pharmaceutical Industry In Connecticut Battle
Senators in Connecticut, where insurer Cigna Corp. faces its own class-action lawsuit over the alleged practice, pushed forward a bill to keep insurers and PBMs from imposing gag orders on pharmacies. Although the state is not alone in battling the issue, the legislation in Connecticut was seen as a particularly significant because it is the nation's insurance industry capital, with more insurance jobs per capita than any other state. The legislation was also a bipartisan effort, led by Democratic Senate President Pro Tempore Martin Looney and Republican Senator Len Fasano.
As the bill moved ahead, and as Malloy's DGA was raising health care industry money, Keith Stover, a lobbyist for the Connecticut Association of Health Plans, contacted Malloy's insurance department to meet, to discuss "health insurance-related bills" involving "health care payment and delivery systems" and, ultimately, to make them more industry-friendly.
"I know we've spoken with each of you separately regarding the amendments filed last week by Senators Looney and Fasano on their health insurance-related bills," wrote Stover in a May 9 email obtained by IBT. "It probably goes without saying that the amendments are fundamentally non-starters: highly disruptive, backwards, and likely to exacerbate Connecticut's status as an outlier. Bad stuff, and frankly it is driving the companies crazy that we end up in annual conversations with legislative staff members who are fundamentally adverse [sic] to the insurance industry and whose ideas are so monumentally out of step with anything resembling the modern health care payment and delivery systems."
Stover did not respond when asked by IBT which bills or amendments he was referring to, and spokespeople for Looney and Fasano did not immediately respond to requests for confirmation of the bills or amendments referenced.
Stover added in the email that he was "writing to ask for a meeting, as soon as we can, to review the state of play in the Senate and see where we can work together."
Two weeks later, Malloy sent a letter to Looney and Fasano that included the same criticism, asserting that the bill, SB 445, took an "unnecessarily antagonistic approach toward Connecticut's insurance industry."
"As state leaders, we must take much greater care in considering the impact our actions have on Connecticut insurers, the people they employ and the customers they serve," he wrote. Certain parts of the bill, he added, included "problematic language… that undercuts consumers and is unnecessarily burdensome for employers."
Those employers gave a substantial amount of money to the DGA so far this year. A full $1.05 million in donations collectively came from the insurance companies Cigna, Anthem Inc., Molina Healthcare and Aetna Inc.; the PBM Express Scripts and the industry groups Blue Cross Blue Shield Association, America's Health Insurance Plans and the American Health Care Association, according to the IRS filing released Tuesday. Another $1.28 million came from the drugmakers Bristol-Myers Squibb Co., AstraZeneca Pharmaceuticals, Pfizer Inc., Novartis Pharmaceuticals Corp., Sanofi Inc., Johnson & Johnson, Merck & Co., AbbVie, Gilead Sciences Inc., Teva Pharmaceuticals Inc. and Eli Lilly Co.
On July 10, Malloy reluctantly signed the legislation, while calling it a "political stunt" and an "unfounded political attack" on his administration.
Connecticut lawmakers are not alone in facing industry headwinds in their attempts to pass legislation halting the alleged scheme by insurers and PBMs. North Dakota Gov. Doug Burgum signed two bills seeking to limit such price-gouging in July, only to face a lawsuit from Pharmaceutical Care Management Association, a trade group representing pharmacy benefit managers, over the new laws.
Read: Despite Lawsuits Over Drug Prices, Insurance Giant Touts Revenue Growth, Claims To Have Lowered Drug Costs
Separate correspondence to and from staff at the Connecticut Department of Insurance — whose commissioner, Katharine Wade, has prompted conflict-of-interest concerns due to her two-decade career at Cigna, which still employs her husband — reveals a department acting as an advocate for insurers in the face of the price-gouging legislation. (Spokespeople for Malloy and Wade did not respond to requests for comment.)
In some instances, Wade or a staff member from her office requested legislation proposals from lobbyists employed by insurance firms. She asked Cigna lobbyist Amy Lazzaro and United Healthcare lobbyist Nick Thompson, for example, to "send me the proposed CO guaranty bill," a reference to pending consumer protection-related health insurance legislation. Lazzaro responded that she "recently learned that the CO bill is not finalized" but that "we sincerely appreciate your attention to this and want to give you something that will help you to understand how we are thinking about these issues." What followed was a seven-point list of recommendations for the bill, to which Wade replied, "Thanks."
Other email chains involved arrangements for meetings between Wade, her staff and lobbyists from the law firm Robinson+Cole and CTAHP insurers, including Cigna, Aetna and Anthem, prior to meetings of the National Association of Insurance Commissioners, for which Wade serves as vice chair, northeast zone. The fifth agenda item for one "pre-NAIC meeting," according to a document attached to one chain of emails obtained by IBT, was the "PBM model."
The emails reveal intense wrangling over the section of SB 445 regulating the behavior of PBMs, with Insurance Department staffers appearing to advocate for language allowing the PBMs to regulate themselves — rather than facing tougher government enforcement.
In one heated exchange, Looney's and Fasano's counselors expressed their exasperation with proposed language from Malloy's budget director, Kelly Sinko. In a May 10 email, Sinko sent a preferred draft of a section of SB 445 stating that "each Pharmacy Benefits Manager or health carrier who enter [sic] into a contract for pharmacy services with a pharmacy or pharmacist shall be responsible for auditing and enforcing the provisions of this section in their own pharmacy services contracts."
When Looney's counsel responded that she and her Republican counterpart "don't like that 445 language," Wade, who was copied on the email chain, chimed in: "Please explain. Thanks."
Jennifer Macierowski, Fasano's counsel, responded minutes later.
"What part of our language don't you like?" she wrote. "We think it is odd to put the PBMs in charge of policing themselves and 'enforcing' state law and policy. It is also unclear if [the Connecticut Insurance Department] has jurisdiction over contracts between PBMs and pharmacies????"
When Looney's counsel, Dina Berlyn, offered new language giving the insurance commissioner the authority to audit the PBMs and punish them for misconduct, Wade didn't budge — and instead insisted that the legislation should include language allowing insurers and PBMs to regulate themselves.
"The Department proposed language which was drafted by Department legal staff," she wrote. "We are comfortable with our language and it is consistent with the Department's authority and enforcement powers."
Berlyn replied that the legislative staffers "totally deferred to you" for a different issue, and wrote that she was "not sure why you seem totally unwilling to negotiate at all."
© Copyright IBTimes 2023. All rights reserved.