From Political Corruption To Plunging Commodities Prices, Brazil's Fall From Grace Could Take Years To Fix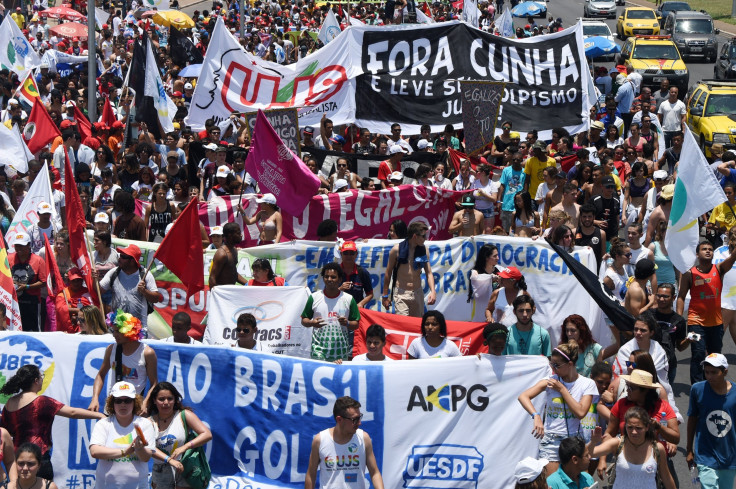 A nefarious maelstrom of political corruption, economic contraction, high social spending and a plunge in global commodities has turned Brazil from a Latin American success story into an emerging market basket case. And 2016 is shaping up to be yet another lost year, likely the first of many for this country of 200 million.
This is a big change from 2009, when then-President Luiz Inácio Lula da Silva proudly proclaimed his country was on its way to developed world status. "We aren't the United States, but we are getting there, and we will get there," he said after Rio de Janeiro won the bid to host the 2016 Summer Olympics. The general spirit of the country in 2010 — when its gross domestic product grew 7.6 percent — seemed as cheerful as a Carnival parade.
But now the world's eighth-largest economy could find itself nearly 3 percent smaller this year after shrinking 3.7 percent in 2015, which would make it about 8 percent smaller than the last time the country experienced growth in the first quarter of 2014.
Since September, the Brazil's debt has been downgraded to junk status by two of the three ratings agencies, greatly increasing borrowing costs. The jobless rate tipped into double digits in the past 12 months and could top 12 percent this year.
Meanwhile, efforts to reform fiscal policy have gone nowhere. Frustrated by the intransigence of President Dilma Rousseff's left-leaning ruling Workers' Party, the PT, Finance Minister Joaquim Levy resigned in December after less than a year at the job. Levy, an austerity hawk, was replaced by a more dovish Nelson Barbosa.
On Thursday, Rousseff vetoed more than 50 cost cutting amendments proposed for 2016, including curbs to a massive program that provides low-income families with monthly stipends. Though Rousseff has promised a budget surplus for the year, the country reported its largest monthly deficit on record in December and faces political gridlock on any meaningful public finance reforms.
"The combination of an impeachment proceeding against President Rousseff, the sovereign rating downgrade and the resignation of Finance Minister Levy make a recipe for disaster," Marcos Casarin, senior economist at Oxford Economics, said in an email. "Per capita income will return to 2009 levels by 2016. The economy is yet to find its bottom."
Hanging over the country's economic problems are two major scandals that keep legislative action at bay. One of them is the ongoing Petrobras bribery scandal in which 32 sitting members of Congress, most of them from Rousseff's Workers' Party, are being investigated after allegations emerged they accepted bribes in exchange for overpriced contracts at the state-owned energy giant.
The second scandal involves an ongoing dispute between Rousseff and the head of the Chamber of Deputies, the country's lower legislative house. Eduardo Cunha, who faces separate ethics investigations, is rallying an effort to impeach the president for using public banks to cover up unauthorized debt issuance and off-the-books public spending. Rouseff's supporters are accusing Cunha of trying to drum up support for a coup.
"For Brazil, 2016 will be dramatic and unpredictable – as the country weathers the most dangerous political crisis since the impeachment and resignation of President Fernando Collor in 1992," Matthew M. Taylor, associate professor at the School of International Service at American University, wrote recently on a university blog. Collor, Brazil's first directly elected president, was impeached for alleged influence peddling.
As lawmakers bicker, Brazil's economy will sputter along this year. China's economic growth is at its lowest pace in 25 years, and that means countries that depend on selling the raw materials that have fueled China's rapid expansion have been hit hard. Demand for Brazil's key commodities, like iron ore, soya and oil, has plunged. An index of Brazilian commodities tracked by Credit Suisse bank has fallen 41 percent from its 2011 peak, the Economist reported.
Brazil has faced major crises in the past, including 20 years of military rule that ended in 1985 followed by a decade of stagnation and hyperinflation. The 1997-98 Asian economic crisis tanked the Brazilian economy. For Brazilians, what's happening now is similar to past economic crises, and it could take years to get back to growth. By the time the Olympics take the stage in Rio for two weeks in August, Brazilians will welcome the much-needed distraction from their economic woes.
© Copyright IBTimes 2022. All rights reserved.
FOLLOW MORE IBT NEWS ON THE BELOW CHANNELS