Pop Vicenza Cash Call: Italy Bank Fund Atlante To Own At Least 92 Percent Of Pop Vicenza After Cash Call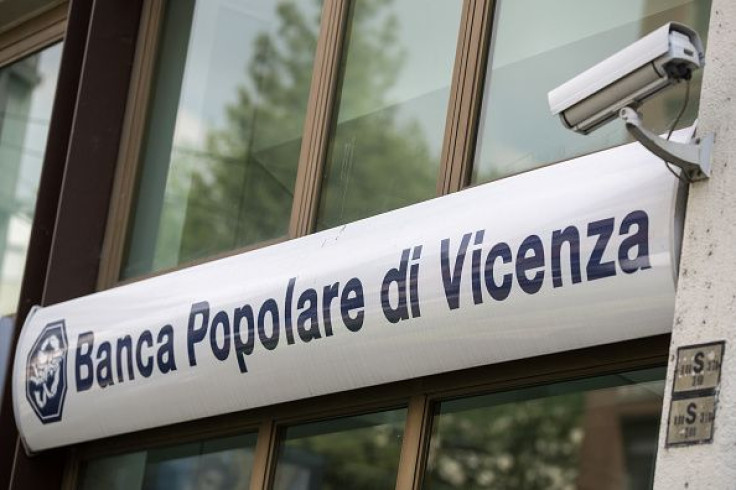 Italy's newly created bank rescue fund Atlante is set to own at least 92 percent of Banca Popolare di Vicenza after investors took up a fraction of the lender's 1.5 billion euro ($1.7 billion) cash call, the bank said on Saturday.
In a statement Popolare di Vicenza said investors bought just 7.66 percent of its capital offer which the lender is carrying out at a price of 0.1 euros per share.
In light of an underwriting agreement, the bank said Atlante would subscribe all the remaining shares that had not been taken up in the offer.
The Atlante fund - Atlas in English - was set up earlier this month by mostly private domestic financial institutions to bail out weaker Italian lenders and avert a wider crisis in the euro zone's fourth-largest bank sector.
As part of its plans to stabilize the banking sector, the government of Matteo Renzi passed a decree on Friday to speed up the recovery of unpaid credit in a system saddled with billions of euros in bad loans.
Renzi said the decree would reduce the time it takes to recoup credit from six to eight years to six to eight months.
"This decree aims to resolve... definitively the problems of our country's banking system," he said.
It is not clear if Popolare di Vicenza will have enough free float to meet its goal of listing on the market next week.
"The offer is subject to the Milan bourse giving its go ahead for shares of the bank to start trading," Popolare Vicenza said.
The minimum free float required to list is 25 percent of the share capital, but the Milan bourse can make exceptions.
If the stock exchange does not give clearance, Atlante will subscribe the whole 1.5 billion euro offer and will end up with 99.33 percent of the bank's capital, the lender said.
If on the other hand the green light is given, the bank's shares will debut on May 4 and the Atlante fund will hold 91.72 percent of capital, the mid-tier lender said.
Popolare di Vicenza needs to raise cash to fill a capital shortfall uncovered by the European Central Bank and avert the threat of being wound down after losing a net 2.2 billion euros in 2014-15 in a balance sheet clean-up.
($1 = 0.8730 euros)
© Copyright Thomson Reuters 2023. All rights reserved.