Pope Francis In Africa: Pope Dodges Condom Question, Says World Has Bigger Problems Than AIDS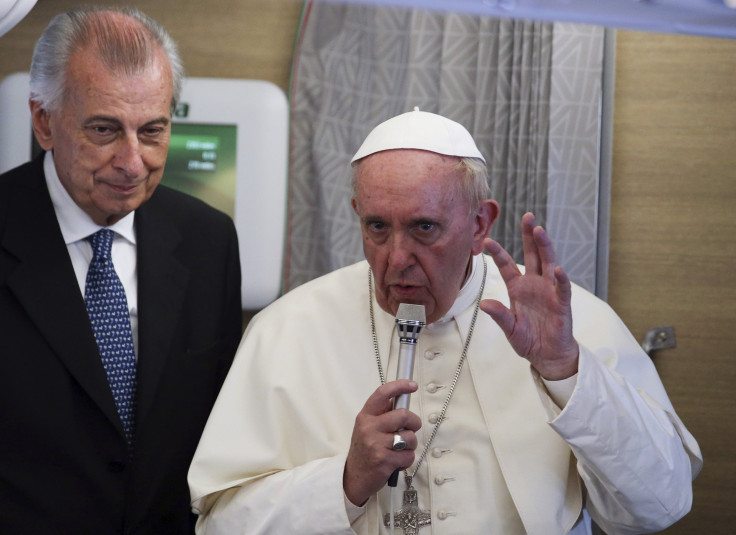 Pope Francis dismissed a question on Monday about whether the Roman Catholic Church could condone the use of condoms in the fight against AIDS. He told reporters on a flight back to Rome from his tour of several African nations that there are more important issues, like malnutrition, environmental destruction and lack of clean water, the Associated Press reported.
Africa, particularly Kenya and Uganda, has suffered greatly from the AIDS epidemic in recent years, and the Catholic Church has come under fire for its opposition to condoms, which health advocates say has exacerbated the problem. During the last leg of his trip to Africa, Pope Francis visited Kenya, Uganda and the Central African Republic.
The pope largely avoided referencing AIDS during his trip over the past week, but he did visit HIV-infected children at a Ugandan hospital, according to the Associated Press. Francis kissed each child, listened to the story of a girl who was born with the virus and thanked healthcare workers for helping people infected with HIV or AIDS.
This comment about contraception was an important moment for Francis, as his predecessor, Pope Benedict XVI, stirred up significant controversy during a 2009 visit to Africa when he said that condoms could actually worsen the continent's problem with AIDS. Benedict also made other remarks implying that Africa was threatened by factors like condoms and abortion.
"The traditional teaching of the church has proven to be the only failsafe way to prevent the spread of HIV-AIDS," Benedict XVI had said, the Guardian reported. "It is of great concern that the fabric of African life, its very source of hope and stability, is threatened by divorce, abortion, prostitution, human trafficking and a contraception mentality."
During his press meeting on Monday, Francis seemed irritated at the question about the church's position on condoms, saying it "seems too small, partial," when there are bigger issues confronting the world.
"I don't like getting into questions or reflections that are so technical when people die because they don't have water or food or housing," he said.
Francis added that when those problems are solved, the world can address issues such as condoms and AIDS. He has previously indicated he does not want to get in the middle of controversial cultural issues and instead focused on discussing what he enjoyed about his trip to Africa, according to the AP.
"Africa is a martyr. It's a martyr of exploitation over history," Pope Francis said. "I love Africa for this."
© Copyright IBTimes 2023. All rights reserved.