PRECIOUS ROUNDUP- Silver set to be best performer in November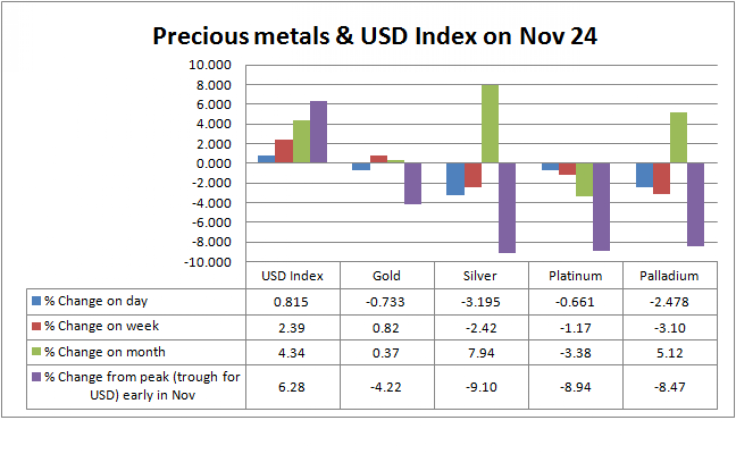 The week to November 24 was marked by tensions in Korean peninsula that prompted investors to flee from risky assets to safer avenues like US dollar and gold, helping the yellow metal outshine its colleagues in the precious group. However, silver and palladium remained strong in the month, mainly helped by demand for cheaper alternatives in jewelry and industrial applications.
Relative dollar performance amid growing European debt worries and concerns about China further tightening its monetary policy also weighed on the sentiment.
The US dollar index, which is calculated on the basis of its trade-weighted performance against six other major units, rose to a 2-month high of 80.52 on Friday before settling at 80.32.
Spot gold ended the week at 1,364 per ounce, 0.82 percent up in the week and 0.37 percent higher so far this month. Immediate delivery silver dropped 2.4 percent to $26.66 an ounce in the week but it was up 7.9 percent from end-October.
Silver - metal of the month
With gold near its record high price, many switched to silver for their jewelry and related needs, helping the demand for the white metal. Traders said such a trend was visible in markets like India, which consumes the largest chunk of gold and silver.
Plus, silver coinage program in many developed countries saw remarkable boost this year, showing across-the-globe investor interest in the white metal, which probably attracted more small-ticket buyers compared with its yellow brother.
Industrial applications contribute almost 43 percent of silver demand and there were a slew of news in the month about confident silver companies like Silver Wheaton planning to produce more, foreseeing better demand going forward.
International Monetary Fund (IMF) has forecast the world to grow 4.3 percent in 2010, after falling 0.6 percent in the previous year.
Platinum group
Platinum was down in week as well as from its end-October levels. The metal for immediate delivery closed Friday's deals at $1,645 per ounce, down 1.17 percent from November 19 and 3.38 percent weaker than its October close.
Spot palladium, on the other hand, moved in tandem with silver and remained strong on month in spite of losing in the week. It closed Friday at $678 an ounce, down 3.1 percent in the week but up 5.1 percent so far in November.
Gold - still more trustworthy?
Gold, however, fared better when performance after November 9 peaks of the precious metals were taken into account, showing the yellow metal's relative strength as a stable choice of investment avenue. Investors still find gold as the best available shelter given bearish long-term outlook for major currencies like dollar and euro, analysts say.
The yellow metal at its Friday's close was 4.22 percent weaker than its peak hit early this month compared with around 9 percent fall of silver and platinum and 8.5 percent drop of palladium.
Europe, Korea and data for next week
Euro zone's periphery debt is expected to remain a major factor in the week to December 3. Following the conventional wisdom, investors are now selling euros and buying dollars but they are also watching Korea and major economic data due in the coming days.
US consumer confidence and ISM manufacturing data for November and the monthly Fed Beige Book could give clues about the strength of recovery by the world's largest economy while European Monetary Union's consumer price inflation for November may guide investors as to what the European Central Bank (ECB) should do next in terms of its monetary policy.
China's HSBC manufacturing PMI for November due on December 1 will also be of major investor interest as people are waiting for a rate hike by People's Bank of China (PBoC) and more signals from it as to where it is heading with its foreign exchange and monetary policies.
© Copyright IBTimes 2023. All rights reserved.