Premier League Rumors: Gunners 'Tactical Decision' May Hint At Mesut Ozil's Future
KEY POINTS
Mesut Ozil reacts to recent benching on social media
Arsenal in facing financial issues
Ozil likely to be dealt once inquiries come in
In Arsenal FC's loss to Manchester City, everything just seemed to go haywire. David Luiz made costly mistakes and several players got injured in the early parts of the game. These were Granit Xhaka and Pablo Mari. Changes were made but Mesut Ozil remained on the bench. The move was a tactical decision on Arteta's part, something that has now added to the heat on him.
Ozil made a cryptic post on his Instagram account which read "No matter what... #M1Ö @Arsenal." He was pictured holding the Arsenal badge, sending off mixed signals. The German midfielder could have been put to good use with the Gunners making the most out of his hefty $432,000 a week paycheck. He was performing well under Arteta before the COVID-19 pandemic struck, further raising questions on the "tactical decision."
Arsenal has dealt with problems at midfield this season and Ozil has hardly helped in scoring. Together with Dani Ceballos, both have accounted only for two assists each. Pierre-Emerick Aubameyang continues to be the team's leading offensive weapon, scoring 17 times. However, the Gabon national needs help if the Gunners want to climb up from their woeful ninth spot. If they are to climb up to the magic four, they need to find a way to amass 8 points to catch up to Chelsea FC.
As of this writing, a better explanation has yet to be released by Arteta on his celebrated tactical decision. It may never come out in the open although it severely backfired in that loss to Manchester City. Looking ahead, some are now speculating that it could be a sign of things to come. The Gunners are trying to cope up with the financial issues from within, one that involves several players.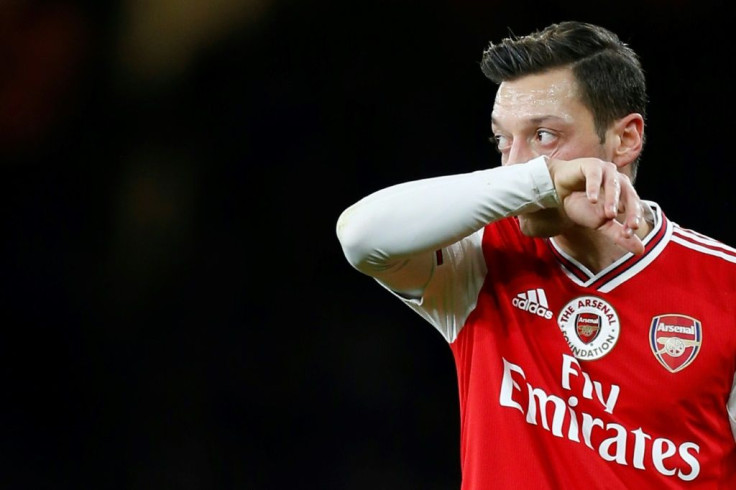 In a previous post, David Luiz is seeking a two-year deal that Arsenal is reluctant to give. That could be granted but the Brazilian is likely to be offered a lower salary. To make ends meet, there will be players that may be dealt off. Ozil is one of them.
The problem with the German is that there has been no interest thus far on him. His deal runs until next summer. Aware that this may be his last chance to get a fat contract, he may prefer to stay at Emirates Stadium for now. That is unless some team inquires a possible deal, something that team owner Stan Kroenke is likely to welcome.
© Copyright IBTimes 2023. All rights reserved.