Premier League Rumors: Tottenham, Chelsea And Manchester City Chase Real Madrid Full-Back Hakimi
KEY POINTS
Achraf Hakimi returning to Real Madrid soon
Multiple teams interested in Achraf Hakimi
Borussia Dortmund wants to keep Achraf Hakimi
High profile players are not the only ones on the radar of most teams. Especially with most clubs dealing with financial issues, young little-known players are getting their share of attention. One of them is Achraf Hakimi, a 21-year-old player whose rights are with Real Madrid. The full-back is currently on loan with Borussia Dortmund where he has been turning in impressive performances. That has captured the eye of at least three clubs - Chelsea, Manchester City and Tottenham.
In 70 games, the Spanish player has been scored 12 goals in the two years he has been playing for the German club. He is one of the many players whose contract is set to expire at the end of the season. Hakimi will be returning to Real Madrid but that may not be a permanent one with several teams interested in his services. But at the top of the list is Dortmund who wants to keep the 21-year-old in the fold, 90min reported.
Moreover, there are other teams also linked to Hakimi. Inter Milan, Juventus and Paris Saint-Germain are also interested in the full-back. However, there is a big chance he may not go anywhere once he returns to Los Blancos. That is if Zinedine Zidane has the time to help in the development of Hakimi. Either way, the Spaniard is open to anything once his loan spell expires.
"I've really enjoyed my time there [Dortmund] and played lots of games there. If Real Madrid wants me to go back, I'll go back," Hakimi said via Telefoot. "And if not, I will need to write the next chapter at another great club," he added.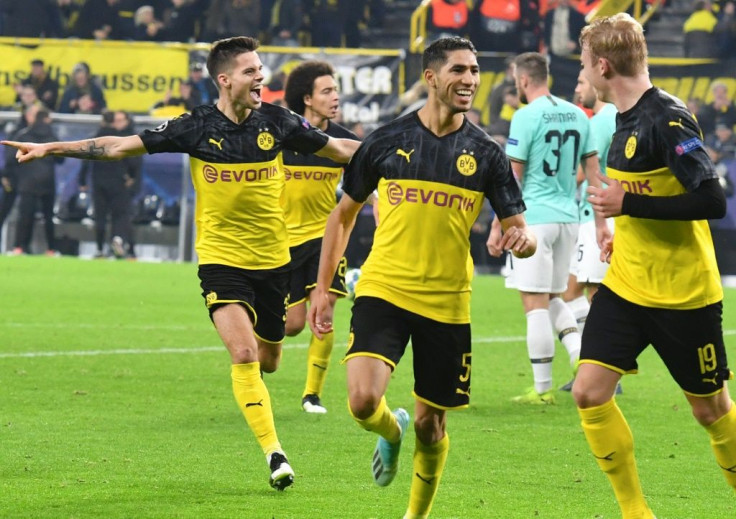 As far as Dortmund's interest, Hakimi's agent alleges that seeing his client stay there is fuzzy for now. The clubs have not made any move yet indicating they want the full-back there and that Hakimi will be returning to Real Madrid.
The key factor in seeing Hakimi sticking with Dortmund is if contract talks are made. If nothing happens, Hakimi will rejoin Los Blancos where he will have to compete against players like Dani Carvajal for a chance at making the first team. If that doesn't work, Hakimi's camp may want to look into the offers from other teams. In all, the Spanish football player has options heading into the summer.
© Copyright IBTimes 2023. All rights reserved.