President Obama Speech On Immigration: What His Executive Changes Mean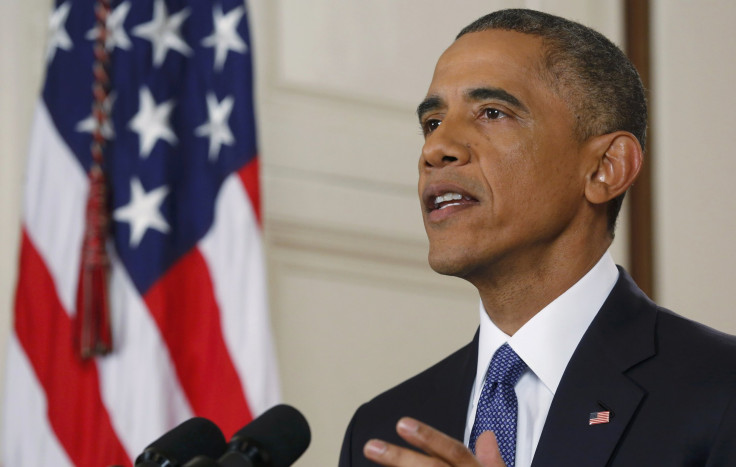 Until Congress passes immigration legislation, President Barack Obama said Thursday evening, he will act unilaterally to increase resources and law enforcement personnel at the borders; make it easier and faster for immigrants who are high-skilled graduates and entrepreneurs to stay and contribute to the U.S. economy; and take steps to deal with the millions of undocumented immigrants who already live in the United States. But Obama made it clear that his third part of the plan is not offering a "mass amnesty."
"If you meet the criteria, you can come out of the shadows and get right with the law. If you're a criminal, you'll be deported. If you plan to enter the U.S. illegally, your chances of getting caught and sent back just went up," Obama said during his speech Thursday night.
Obama said temporary deportation relief will be provided to unauthorized immigrants who have lived in the United States for more than five years, have children who are U.S. citizens or legal residents, register and pass criminal background check and are willing to pay their fair share of taxes. Meanwhile, immigration enforcement resources will focus their efforts on legitimate threats to the nation's security. "Felons, not families. Criminals, not children. Gang members, not a mom who's working hard to provide for her kids. We will prioritize," the president said.
The Obama administration deported a record 438,421 illegal immigrants from the borders in 2013, according to the Pew Research Center. Obama said Thursday that deportation of criminals is up 80 percent. "Even as we are a nation of immigrants, we're also a nation of laws," he said.
Obama's temporary deportation relief will not apply to future immigrants who enter illegally and it does not grant U.S. citizenship or offer the same benefits that citizens receive. The relief is given to those who qualify and it is temporary until Congress passes legislation; it is not a right to stay permanently, Obama said. "Only Congress can do that. All we're saying is, we're not going to deport you," he said.
Obama said his plans to extend deportation relief is not "mass amnesty," but rather a "common-sense, middle-ground approach" to address the nation's issue of illegal immigration. Still, Obama's critics have already condemned this executive action as "amnesty." Some Republican lawmakers have even gone as far as to threaten federal lawsuits against Obama and the possibility of impeachment. But Obama noted that presidents before him have taken similar actions.
Republican presidents Ronald Reagan and George H. W. Bush extended protection from deportation to family members of those who were covered by immigration relief, and neither faced a revolt on Capitol Hill. But Obama's critics argue these executive orders were issued after Congress had created provisional deportation relief, because Reagan and Bush wished to expand the Congressional amnesty to include spouses and children whom were not previously considered. In this case, Obama is acting without any prior immigration action from Congress, which Republicans decry as an overreach of executive authority.
Still, Obama and fellow Democrats contend that immediate action is crucial and immigrants are an integral part of the U.S. economy. Senate Majority Leader Harry Reid, D-Nev., said that Democratic lawmakers will support the Obama's plans for the immigration system. "We've told the president and we're telling him in front of the TV cameras: We've got his back," Reid said at a press conference Thursday afternoon.
"I know the politics of this issue are tough," Obama said. He pleaded with Congress not to shut down the government over the immigration dispute and to instead "pass a bill" for him to sign. "We want to work with both parties. Don't let this disagreement be a deal breaker," he said.
FOR FREE to continue reading
✔️ Unlock the full content of International Business Times UK for free
offer available for a limited time only
✔️ Easily manage your Newsletters subscriptions and save your favourite articles
✔️ No payment method required
Already have an account?
Log in
© Copyright IBTimes 2023. All rights reserved.