President Obama's 'Miami Heats' Gaffe Is Second Sports Flub In Two Days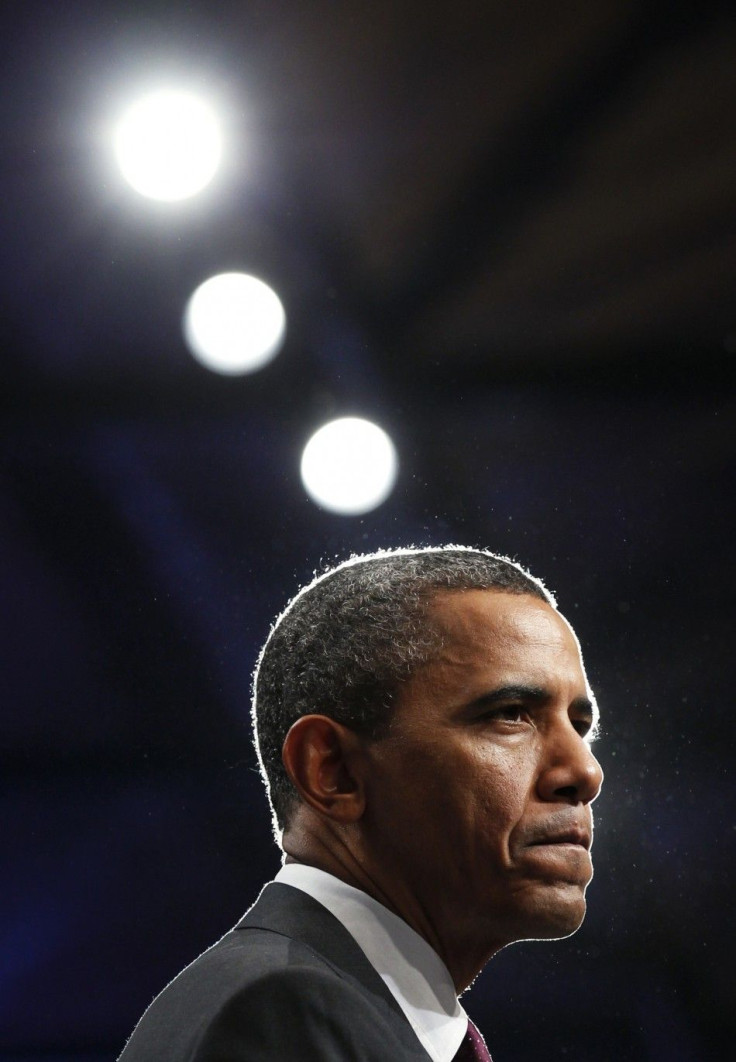 Maybe President Barack Obama just shouldn't talk about sports. Ever. On Wednesday he made his second major flub in as many days when he congratulated the NBA champion Miami Heats during a campaign fundraiser speech in Florida.
The team, as everyone knows, is actually called the Miami Heat, and it won the 2012 NBA Finals last week under the leadership of head coach Erik Spoelstra and its Big Three players, namely LeBron James, Dwyane Wade and Chris Bosh.
But Obama seems to be a little less slick about other sports than he famously is about college basketball, and for the second day in a row he found himself drawing the ire of a city's sports fans.
During a campaign fundraiser speech at the Jackie Gleason Theater in Miami Beach, The Atlantic Wire reports, the president said his thank you's and acknowledgements would be incomplete if I did not congratulate the city of Miami for having the world champion Miami Heats here in town ... You guys earned it.
The crowd seemed unfazed at the time, but many Heat fans took to Twitter to show their displeasure with Obama's gaffe on Wednesday after the news went viral online.
He also took time during the Tuesday campaign speech to greet a former Heat star:
And since one of my favorite people is Alonzo Mourning is here and Tracy Mourning ... I just want to give them a special shout-out. Alonzo looks like he can still play. Hasn't aged a bit -- looks the same, except he doesn't have a flat top.
President Barack Obama's Miami Heats flub came a day after a Kevin Youkilis joke he made elicited boos from a crowd during a campaign speech in Boston on Monday.
Obama is surely aware that Red Sox Nation fans are very defensive about their team, and that Youkilis was one of their favorite players, despite his waning performance. After all, Kevin Youkilis was one of the leaders of the Red Sox resurgence that brought a pair of long-awaited World Series trophies to Boston in 2004 and 2007.
On Sunday, Kevin Youkilis played his last game with his beloved Red Sox in front of thousands of dejected Boston fans at Fenway Park. He wiped away tears as he announced that he had been officially traded to the Chicago White Sox, after nine years with the Red Sox, for pitcher Zach Stewart and utility infielder Brent Lillibridge.
But despite this history of love between Red Sox Nation and Kevin Youkilis, according to ESPN, Obama couldn't resist joking about the whole situation while speaking at Beantown's Symphony Hall on Monday.
Boston, I just want to say thank you for Youkilis, the Chicagoan Obama said, bringing about what ESPN described as seemingly good-natured, defend-our-team boos from the crowd. I'm just saying, he had to change the color of his socks ... I didn't think I'd get any boos out of here. I guess I should not have brought up baseball. My mistake.
He covered his tracks by making a joke, which the crowd responded to by laughing:
You've got to know your crowd, he said, and a crowd member crowed, We still love you!
But his rival was not impressed, as a Mitt Romney 2012 daily email blast to the press on Tuesday made sure to bring up the exchange. Romney spokeswoman Andrea Saul led the missive with an attack on Obama's comments:
Maybe the president should have congratulated the team for winning the World Series in 2004 and 2007, she wrote. Instead, he chose to mock them for trading away one of its favorite players at a time when the team is struggling.
© Copyright IBTimes 2023. All rights reserved.