Private Equity Comes Back In Real Estate Markets
The private equity industry is finally coming back in real estate markets, after five years of recession, according to a report from Wednesday by consultants Ernst & Young Global Limited.

The real estate private equity sector is positioned for growth in 2014, according to an EY news release.

"Private equity funds are heading down a path toward growth. What remains to be seen is if they are in for a brisk morning walk or just a Sunday stroll," said Mark Grinis, EY's global real estate fund services leader, in a statement.

The top 10 private equity real estate funds attract about 50 percent of investment capital, so that more than 400 funds fight for the remaining half of available capital, per an EY analysis.

That means investors are "very much in the driver's seat when it comes to allocations," said Grinis. Investors are also demanding better reporting from their funds.

"Real estate fund managers have had to make investor concessions," according to EY's website. Nearly $340 billion of capital could flow into real estate markets broadly, with private equity funds likely to take a significant slice of that, according to figures from real estate advisory DTZ.

But private equity funds may have trouble cracking open crowded and expensive "gateway" cities like London, Hong Kong and New York, where real estate competition is fierce.

As a result, many firms could seek deals in so-called secondary markets with high potential, in cities like Austin, Texas, and Raleigh, N.C.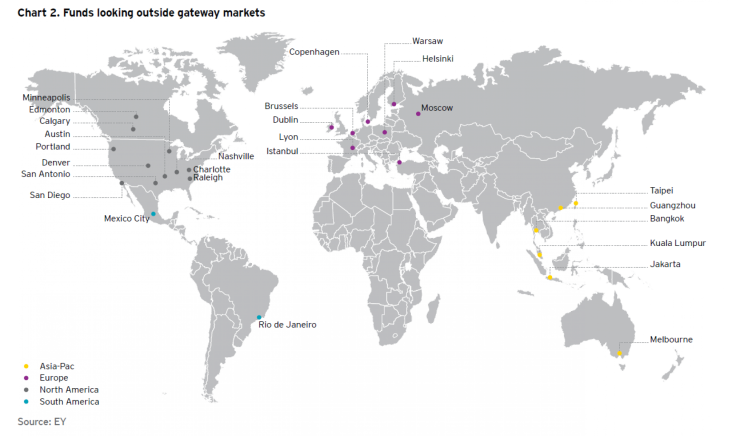 In the U.S. private investors have been fond of "flipping" real estate in an investment strategy that involves buying homes at low prices and selling them for a profit in a turnaround of less than six months. Private equity firms have helped finance some of that flipping, according to CNBC.

Private equity firms have snapped up thousands of low-cost foreclosed properties in recent years, which has helped spark a significant rise in U.S. home prices this year. In the most prominent example, the Blackstone Group L.P. (NYSE:BX) spent $5 billion buying 30,000 distressed homes, which it then rented.

Blackstone's real estate fund is the "largest opportunistic real estate investment manager in the world," according to the fund's press releases, with more than $64 billion of managed capital. The fund acquired Multi Corporation, a European and Turkish shopping mall developer, in early October, adding 56 shopping centers to its portfolio.

Private equity firms are increasingly shifting away from the traditional buyout strategy, where they take a public company private, enhance its value, and then sell it for profit. They've turned to real estate, infrastructure and energy markets, according to a blog post by PitchBook, a private equity researcher.
© Copyright IBTimes 2023. All rights reserved.