Pro-Russians Using Truce To Amass Heavy Weapons And Troops, Says Ukraine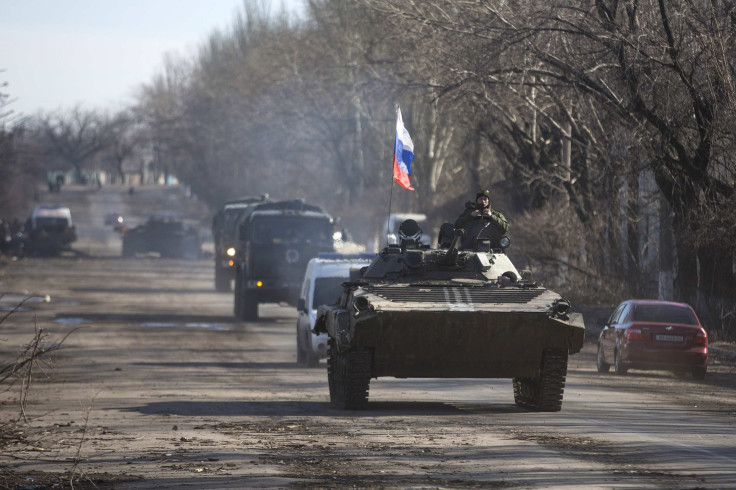 The Ukrainian military has raised concerns Tuesday pro-Russian separatists are using a ceasefire to amass heavy weapons in the rebel-held city of Donetsk. "[Rebels] are continuing to transport equipment and artillery ammunition intensively via the Debaltseve railway junction and build weapons storage around Donetsk," Andriy Lysenko, a Ukraine army spokesman, said during a television briefing Tuesday.
The accusation coincides with remarks by Ukrainian politician Dmytro Tymchuk, a member of parliament with Prime Minister Arseny Yatsenyuk's People's Front party and a military expert, who said around 2,500 Russian-backed militants have gathered near the port city of Mariupol in southeast Ukraine.
The report, if confirmed, may give added urgency to the Ukraine government request for weapons from the United States, not just military supplies. But that door may already have shut. A top German diplomat revealed Tuesday to the Associated Press President Barack Obama has already decided in meetings with German Chancellor Angela Merkel in February he would not authorize such a move.
"Angela Merkel brought convincing arguments about the importance of continuing diplomatic and political efforts to resolve the armed conflict in the Donbas. Barack Obama agreed with these arguments," said Peter Wittig, Germany's ambassador to the United States.
However, despite the reported buildup of troops and weapons, Ukrainian President Petro Poroshenko has admitted the rebels have moved a majority of their heavy weapons back from the war's front line in accordance with the Minsk ceasefire agreement that took effect Feb. 15.
"Ukraine has withdrawn the lion's share of its rocket and heavy artillery systems. The Russian-backed fighters have also withdrawn a significant amount," said Poroshenko, speaking on Ukrainian TV Monday. However, he was more hesitant on the faltering ceasefire, which has been broken repeatedly. "There is a ceasefire or there isn't -- it depends on how you look at it," the president said.
The Organization for Security and Cooperation in Europe, the group that is charged with supervising the ceasefire on both sides, was unable to confirm Poroshenko's comments, saying it is still being blocked from rebel weapons sites.
Since the ceasefire was implemented, 64 Ukrainian soldiers have been killed. More than 6,000 people have died since the conflict began nearly a year ago. That figure includes 1,549 Ukrainian servicemen, Poroshenko said during his TV broadcast.
© Copyright IBTimes 2023. All rights reserved.