Prosecutor Appeals Mubarak Sentence; Protests Continue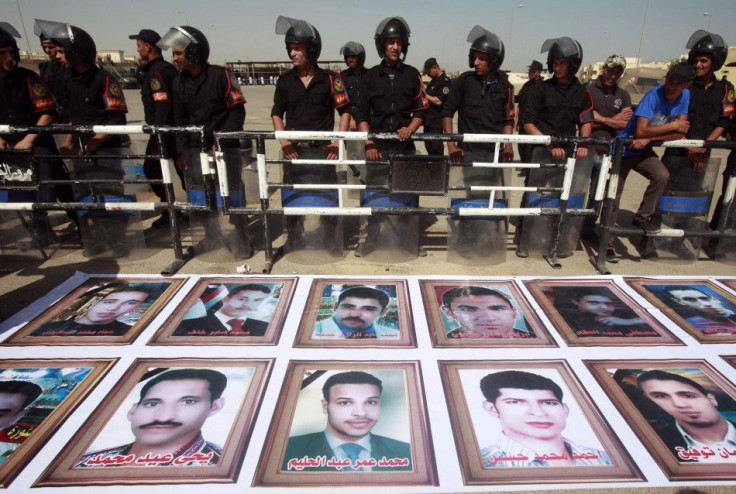 Egypt's top prosecutor will appeal the life sentence for ex-dictator Hosni Mubarak, an official said Sunday.
The official spoke to the Associated Press on conditions of anonymity but said that the prosecutor must appeal the entire verdict.
Mubarak received life in prison for complicity in murder and attempted murder of protesters during the country's unrest last year. The street revolt ended Mubarak's 30-year reign. The former president and his two sons were, however, acquitted on corruption charges, because the statute of limitations had passed. Senior police officers were also cleared in the protesters' killing.
Egyptians continued protesting into Sunday morning in Cairo's Tahrir Square and other cities, outraged that the court spared Mubarak's life.
Many wanted death for Mubarak, but he and former Interior Minister Habib El Adly were sentenced to life in prison for their crimes Saturday, CNN reported. And Mubarak's sons and six other top officials of the old regime were acquitted, increasing the popular anger.
They saw the sentence and the acquittal of senior police officers as proof that the old regime still wields influence and feared Mubarak could now be acquitted on appeal, Reuters reported.
Some also demanded that the presidential election, now heading to a runoff, be canceled.
At least 61 people were injured Saturday in protests throughout Egypt following the verdict, state TV reported.
Mubarak was immediately transferred Saturday to a prison in southern Cairo to serve his sentence, and a prosecutor said the former president, who attended court on a gurney, would be transferred to the prison hospital.
The former president's lawyer, Fareed El Deeb, said there were many holes in the judge's decision and that he was already preparing to appeal the verdict.
Thousands of people poured onto the streets on Saturday after the verdict. By Sunday morning, a few hundred were still gathered in Tahrir Square, the focal point of the January 2011 uprising that brought down the longtime U.S. ally, and said they would stay until those killed in the uprising were avenged.
After a long night where hundreds of thousands expressed their fury and anger in peaceful demonstrations all over Egypt, a decision was made to convert the protests in Tahrir Square, Alexandria and Suez to a sit-in to push for change, al-Ahram reported.
Hundreds camped out in Tahrir overnight, and at 8 a.m. Safwat Hegazi, a preacher close to the Muslim Brotherhood, arrived and led a chant of We are not tired, we want a complete revolution. In the hours that followed, more small demonstrations arrived. Later, as the few hundreds who had spent their night in the square woke up, more protests were organized around the square.
More marches are planned throughout the day to converge from other parts of Cairo.
This was not a fair verdict, and there is mass rejection of the judge's ruling, one protester, Amr Magdy, told Reuters. Tahrir will fill up again with protesters. In Egypt, the only way you can get any justice is by protesting, because all the institutions are still controlled by Mubarak figures.
The long-awaited Mubarak verdict deepened fear among many pro-democracy campaigners that recent developments are reversing Egypt's emergence from decades of autocratic rule.
Many of the young liberal and left-wing revolutionaries who began the uprising were dismayed when their own candidates lost the first round of the presidential election last month.
The vote is seen as the last step in a transition from military rule to civilian government.
The runoff on June 16 and 17 will pit Mubarak's last prime minister, Ahmed Shafiq, against the candidate of the socially conservative Muslim
Brotherhood, Mohamed Mursi.
Dozens of young men ransacked Shafiq's campaign office in Fayoum south of Cairo overnight, the second such attack in recent days, state news website al-Ahram reported. A Shafiq campaigner in Cairo said he was not aware of the attack.
Footage posted on Al-Ahram's website showed youths destroying and burning Shafiq's pictures and banners and others chanting: Fayoum says Ahmed Shafiq is feloul, an Arabic word used to refer to remnants of the Mubarak era.
Shafiq issued a statement on his Facebook page saying he respects the Mubarak verdict and will do his best to honor the memory of the martyrs of the revolution and to stand by their families in their sorrow, CNN reported.
The verdict means that there is no one in Egypt who is any longer above the law and cannot be held accountable, he said. Of the six who were acquitted, he called their actions unacceptable.
For his part, Mursi promised to bring those responsible for the deaths to justice.
In the near future, if I am chosen, I will directly initiate a criminal investigation to identify evidence against those who killed revolutionists, those who caused corruption and those who robbed the nation, he said. I repeat, I am with the revolution, and I will continue to be, even after I become president.
Leftist presidential candidate Hamdeen Sabahy, who was eliminated in the first round, joined thousands of protesters in Tahrir late on Saturday. The Brotherhood's Mursi also toured the square.
We are in disbelief that either Shafiq or Mursi could be president, said Ahmed Abdulla, 21, one of hundreds who have taken part in sporadic street protests since Mubarak was toppled.
Mursi, who has been struggling to rally the support of candidates defeated in the first-round vote, met with Sabahy and another defeated candidate, ex-Brotherhood member Abdel Moneim Abol Fotouh, late Saturday for a closed-door meeting, according to people who attended the gathering.
The situation now is deadlocked, but one scenario would be to stop the second round from happening, said a political activist who witnessed the meeting.
We plan to call for marches on Monday, Wednesday and a big million-man march on Friday, the activist said.
© Copyright IBTimes 2023. All rights reserved.