Public Approval For Unions Continues Steady Post-Recession Rise: Poll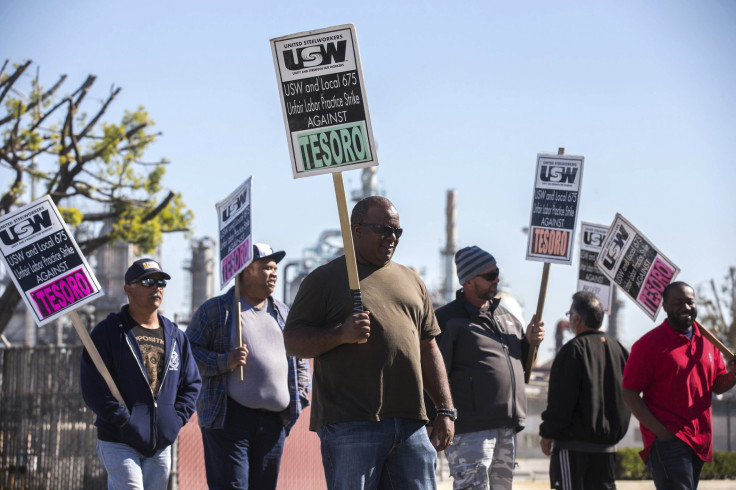 Union membership is sliding downward, but public approval for organized labor is on the way up. Fifty-eight percent of Americans now say they approve of labor unions, according to a Gallup poll released Monday. That's up from 48 percent in 2009, the lowest mark since pollsters began their annual survey nearly eight decades ago.
The poll finds unions with their highest level of public approval since 2008, just before the Great Recession sent favorability in a downward plunge. Support for organized labor has shifted considerably over the years, climbing above 70 percent in the 1950s -- a period of heavy union density -- and falling below 60 percent in the 1980s -- a decade marked by the presidency of Ronald Reagan, who famously clashed with unions while in the White House. Approval hit a recent high of 66 percent in 1999, before dropping off again.
Overall, union membership in the United States has been on a steady decline since the 1950s -- the result of a complex brew of mounting overseas competition, the rise of new technologies and political winds that have veered rightward.
Percentage of Employed Workers in Unions | FindTheData
An increasing number of people want unions to play a bigger role in American society, Gallup also found. Thirty-seven percent said they want unions to have "more influence than they have today," compared with 35 percent who think unions should have less influence. That, too, marks a reversal from 2009, when only 25 percent believed unions should have more influence, and 42 percent thought they should have less.
More Democrats approve of unions than Republicans. But the poll also found attitudes varied by age, gender and region. Sixty-three percent of women told Gallup they approve of labor unions, compared with just 52 percent of men. Sixty-six percent of those aged 18 to 34 felt similarly, in contrast with only 53 percent of those 35 to 54.
People living in the East and Midwest -- regions where unions have historically been more powerful -- are more likely to show sympathy for organized labor than those in the West and South.
Only 45 percent of those in the South said they approve of unions. Apart from conservative-leaning views, the region is dominated by relatively low union membership and the presence of so-called right-to-work laws, arrangements that prevent unions from charging fees to workers they represent but who choose not to join. In recent years, large-scale manufacturers like Boeing, Nissan and Volvo have flocked to Southern states. Unions have attempted to organize workers at some of these plants, but without much success so far.
A separate poll in April found more mixed views on the decline of unions.
© Copyright IBTimes 2023. All rights reserved.
FOLLOW MORE IBT NEWS ON THE BELOW CHANNELS