Baltimore Riots 2015 Social Roundup: Viral Moments From 'Mom Of The Year' To Joseph Kent 'Kidnapping'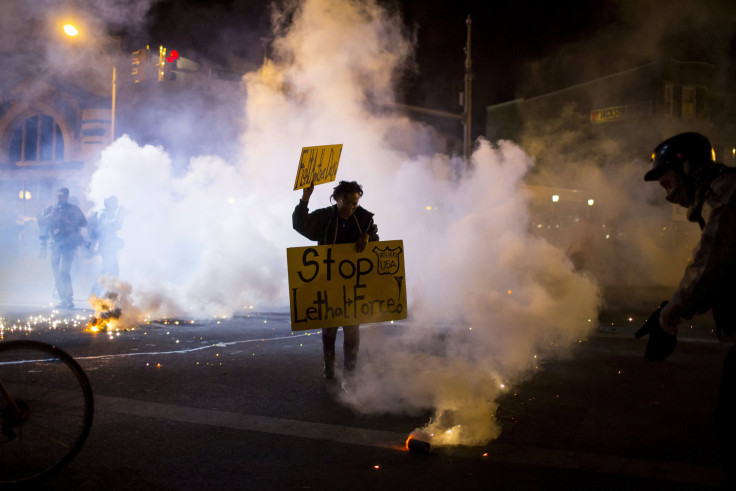 Calm settled over Baltimore on Wednesday morning following two days of intense clashes between protesters and police over the death of 25-year-old Freddie Gray, who died in police custody April 19 after suffering a spinal injury. Streets once filled with hooded looters and burned-out vehicles were mostly deserted. Baltimore city schools shuttered during the riots that began Saturday were reopened, cleanup continued, and many saw the beginnings of a return to order, CNN reported.
The Baltimore riots that have dominated national headlines for four days have resulted in hundreds of arrests and dozens of injuries. City leaders condemned the actions of the protest's more aggressive demonstrators, who set fire to more than a dozen buildings and destroyed at least 140 vehicles, the Los Angeles Times reported.
The violence seen in the media this week overshadowed the otherwise peaceful protests that took place in the wake of Gray's funeral. Social media users were quick to disseminate not only videos and images of unrest, but also those depicting flashes of empathy and tolerance. Here's a roundup of the most viral moments from the Baltimore riots.
Downtown Baltimore spiraled into chaos Monday as protesters clashed with riot police. Protesters, many of them high school students, called for a citywide "purge" -- a reference to the 2013 movie "The Purge," in which crime is legal for 12 hours in the U.S. -- beginning at the Mondawmin Mall. A group of as many as 100 protesters confronted police at the mall Monday afternoon.
The outburst spread to other parts of the city. As night fell, looters began driving off with carloads of stolen goods taken from drugstores and other shops. "It's idiotic to think that by destroying your city, you're going to make life better for anybody," Mayor Stephanie Rawlings-Blake said Tuesday.
Several police officers were injured after rioters began throwing bottles and bricks.
Rioter Slashes Fire Hose
Firefighters struggled to contain a fire at a CVS Health store Monday after rioters set the looted drugstore ablaze. Once firefighters managed to get the hose attached to a fire hydrant, a masked rioter walked up and punctured the hose with a knife.
CNN reporter Miguel Marquez caught the incident on camera.
'Mom Of The Year'
After Toya Graham saw her 16-year-old son throwing rocks at police on television, she marched down to where her son was and proceeded to scold him for participating in the riots. Many on social media applauded Graham's smackdown, which was caught on camera, and dubbed her "mom of the year" for her disciplinary action.
She later told CBS News that she was only protecting her son. "At the end of the day I don't want him to be a Freddie Gray," she said. "I was shocked, I was angry, because you never want to see your child out there doing that."
Michael Jackson Impersonator Moonwalking
Amid the chaos was a man who brought a bit of entertainment to the streets of Baltimore. Despite there being a burning drugstore and violent shouting in the background, the dancer, identified as local singer and rapper Dimitri Reeves, busted out some of Michael Jackson's most familiar moves.
Citizens Cleaning Up
Looters left parts of the streets of Baltimore littered with debris. Some residents took it upon themselves to start cleaning up, grabbing brooms, trash bags and dustpans and sweeping the sidewalks and streets outside looted storefronts. Images of the volunteers were posted to social media.
Joseph Kent 'Kidnapping'
A student protester identified as 21-year-old Joseph Kent was swiftly taken away by the National Guard on live television. The nature of the arrest -- several police officers appeared to abruptly throw Kent into the back of an armored vehicle -- prompted many to dub the arrest a "kidnapping." Twitter users wondered what had happened to Kent, with no word as of Wednesday afternoon regarding his whereabouts.
Boy Offering Water To Riot Police
An image of a boy offering a bottle of water to a police officer clad in riot gear has emerged as a symbol of empathy amid chaos and has even been compared to the iconic "Flower Power" photo from the 1967 Vietnam War protests. The image was widely shared on Facebook and Twitter.
Citizen Blockade To Protect Police
Some residents attempted to counteract the violence by forming human barriers between protesters and riot police.
© Copyright IBTimes 2023. All rights reserved.