Cards Against Humanity Launches Scholarship For Women In STEM Funded By New 'Science Pack'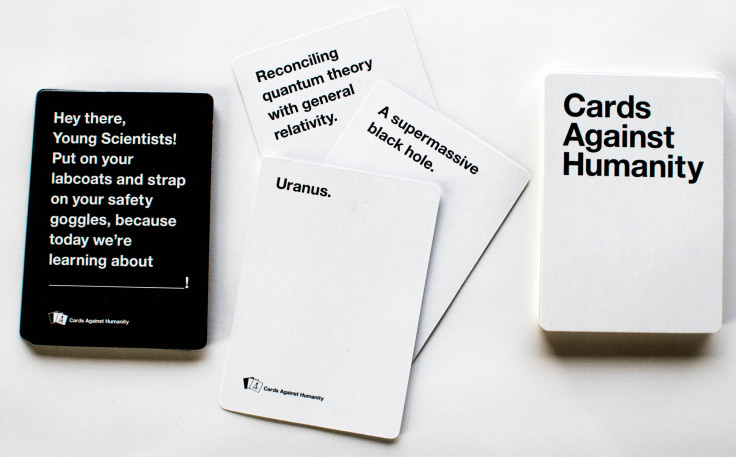 Cards Against Humanity is known for its wonderful, and filthy, sense of humor, but the game's creators also should be recognized for their many charitable efforts. CAH announced a new "Science Pack" expansion created by Phil Plait ("Bad Astronomer") and Zach Weinersmith ("Saturday Morning Breakfast Cereal") that will fund the Science Ambassador Scholarship for women seeking a degree in the STEM fields -- science, technology, engineering or mathematics.
"Women are underrepresented in science, tech, engineering and math, and we felt like the funding from this pack could have the greatest impact by making it possible for more women to get an education in those fields, and by giving them a platform to share their work and their passion for science," Josh Dillon, Cards Against Humanity co-creator, said in a statement.
The creators managed to sell 30,000 boxes of bull manure as part of a Black Friday prank that delivered the goods to consumers and charity. While not expressed as part of the package, Cards Against Humanity donated the $6,000 it received in profits from bull manure to the nonprofit Heifer International. Profits from CAH holiday expansion packs also are donated to charity. Its 2012 Holiday Pack has raised $670,985 for Wikimedia, the 2013 Holiday Pack has raised $819,799 for DonorsChoose and the 2014 Holiday Pack has raised $353,048 for the Sunlight Foundation.
For the Science Pack, Cards Against Humanity could not find the perfect nonprofit and decided to launch its own scholarship, Jenn Bane, CAH community manager, told International Business Times. "We decided that, with the amount of funding we expected to get, the greatest impact would be to fund a college education," Bane said. "Of course, we wanted to target the scholarship specifically toward women because they are underrepresented in science fields."
When it came time to pitch the idea of a Cards Against Humanity Scholarship, Bane said she had to assure everyone that it was not a joke. Luckily, CAH announced the Science Pack on Monday instead of Wednesday -- April Fools' Day. "It's not something we're taking lightly and it's very important to give this opportunity to someone. It's not like some of the other s--- we've done. This is actually really great," Bane said.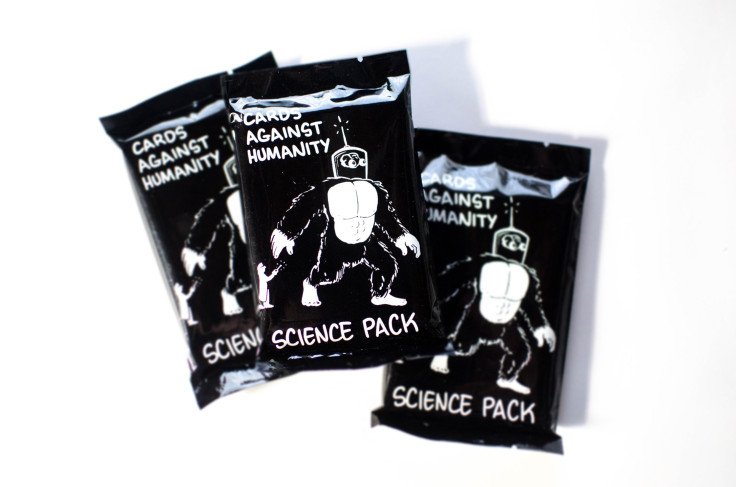 The Science Ambassador Scholarship applications will be reviewed by a board made up of women in the STEM fields. CAH currently has 40 women on the board, from NASA's Jet Propulsion Laboratory, Harvard Medical School, the Smithsonian Institution and the Adler Planetarium and other institutions, and Bane expects to have even more women signed up in the near future.
As for a Cards Against Humanity game with the members of the board, Bane wants it to happen. "It'd be unreal! It would be a dream come true for me to be in the room with these women because they would outsmart me and I would love it," Bane said.
The scholarship will be awarded to one woman for the fall 2016 school year. The Science Pack has raised more than $230,000 and Bane hopes CAH can fund more than one scholarship. The Science Pack is not a limited run and features plenty of nerdy fun.
© Copyright IBTimes 2023. All rights reserved.