Putin Call-In Show: Russian President Talks Panama Papers, Syria, Economy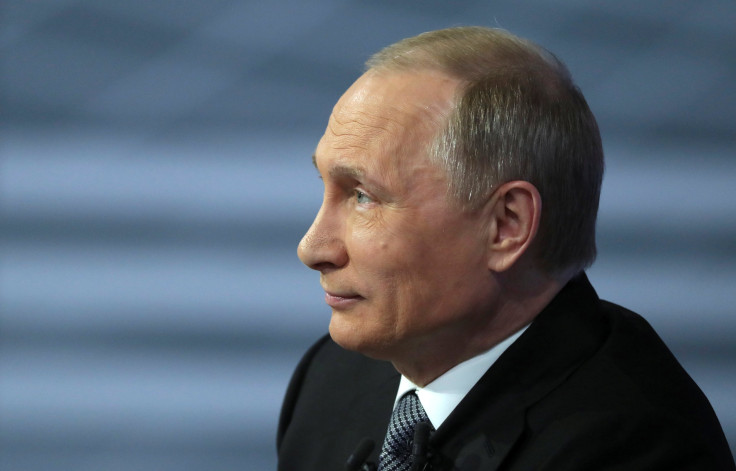 Panama Papers were leaked by lawyers and not journalists, Russian President Vladimir Putin said while answering one of the approximately 2.5 million questions submitted by citizens during an annual call-in show Thursday. The papers exposed several offshore accounts connected of world leaders, including some of Putin's close associates.
Putin said that reports about offshore accounts in Panama were a "provocation" and the German newspaper behind the exposé was obliged to Goldman Sachs, a U.S. bank, Reuters reported. He added that American authorities were behind the leaks and media reports were prepared to spread doubts about individuals.
The 63-year-old added that the Panama Papers leak was all about "hints and speculation."
"Figures who created Panama Papers poked around in the dark, or perhaps poked in other places," Putin said, according to Sputnik News.
Apart from answering queries about Panama Papers, the Russian president took a dig at Turkish President Recep Tayyip Erdoğan and Ukrainian President Petro Poroshenko. Answering a 12-year-old girl's question on who of the two he would save from if they were drowning, Putin said: "You're putting me in a complicated situation. I guess it's this way: If someone decides to drown, it's impossible to save them. But we're, of course, ready to extend a helping hand, a hand of friendship to any of our partners if they're ready for that."
On a serious note, Putin also addressed the issue of the Western sanctions on Russia. He said he does not see the sanctions being lifted in the near future and that Russia would continue its counter-sanctions against the West.
The president also told Russians that the country's economy will resume growth next year. Russia economy has been troubled following the sanctions over its annexation of Crimea in March 2014.
"The situation hasn't been resolved yet but the trend is positive," Putin said, indicating that the economy will contract by 0.3 percent this year and expand by 1.4 percent in 2017, Bloomberg reported. "We have ground for optimism."
Putin defended the decision to pull Russian troops out of Syria. "This danger always exists if due attention is not spared to the fight against terrorism," Putin said, according to NBC News. "Our main hope is that it's the political process, not the military action on all sides ... that will lead to peace. Everyone needs to get to the negotiation table, pass a new constitution and hold elections."
© Copyright IBTimes 2023. All rights reserved.
FOLLOW MORE IBT NEWS ON THE BELOW CHANNELS