Putin Discusses Terrorism, Russia's Economy, Sanctions And Angela Merkel's Fear Of Dogs In New Interview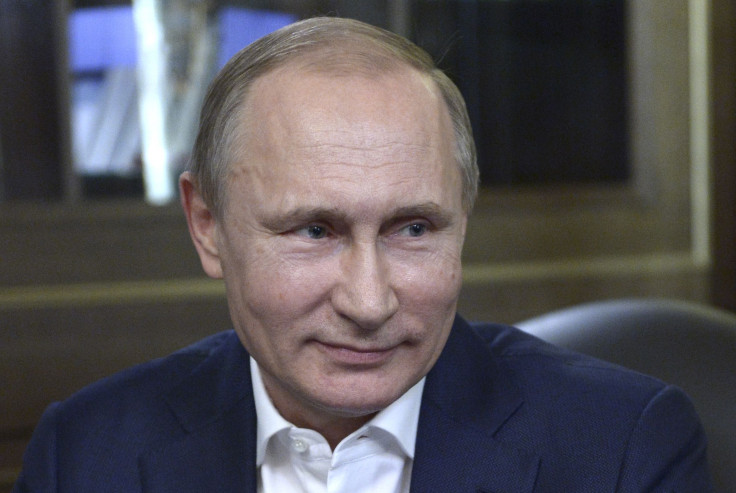 Russian President Vladimir Putin discussed sanctions, terrorism, NATO and German Chancellor Angela Merkel's dislike of dogs in a wide-ranging interview with German newspaper Bild published Monday. The Russian leader admitted that economic sanctions levied against his government after the annexation of Crimea from Ukraine in March 2014 have "severely" harmed the Russian economy.
"The West's sanctions are not aimed at helping Ukraine but at geopolitically pushing Russia back. They are foolish and are merely harming both sides," Putin said when asked about how he explains current economic conditions to the Russian people. He argued the annexation of Crimea was "just" and that the biggest harm to the Russian economy has come from the decline in oil prices from over $100 a barrel to below $40.
Germany has been involved in trying to negotiate a peace process for the conflict in Eastern Ukraine that erupted in April 2014 after the annexation of Crimea. The war has pitted Ukrainian troops against Russia-backed separatists and left over 9,000 people dead. Putin has continued to deny that Russian regular troops have played any role in the conflict. Germany, along with France, Russia and Ukraine, extended the Minsk peace agreement into 2016 in the hope that terms will be met putting an end to the conflict.
Putin has had a close working relationship with Germany's Merkel, and in the interview he said he had met with her seven times in 2015, and they had spoken on the phone at least 20 times. The dynamic between the two leaders got off to a rocky start when they met in 2007 and Putin brought his large dog Koni to the meeting. Merkel has been described as being frightened by dogs, and Putin's move has been read as one of intimidation in some political circles.
"I wanted to make her happy," Putin said of their meeting in Sochi. "When I learned that she does not like dogs, I apologized, of course."
Bild is scheduled to publish the second part of its interview with the Russian president Tuesday.
© Copyright IBTimes 2023. All rights reserved.