Ukraine-Russia Conflict Update: Peace Agreement Extended Into 2016 As War Continues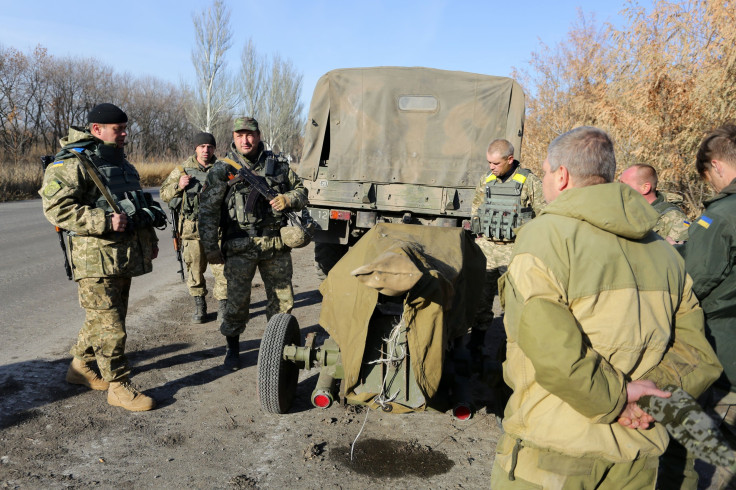 As war continues in Eastern Ukraine, leaders from Ukraine, Russia, France and Germany agreed Wednesday to extend the Minsk II agreement into 2016 in the hope that the peace deal will lead to an end to the conflict that has left over 9,000 people dead. The Minsk agreement was signed in February and the terms were meant to be fully implemented by the end of 2015, giving Ukraine control over its border with Russia, Reuters reported.
While recent months have seen a decrease in fighting, Ukraine President Petro Poroshenko stressed in a release Wednesday on the presidential website that Russia and "pro-Russia militants" had not fulfilled the terms of the Minsk agreement, which includes a complete ceasefire. Poroshenko added that the Organization for Security and Co-operation in Europe that has been monitoring the conflict should have full access to the entire region and that the separatists should not hold "fake 'elections.'"
The conflict in the Donbass region began in April 2014 following Russia's annexation of Crimea in March. The war has ravaged a key economic region of Ukraine and pitted government forces against Russian-backed separatists. Over 1.4 million people have been displaced by the war and almost 21,000 injured, according to the most recent figures from the United Nations. Germany and France joined Ukraine and Russia in June 2014 to form the Normandy group to try and resolve the conflict.
Russia has continued to maintain that its regular troops have not taken part in the conflict, a claim Ukraine says is untrue. Russian President Vladimir Putin said earlier this month during his annual press conference that Russians fighting in Ukraine were not the same as the country's regular troops.
"We never said there were no people there who were carrying out certain tasks including in the military sphere," Putin said. "But that does not mean there are Russian [regular] troops there. Feel the difference."
While Kiev and Moscow have managed to agree on an extension to the Minsk agreement, economically the two countries are drifting further apart,with Ukraine announcing it would ban Russian goods in the new year. Possible goods include food products, alcohol, tobacco and railway equipment. Russia said it would place a tariff on Ukrainian goods starting in January in response to a trade deal between Kiev and the European Union.
The foreign ministers from Russia, Ukraine, France and Germany will speak again in late January to discuss the ongoing conflict and implementation of the Minsk agreement.
© Copyright IBTimes 2022. All rights reserved.
FOLLOW MORE IBT NEWS ON THE BELOW CHANNELS