Putin State Of The Nation Address: Russian President Criticizes Western Attempts To 'Influence' Neighbors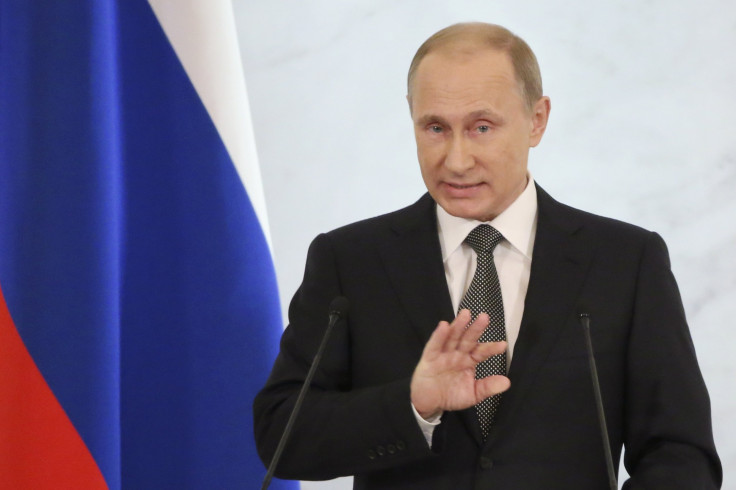 Russian President Vladimir Putin appeared defiant as ever in his annual state of the nation address to the Russian Federal Assembly on Thursday, striking out against Europe, the United States and defending Russian action in Ukraine. He said Russia has a right to pursue its own line of development and criticized "some European countries" for forgetting about their national pride and sovereignty.
"Talking to Russia from a position of strength is meaningless," he said, speaking of what he called centuries of "deterrence policies" against Russia, according to ITAR TASS, a state-run media wire. "Every time somebody considers Russia is becoming too powerful and independent, such instruments are turned on immediately."
The armed conflict between pro-Russian separatists and Ukrainian forces in eastern Ukraine "fully confirms that [Russia's] stance is right," Putin argued. Western powers accuse Russia of directly intervening on behalf of separatists in Ukraine, including going as far as supplying the missile system that brought down Malaysia Airlines flight MH17 over rebel-held territory in July. He accused the West of supporting "armed seizure of power, violence and murders," by supporting the pro-European Ukrainian government that came to power after President Viktor Yanukovych was ousted in late February.
The U.S. has "always been influencing [Russian] relations with our neighbors directly or behind-the-scenes," Putin said. "Sometimes I don't even know who it is better to talk with – with the governments of certain states or directly with their American patrons and sponsors."
Speaking about Europe, he said even "if some European countries have forgotten about their national pride long ago and are considering sovereignty to be a great luxury, real state sovereignty is an absolutely essential condition for Russia's existence."
He reiterated his government's position that sanctions have hurt the Russian economy, but have also hurt the economies of European Union states and the U.S. Russian state economists announced this week that the country is headed for a recession, mostly due to falling oil prices, but amplified by sanctions.
Putin argued that the falling ruble is being undermined by speculators and that the government will pursue action, according to Carnegie Moscow's Dmitri Trenin, who analyzed Putin's speech on Twitter.
He said Russia will expand relationships with non-Western countries, like those in South America and Asia, but would not necessarily diminish ties with Europe or the U.S., despite the rise in tensions over Ukraine.
Putin also addressed internal Russian issues, like expanding a campaign to fight corruption and graft in the state defense industry. He also wants to cut "wasteful spending" by 5 percent every year for the next three years.
© Copyright IBTimes 2023. All rights reserved.