Russia Warns Of 'Arms Race' As Putin Approves Alliance With Kazakhstan, Ambassador Criticizes NATO Activity In Eastern Europe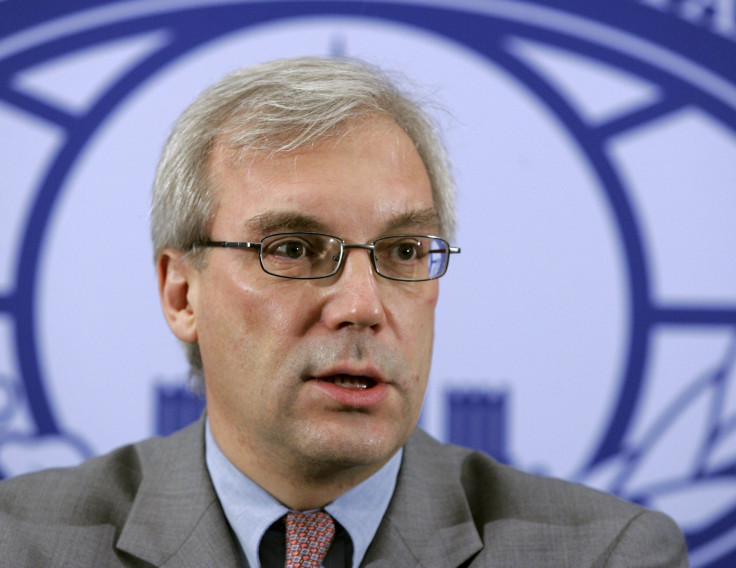 Russia's top envoy to NATO, Alexander Grushko, warned Tuesday that the alliance's increased military activity in Eastern Europe could exacerbate an already tense situation. Grushko said that NATO's military exercises and its development of a rapid deployment force of thousands "will lead to serious risks of military incidents."
"NATO is doing all this under the guise of the so-called Russian threat," Grushko told a group of Russian journalists, according to the TASS news agency. "Our relationship to these measures is well-known: This region of the world has seen no serious military and political changes, and such steps don't fit the logic of building relationships in the defenses sphere on a new basis."
Grushko said that NATO's military expansion close to Russia's borders constitutes a direct threat to the nation's security. "This way could lead to the emergence of a new round of arms race and increasing tensions," he added.
Meanwhile, Russian President Vladimir Putin reportedly signed off Tuesday on a law that ratifies a proposed alliance with Kazakhstan, the latest sign of Russia's bid to rebuild its military capabilities, TASS reports. The five-year agreement reportedly sets terms for an interconnection of military supplies and security efforts between the two nations.
Military tensions between Russia and NATO increased rapidly in recent months in the aftermath of Russia's annexation of Crimea and alleged intervention in war-torn Ukraine. Douglas Lute, the United States' ambassador to NATO, accused Russia's air force Monday of endangering civilian aircraft by turning off transponders and failing to properly communicate with air traffic controllers while flying in international airspace. "These Russian actions are irresponsible, pose a threat to civilian aviation and demonstrate that Russia is flagrantly violating international norms," Lute said at a press conference.
NATO Secretary-General Jens Stoltenberg warned last month of a "very serious" Russian military building on both sides of the eastern Ukrainian border. Russian artillery, tanks, troops and air defense systems were spotted in the region, the alliance said.
"Russia has a choice. Russia can either be part of a peaceful negotiated solution [in Ukraine], or Russia can continue on a path of isolation," Stoltenberg said at the time. "The international community calls on Russia to be part of the solution."
© Copyright IBTimes 2023. All rights reserved.