Putin Sworn In As Russian President Amidst Violent Demonstrations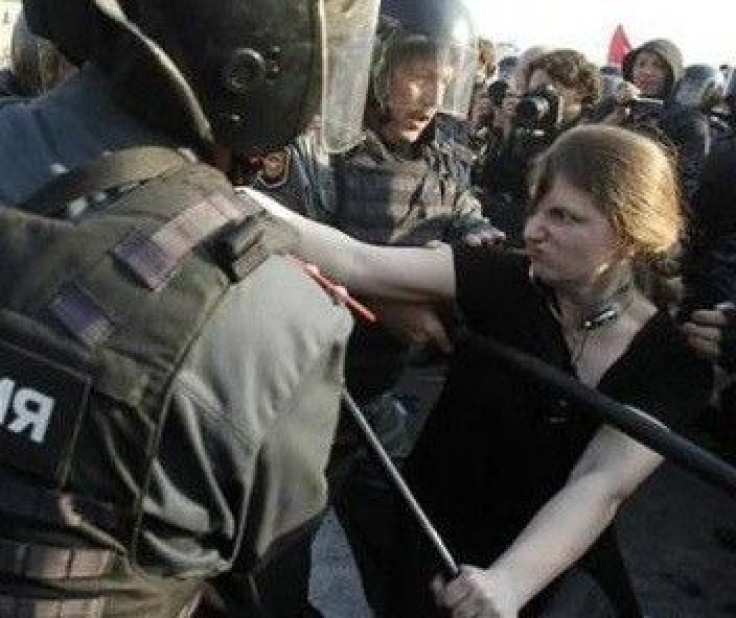 Vladimir Putin was sworn in as President of Russia on Monday, marking his return to the country's highest office after a four-year absence.
The former KGB strongman is replacing his 'protégé' Dmitry Medvedev, who will almost certainly return to being Prime Minister in a job swap first agreed to last year.
Putin's inauguration comes after protests in Moscow on Sunday, which saw anti-Putin demonstrators clash with police when demonstrators tried to break through their lines and on towards the Kremlin.
Speaking before a lavish ceremony at the Grand Kremlin Palace, Putin said Russia was entering a new phase of national development, according to the BBC.
We will have to decide tasks of a new level, a new quality and scale. The coming years will be decisive for Russia's fate for decades to come, he said.
I consider it to be the meaning of my whole life and my obligation to serve my fatherland and our people. We will achieve our goals if we are a single, united people -- if we hold our fatherland dear, strengthen Russian democracy, constitutional rights and freedoms.
Putin won an unprecedented third presidential term with 63.6 per cent of the vote on March 4.
One of his first acts as president was to tender the name of Medvedev for prime minister to the lower house of the State Duma.
Medvedev, seen by many as a caretaker president, is expected to be confirmed by the majority United Russia party and the Liberal Democratic Party of Russia (LDPR), both of which have promised to support Putin's choice.
If Putin completes his six-year term he will be the longest serving Russian leader since Joseph Stalin.
Around 400 protesters were arrested on Sunday's demonstrations.
Opposition leaders Alexei Navalny, Boris Nemtsov and Sergei Udaltsov were among those detained during the violence.
Putin has shown his true face, how he 'loves' his people - with police force, demonstrator Dmitry Gorbunov told Reuters.
© Copyright IBTimes 2023. All rights reserved.