Putin's Latest Moves: The Military Alliance Among Iran, Hezbollah And Russia In Syria Could Spread To Yemen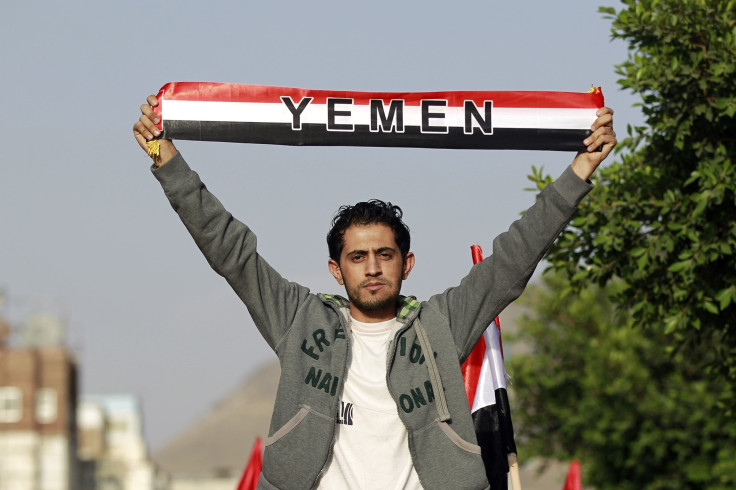 SOUTH LEBANON -- Russia and Iran, long allied in their support of Syrian President Bashar Assad, appear to be extending their partnership into Yemen. Moscow is now supporting the Tehran-backed Houthi rebels who are fighting forces loyal to the U.S.-supported exiled president, a senior Hezbollah official told International Business Times.
The Houthi rebels have been fighting a 10-country Saudi-Arabia-led coalition since March. Iran has been the rebels' main supporter for several months, but Tehran's Lebanese ally Hezbollah and Russia are increasing support for the Houthis -- forming an alliance very similar to the one largely responsible for keeping Assad in power.
When asked whether Russia is helping Hezbollah in Yemen as it is in Syria, the official said: "Of course they are."
Russia is providing weapons to the Houthi rebels, and Lebanon's Iran-backed Hezbollah is on the ground in Yemen on a "leadership level," the senior Hezbollah official told IBT.
Hezbollah has been fighting in Syria with Assad's army for years, alongside commanders from the Iranian Revolutionary Guard Corps (IRGC). Earlier this month, Russian President Vladimir Putin decided to increase his influence in Syria and has begun building at least two military bases and sent in tanks, air-defense systems and armored-personnel carriers, the Wall Street Journal reported.
The Russia-Iran alliance is working to bolster the Syrian regime by targeting Assad's enemies, which include both U.S. allies and enemies. An increase of Russian military activity in Syria threatens the American strategy in Syria to train and support opposition groups fighting both Assad's forces and terrorist organizations like the Islamic State group, which is also known as ISIS or ISIL. But this week Russia's warplanes also bombed ISIS positions in Syria, tacitly aligning Russia's goals with those of the U.S.-led anti-ISIS coalition.
Russia claims its military actions in Syria are in response to the threat of ISIS, but Moscow had been providing weapons to the Syrian army even before the current conflict. Russia also has a history of economic and military deals in Yemen: The then-Soviet Union was a major weapons provider to South Yemen before its unification with the North in 1990, giving Putin a vested interest in seeing the Houthis succeed against the Saudi-led coalition.
A month before President Abed Rabbo Mansour Hadi and the coalition began airstrikes in Yemen, a source connected to the Houthis in Sanaa told IBT via Skype that government representatives from Russia met with Houthi leaders to discuss future financial alliances.
Despite being the poorest country in the region, Yemen produces about 130,000 barrels of crude oil a day and accounts for roughly 57 percent of the country's exports. A large percentage Yemen's oil exports go to China, where Russia has recently been trying to corner the oil import market to alleviate pressure from U.S. and European Union economic sanctions. China's recent financial crisis stalled Russia's plan to build an oil pipeline from Siberia to China, but Russia could find an alternative source of income from selling weapons to the Houthis.
However, experts are not convinced that the Houthis are buying any more weapons, and though Russia "would be more than happy to provide weapons to Yemen, even with a discount," it is likely to wait until the Houthis are recognized as Yemen's legitimate government, said Yury Barmin, an analyst focusing on Russia's strategy in the Middle East, and a consultant for several oil and gas industry firms in the region.
Last week, the Hezbollah official claimed Russia had provided the missile the Houthis launched into a coalition base earlier this month, killing at least 45 Emirati troops, five Bahrainis and 10 Saudis. This was the deadliest operation against coalition forces and, in the days following the attack, nine of the 10 coalition countries were expected to have troops on the ground fighting the Houthis.
The Houthis have access to roughly 40 additional Tochka missiles, courtesy of Moscow, that have been smuggled into the country in one by one, the Hezbollah official said.
Photos and videos of the destroyed explosive show that it was in fact a Tochka missile. It was not immediately clear if the missile was left over from former Yemeni dictator Ali Abdullah Saleh's overflowing cache of weapons (which included the OTR-21 Tochka, a Soviet-era ballistic missile that also goes by the NATO reporting name SS-21 Scarab) or if it was a recent acquisition.
"It's unlikely that they had any missiles left from that time," Barmin said. "Regarding Tochka missiles specifically, they were probably delivered there from Syria through Iran."
On their own, the Houthis' operational capabilities with regard to the Tochka missiles are limited and "heavily dependent on foreign advisers, almost exclusively Belarusians and Russians," according to Stijn Mitzer and Joost Oliemans from Oryx Blog, which monitors military activity in the Middle East.
"If the Houthis would have acquired ballistic missile systems, these would be Tochkas. But why buy more Tochkas when you can't even properly maintain and operate the examples you already have?"
But the Houthis may have solved that logistical problem. As the Saudi-led coalition continued to bombard Yemen, Iran began to publicly acknowledge its ties to the Houthis and advisers from both the IRGC and Hezbollah were to train and assist the Houthis. Both these groups have dealt with Russian-made weapons in Syria, where the army has access several types of ballistic missiles, including SS21 Scarab. In 2013, Assad was accused of repeatedly using the missile in civilian saturated areas.
"I don't think Russia smuggling weapons into Yemen could go unnoticed. Just look at how noisy recent deliveries to Syria turned out to be," analyst Barmin said.
Smuggling weapons into Yemen now would be no easy feat in a country where even humanitarian groups have had trouble bringing in aid since the Saudi-led coalition began its bombing campaign. Although the Houthis are in control of the al-Hudaydah port, the Saudi-led coalition has imposed a naval blockade preventing even the most basic necessities from entering Houthi-controlled territory.
Whether Russia directly provided the missiles, the allegiances forming in Yemen are beginning to look akin to those in the first years of the Syrian conflict.
"We are everywhere now -- in Syria, Iraq, Palestine and Yemen," the Hezbollah official said.
© Copyright IBTimes 2022. All rights reserved.
FOLLOW MORE IBT NEWS ON THE BELOW CHANNELS