Qatar World Cup 2022 Human Rights Abuses: Labor Exploitation Of Foreign Workers Alleged By Amnesty International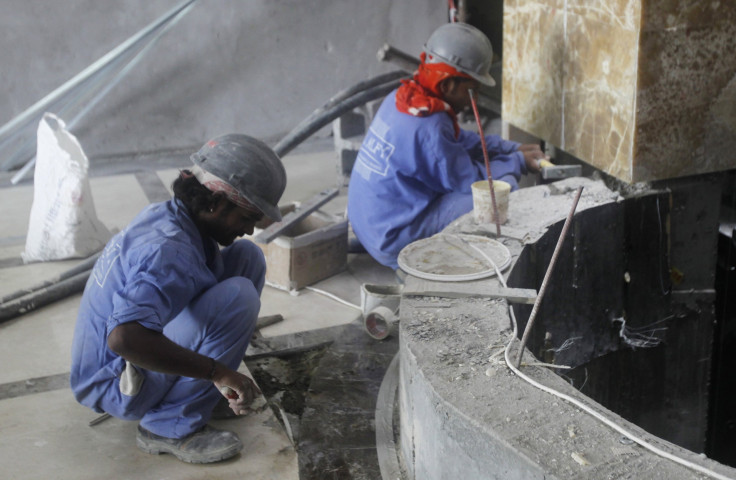 It took just two months for Kamal to realize that working as a scaffolder at the Khalifa Stadium, a host site for the 2022 FIFA World Cup of men's soccer, beneath Qatar's broiling sun was not exactly the job he had hoped for. Kamal, 21, told his employer that he and a friend, Chetan, 19, were ready to quit and return home to Nepal.
"The work is hard, our camp is filthy and small and I haven't received any pay yet," Kamal told Amnesty International researchers last May. "I told him we are ready to leave; you just need to get our plane ticket. We don't care about our pay. We just want to go home."
Their boss rejected the request, so Kamal approached a manager during his lunch break the next day with the same request. Kamal, rejected by the manager, was instructed to visit the management office if he wished to continue his push to quit, but there too, he was offered a similar response — this time with a threat attached.
"In the office the manager listened quietly for a moment and then signaled us to stop talking with his hand," Kamal said, adding that two other men then entered. "He said, 'These men are causing trouble, they are lazy, they do not want to work. Watch them closely. If they do not show up to work or try to escape, make sure to report them to the police.'"
Kamal's story is one among hundreds of testimonies collected by researchers with Amnesty International, the global human rights organization, detailing migrant labor abuses in Qatar. In a new report, the group documents continued cases of worker exploitation as the small, wealthy Persian Gulf state continues its preparations for hosting the 2022 World Cup. Many of the workers, mostly from Bangladesh, Nepal and India, reported experiencing what Amnesty International said amounted to forced labor, including withheld salaries and squalid living conditions.
"The abuse of migrant workers is a stain on the conscience of world football. For players and fans, a World Cup stadium is a place of dreams. For some of the workers who spoke to us, it can feel like a living nightmare," said Amnesty International Secretary General Salil Shetty in a press release. "Despite five years of promises, FIFA has failed almost completely to stop the World Cup being built on human rights abuses."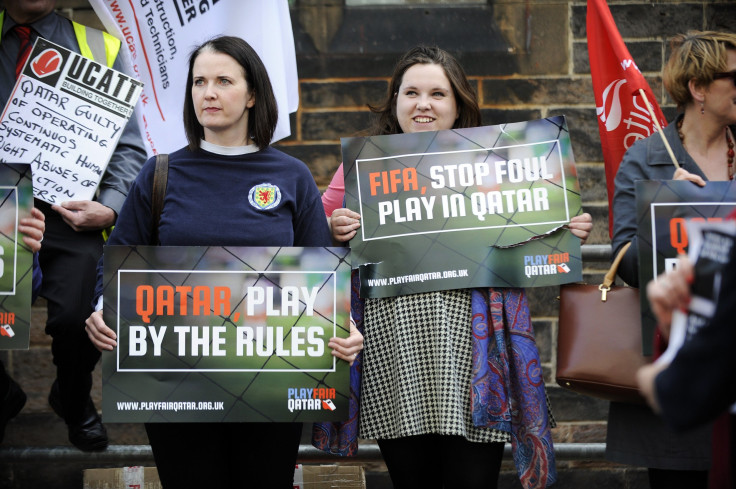 As the date of the tournament approaches, the number of migrants working on the sites is expected to increase, causing alarm among human rights advocates. The workforce could expand tenfold in the next two years to as many as 36,000 laborers.
Amnesty's report, titled, "The Ugly Side of the Beautiful Game: Exploitation on a Qatar 2022 World Cup site," criticizes alleged indifference by FIFA, the governing body for international soccer, and calls for immediate protections for laborers. The findings are based on interviews with 132 migrant construction workers who are helping reconstruct Khalifa Stadium and 99 additional migrants from those landscaping surrounding areas.
Despite pledges to improve conditions, all of the workers interviewed reported cramped accommodations, being deceived by recruiters in their home countries as to their salary or job description, not receiving pay for months, not being offered up-to-date residency permits and being threatened for complaining.
"Hosting the World Cup has helped Qatar promote itself as an elite destination to some of the world's biggest clubs. But world football cannot turn a blind eye to abuse in the facilities and stadiums where the game is played," Shetty said in the release. "If FIFA's new leadership is serious about turning a page, it cannot allow its showcase global event to take place in stadiums built on the abuse of migrant workers."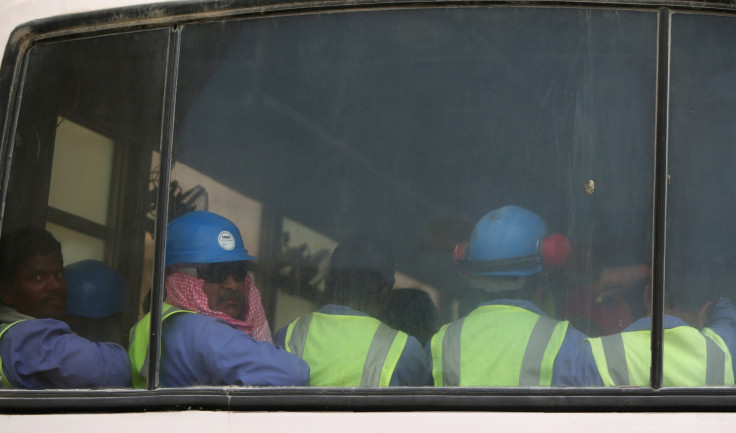 Qatar, which hosts more than 1 million foreign laborers, has long been accused of turning a blind eye toward abuses against them, but the World Cup has shed a fresh light on just how pervasive those violations are. Despite promises to improve conditions, recent findings indicate little progress has been made.
The Foreign Ministry told Amnesty International by email earlier this month that the government is undertaking reforms and takes labor concerns seriously. One reform, for instance, would allow greater freedom of movement for workers in and out of the country if their employer denies them permission to exit. Another initiative would require employers to transfer wages electronically, meaning payday would be scheduled and automatic.
"Labor reform is a complex issue, especially in a nation with a small indigenous population and a far larger population of guest workers," the Foreign Ministry wrote. "We trust that you have observed in your previous visits to Qatar that our government takes the issues of labor rights and human rights very seriously and is committed to the ongoing, systematic reform if our labor practices."
Hundreds of foreign workers from India and Nepal die in Qatar each year, reports from past years have found. The International Trade Union Confederation, the world's largest labor federation, has warned that some 4,000 laborers could die in Qatar before the World Cup. A former Nepalese ambassador to Qatar, Suryanath Mishra, who served from 2007 to 2012, told CNN several years ago that slightly more than half of the deaths occurred from cardiac arrest, 20 percent from work-related accidents and 15 percent from traffic accidents. And 10 percent of those who died committed suicide, she said at the time.
As part of their preparations for the events, Qatar plans to expand three soccer stadiums and build nine new ones. Some critics have argued that the country should be stripped of its right to host the event. The International Trade Union Confederation has called Qatar "a country without a conscience."
© Copyright IBTimes 2023. All rights reserved.